Curator's Corner
August Gems of the Month: Franz Marc
My own painting and way of approaching color is very much influenced by certain German Expressionists. Their unbridled revelry in color always puts a smile on my face, and I'm willing to bet it would put a smile on anyone's face even if they had never painted before or seen German Expressionist art. So, August's gems of the month are works by Franz Marc, a German Expressionist artist who passed much too young because of war (World War I, 1914–1918).
---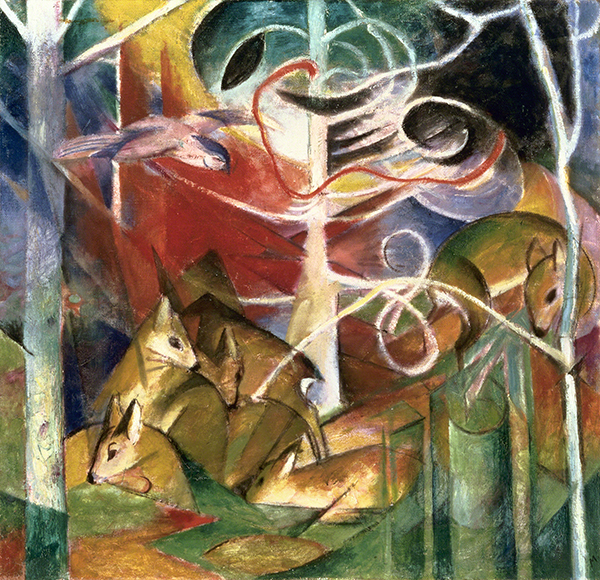 Franz Marc (1880–1916, Germany), Deer in the Forest I, 1913. Oil on canvas, 39 ¾" x 41 ¼" (100.9 x 104.7 cm). © 2023 The Phillips Collection, Washington, DC. (PC-257)
In 1907, Marc visited Paris for the second time. There, he was impressed with the late works of Vincent van Gogh (1853–1890) and Paul Gauguin (1848–1903). From his trips to France, Marc gradually came to see color as a way of expressing his idea of the spiritual force of nature. This can be seen in color that was liberated from physical reality and the reduction of animal forms into simple shapes. Upon his return to Germany from his 1907 trip, Marc visited the zoo in Berlin every day for weeks.
Between 1907 and 1910, Marc taught animal anatomy drawing. His paintings of animals between 1909 and 1910 were painterly realist in style with gestural brushwork and touches of non-local (not inherent) color. Between 1911 and 1912, his animals were abstracted somewhat and represented totally in non-local, brilliant color with Expressionistic landscape backdrops in equally brilliant color.
By 1913, Marc had arrived at his mature style with iconic, yet simplified, animal forms set in swirling pseudo-forest settings composed of Symbolism-derived linear frameworks. The composition of Deer in the Forest I reveals a certain influence of Cubism in the facets of color that go in and out of each other. He sublimated the subject, deer, to the overall pattern of the composition, symbolic of his idea of the spiritual unity of all nature.
German Expressionists built on the aims of Post-Impressionist artists who rejected the Impressionist emphasis on optical accuracy and turned toward the world of the spirit. They employed a variety of styles to give visible form to their feelings, often relying on direct, sometimes crude, expressions. Their art was basically an expression of inner meaning through outer form.
Late-1800s inspirations for German Expressionists included van Gogh and Symbolist artists Arnold Böcklin (1827–1901), Ferdinand Hodler (1853–1918), Edvard Munch (1863–1944), and James Ensor (1860–1949). Symbolism represented a rejection of the scientific emphasis on light and color of Impressionism in favor of pathos-heavy subjects from Greek and Roman literature, as well as German Romantic literature. Expressionists were also influenced by German medieval and Renaissance woodblock prints, Non-Western art such as African and Oceanic, folk art, and the art of the Romantic and Hellenistic periods in Western art. Symbolism, by far, had the strongest impact on subject matter.
A sensitive, highly intuitive individual, Marc had originally intended to study for the priesthood. In the late 1890s, inspired by his painter father, Wilhelm Marc (1839–1907), he decided to become an artist instead of studying religion in Munich. He did continue to pursue the study of religion, particularly the spiritual beliefs of Asian religions and philosophies. Marc was particularly drawn to their ideas of humankind's symbiotic relationship with nature.
Marc's earliest training in painting was traditional at the Academy of Arts in Munich. In 1903, he visited Paris and was inspired by the Impressionist palette. On returning to Germany, his works reflected the simplified forms and brilliant colors of Impressionism. In 1905, a summer spent in the Bavarian mountains established a lifelong interest in animals—especially cows and deer—in their natural habitat, which eventually became the primary subject matter of his paintings.
In 1911, Marc met Vasily Kandinsky (1866–1944) when he joined the New Artists Association in Munich. He was immediately attracted to Kandinsky's ideas about expressing the spiritual essence of natural forms rather than their physical appearance. Seeing the liberated colors and shapes in the work of Henri Matisse (1869–1954) in 1910 and works by Futurists and Cubists in 1912 confirmed his ideas for his mature style. In 1911, Marc was one of the founding members of the Expressionist group The Blue Rider (Der Blaue Reiter), which helped unite the Munich Expressionists with those in Berlin.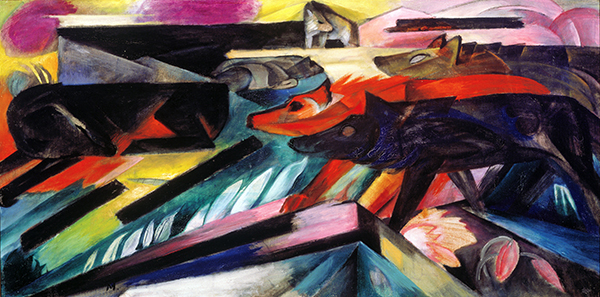 Franz Marc, The Wolves, 1913. Oil on canvas, 27 13/16" x 55" (70.7 x 141.3 cm). © 2023 Buffalo AKG Art Museum, Buffalo, NY. (AK-287)
The rounded forms with rounded landscape forms seen in Marc's earlier animal paintings of horses and cattle contrast with the geometric forms, straight lines, and angular shapes in The Wolves. A harbinger of the coming World War I, the painting is a personal allegory of the First Balkan War (1912–1913). While ejecting the Ottoman Turks from Eastern Europe, that war set the stage for a worse war.
Marc's forms now reflect the influence of the faceted forms of Cubism with the dynamism of Futurism, all executed in the vibrant colors of Expressionism. Wolves have replaced domestic animals, placed in a dark setting of planar forms that are close to abstraction. Marc's lyrical conception of the spiritual forces of nature here appear to have been abandoned in despair.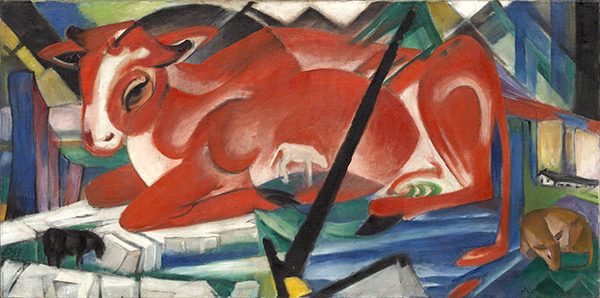 Franz Marc, The World Cow, 1913. Oil on canvas, 27 13/16" x 55 5/8" (70.7 x 141.3 cm). © 2023 The Museum of Modern Art, New York. (MOMA-P5029)
Between 1911 and 1913, the connection between Marc's animals and the recognizable physical world gradually vanished. The surroundings of his animal paintings became Cubistic, linear color backgrounds in which space was only peripherally addressed. The symbolism of the animal was of the utmost importance for Marc at this point.
With World War I imminent, Marc may have felt the madness enveloping Europe was symbolized by a giant red cow. In Marc's color schemes, yellow symbolized the feminine, blue symbolized the masculine, and red symbolized evil. However, the red cow is surrounded by both blue and yellow. Furthermore, Marc may have believed there was hope for humanity at that point with the emphasis on the cow's eye. He was fascinated by the idea of what animals actually perceived visually, and he probably looked enough cows in the eye.
Correlations to Davis programs: Explorations in Art 2E Grade 1: 1.8; Explorations in Art 2E Grade 2: 3.1, 3.2, 3.4; Explorations in Art 2E Grade 3: 5.1, 5.2; Explorations in Art 2E Grade 5: 4.4; A Personal Journey 2E: 5.3, 7.3; Experience Art: 1.2; Discovering Art History 4E: 14.1