Curator's Corner
Asian American and Pacific Islander Heritage Month 2023: Walasse Ting
One of the great things about America is the fact that, since colonial times, awesome artists from all over the world have come here and made amazing contributions to American art history. As time has gone on, some of these artists have joined existing movements or styles. But even in so doing, they introduce their own unique vision into American art. This is so true about the work of Walasse Ting.
---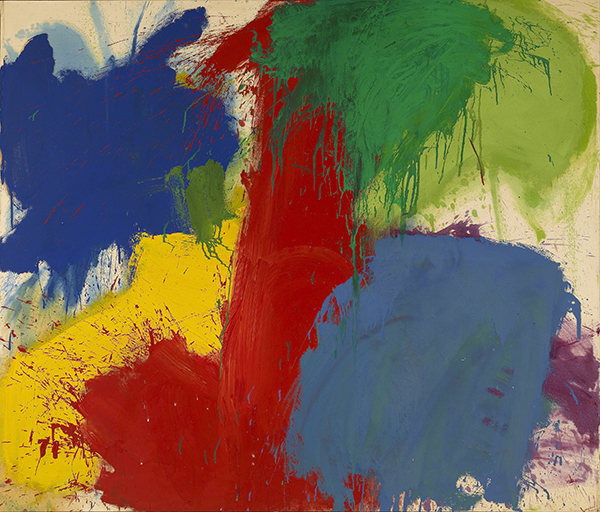 Walasse Ting (1929–2010, U.S., born China), Water, 1963. Oil on canvas, 62 1/8" x 72 7/8" (157.8 x 185.1 cm). Courtesy of the Buffalo AKG Art Museum, Buffalo, NY. © 2023 Artists Rights Society (ARS), New York. (AK-3567tngars)
This work by Ting is firmly within his Abstract Expressionist period in New York between about 1960 and 1965. The splattered forms of Water are clearly the influence of Sam Francis's (1923–1994) action paintings. Unlike Francis, who preferred working in primary colors, Ting explored a wide range of brilliant hues in his work. And, unlike many of the Abstract Expressionists, Ting emphasized narrative subject matter because his work, like that of CoBrA artists in Europe, stressed his inner vision rather than process. Like many Chinese artists who relocated to the West, Ting reflected his Chinese heritage in subject matter. Water probably refers to the importance of bodies of water in traditional Chinese landscape painting.
After the collapse of the Qing dynasty (1644–1912) and establishment of the Chinese Republic in 1912, many young Chinese painters began to study Western art. Some artists first studied Western art in Japan, where schools were already established since the 1860s. After 1918, many Chinese artists studied in Europe itself, mainly Paris. A few of these artists stayed in Europe.
Those who returned to China did not find an eager audience for their Westernized styles. Some resumed traditional Chinese modes of expression, while others mixed traditional with Western. Westernized styles were most popular in the cities of Shanghai and Tianjin. After the advent of Communism between 1927 and 1949, many artists who were inclined to nonrealistic styles, rather than social realism advocated by the Communists, fled China. Some of these artists went to the United States and Europe, fresh centers of modernist experiment after World War II (1939–1945).
Ting was born Ding Xiongquan in Wuxi, China, and raised in Shangai. As a child, he painted on sidewalks. He developed as a self-taught painter, sculptor, and graphic artist. He left China in 1949 when the communists established the severe Peoples' Republic of China. Ting settled first in Paris in 1952, where he became acquainted with the post-war movement CoBrA. This European movement was similar to American Abstract Expressionism, although CoBrA artists stressed inner vision rather than emphasizing automatic creative process. Ting migrated to the U.S. in 1958 during the heyday of Abstract Expressionism, and to New York in 1960. He became a U.S. citizen in 1974.
In New York, Ting befriended Francis, whose work had an influence on his own completely abstract works. Ting adapted bold, dripping strokes, which at the time were actually more influenced by Paris-based, Chinese artist Zao Wou-Ki's (1921–2013) poetic-abstraction paintings. The dripping and splattering also reflect the influence of Jackson Pollock (1912–1956). By the early 1970s, the influence of Pop Art caused Ting to return to figuration in his work, producing brightly colored images of animals, nudes, and flowers, encircled with calligraphic-like contour lines filled in with brilliant pure acrylic color.
Correlations to Davis programs: Explorations in Art 2E Grade 4: 1.4, 6.7; Explorations in Art 2E Grade 5: 3.9; Explorations in Art 2E Grade 6: 5.1; The Visual Experience 4E: 4.3; Exploring Painting: Chapter 12