Curator's Corner
Art for a California Vacation
I went to California for vacay last week. Combining that sensibility with my addiction to color, I present you with one of my favorite California artists (usually associated with New York School): Sam Francis. He is by far my favorite artist peripherally connected with Abstract Expressionism, and of course, he's not as big of an art history-household word as Pollock and de Kooning, as many of those in the so-called "second generation" of AE were. But I think he's just great.
---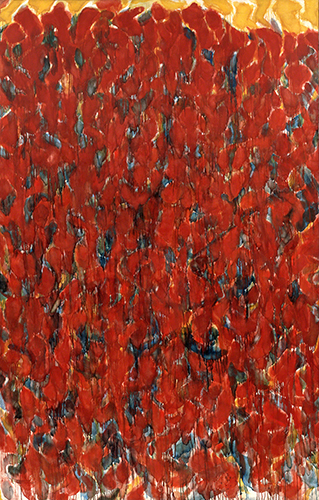 Sam Francis (1923–1994, US), Big Red, 1953. Oil on canvas, 9' x 6' 4" (303.2 x 194 cm). The Museum of Modern Art New York. © 2019 Sam Francis Foundation/Artists Rights Society (ARS), New York. (MOMA-P4150frars)
Like the Abstract Expressionists, most of the titles of Francis's works involve his concern with the formal relationships of color, rather than any literary, historical, or psychological intent. Like the work of Joan Mitchell (1925–1992), there is an exuberance, albeit controlled, in the creative process, and an obvious joy in the pure color forms.
This early work reflects the influence of the early pioneers of Abstract Expressionism, particularly the all-over painting aesthetic of action painters like Jackson Pollock (1912–1956). In his control of color and gesture, however, his work is much closer to that of Mitchell.
The broader term of "post-painterly abstraction" was sometimes applied to the work of this group of painters to differentiate the trend from the action painting of Abstract Expressionism. Art dilettante and critic Clement Greenberg (1909–1994)—the champion of the Abstract Expressionists—defined the difference from Abstract Expressionism as an emphasis on more sharply defined compositions rather than personal gestures by the artist.
This classification illustrated just how many younger painters were trying to break with what they felt was the tyranny of Abstract Expressionism's emphasis on individual brush stroke. While artists used many different approaches, the emphasis was on pure abstract painting, with a subordination of the primacy of brush stroke and paint texture.
Greenberg classified Sam Francis as post-painterly abstractionist despite his association with Abstract Expressionism and its counterpart l'Art Informel in Europe, where he lived until 1961. Francis, born in San Mateo, California, graduated in 1950 from UC Berkeley with a degree in art. Among his teachers were color field Abstract Expressionists Mark Rothko (1903–1970) and Clyfford Still (1904–1980). From these artists Francis's early paintings developed as all-over gestural color fields.
From 1950 until 1961, Francis lived in Paris and other international cities, gleaning influences for his painting in Bern, Mexico City, Japan, New York, and southern and northern California. Francis's trip to Tokyo exposed him to a variety of styles of gestural calligraphy. While in Paris, he was greatly influenced by fellow Americans Al Held (1928–2005) and Mitchell.
Mitchell's gestural paintings, also influenced by the action painters of Abstract Expressionism, had the greatest impact on Francis's work. Unlike the action painters, Mitchell's work had an underlying structure that defied the Abstract Expressionists' emphasis on spontaneous or subconscious creation.
In 1956, Francis's work was included in the landmark exhibition Twelve Americans at The Museum of Modern Art in New York. It marked the period of the development of his signature style, abandoning the all-over, one-color abstraction of l'Art Informel in favor of "color islands" surrounded by white canvas, usually in primary colors. Exploiting the liquid paint, Francis developed a calligraphic characteristic to his brush work, a personal form of controlled, gestural drippings and brush strokes in revolving and splashing motions.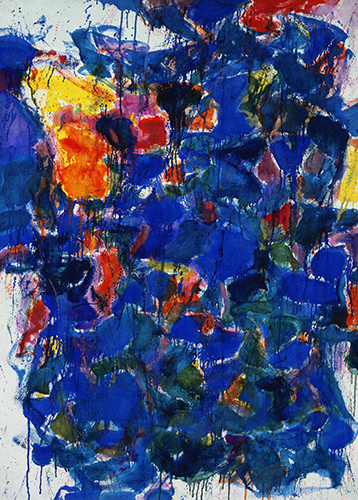 Sam Francis, Blue, 1958. Oil on canvas, 48 ¼" x 34 ¾" (122.6 x 88.2 cm). The Phillips Collection, Washington, DC. © 2019 Sam Francis Foundation/Artists Rights Society (ARS), New York. (PC-131frars)
Francis's late paintings really toyed with positive and negative space. In the brilliant piece below, he seems to have laid down a piece of paper to paint around and create an "entrance."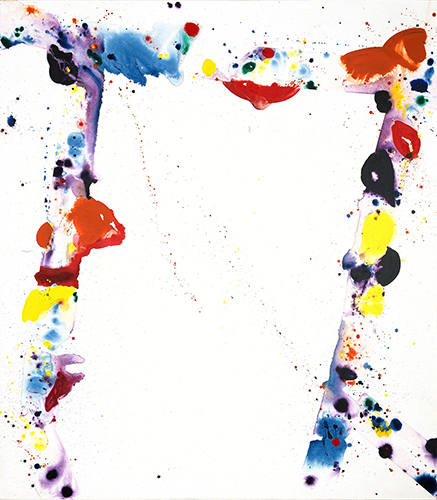 Sam Francis, Entrance, 1972. Acrylic on canvas, 8' x 7' (244.2 x 213.7 cm). Hirshhorn Museum and Sculpture Garden Smithsonian Institution, Washington, DC. Artists Rights Society (ARS), New York. (SI-406frars)