Curator's Corner
First Anniversary Treasure Hunt
It's hard to believe that a year has already gone by since this blog began. From hits on the blog, followers on Twitter, and links on online resources, it is encouraging to see such an interest in art history. I hope you have been enjoying the topics covered on the blog as much as I have enjoyed writing about them. The wonderful thing about art history is the great variety of subjects; there are many more fascinating topics to cover in the months and years ahead.
---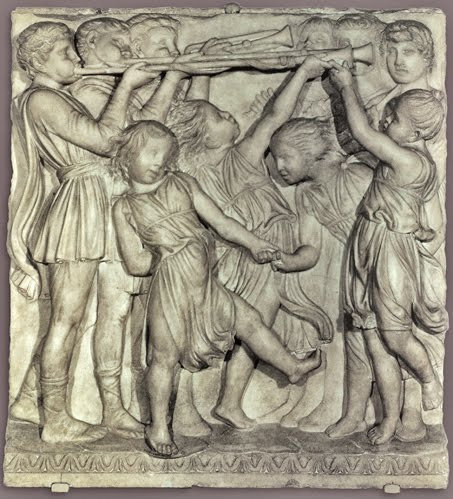 Luca della Robbia (1400–1482, Italy), Trumpeters, panel from Cantoria, 1431–1438. Marble, 38" (96.5 cm). Museo dell' Opera de Santa Maria del Fiore, Florence. Photo © Davis Art Images. (8S-12694)
In the past year I have had the opportunity to discuss women artists, both ancient and modern art forms, artists from the world over, and many styles of art. To celebrate the one-year anniversary of Curator's Corner and thank you for reading the blog, I am holding a blog "treasure hunt." Search through the blog entries from throughout the past year to answer the question below. Then post a comment with your answer. The first person to answer will win a prize.
Treasure Hunt Question: What form of portraiture was fashionable in the US before photography?
The winner will receive two books from the "Art Education and Practice Series" published by Davis Publications.
[This giveaway has now ended. Thank you for participating!]
Thank you for reading my blog. As always, please feel free to suggest topics and let me know your art history questions.