Curator's Corner
Respect for the Aged Day 2021
The concept of filial piety (reverence for one's elders) has been deeply ingrained in many cultures around the world for forever. At one time this may have been the case in the West, but the obsession with "youth culture" (and the resulting Botox, cosmetic surgery, etc.) and the virtual absence older people in TV and movies is a disturbing trend. I think one Western (and this time I mean American) artist who really got it right was John Singleton Copley. I may not really appreciate his Grand Manner style (a sort of Baroque-ified classicism), which he learned from Benjamin West (1738–1820) once he moved to Britain prior to the American Revolution (1775–1783). However, I find his portraits from his colonial years absolutely brilliant, especially his respectful representation of older American colonists.
---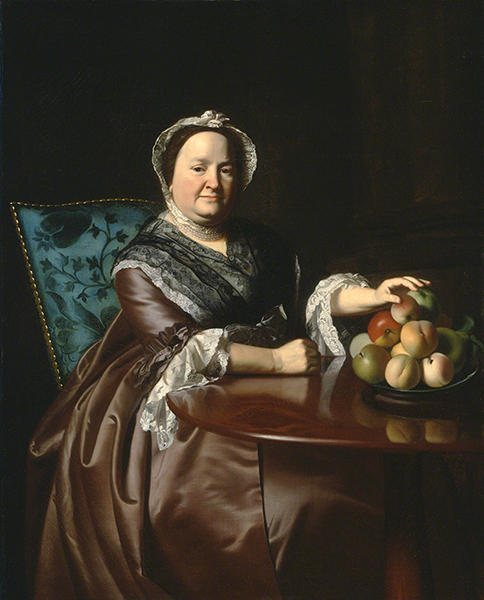 John Singleton Copley (1738–1815, Colonial America/England), Mrs. Ezekiel Goldthwait (Elizabeth Lewis), 1771. Oil on canvas, 50 1/8" x 40 1/8" (127.3 x 101.9 cm). © 2021 Museum of Fine Arts, Boston. (MFAB-114)
The genius of Copley's portraits is that he transcended the common problem of fellow early American portrait painters—reconciling realism and idealism in the facial features of the portrait sitter. Overly idealized features created a vapid, non-individual expression on the sitter, while emphasizing particular physical features with verity could create a crude visage at odds with the luxurious material aspects of the portrait setting.
In Mrs. Ezekiel Goldthwait (Elizabeth Lewis), Copley, a member of the same mercantile class as the sitter, understood the unpretentious nobility of the class and executed a sympathetic and elegant description of the woman. At the time, Copley's success was a sure thing in works such as this.
Copley only occasionally included a stage set behind his sitters. He usually featured only key objects of luxury that alluded to the sitter's status. In the portraits of Mrs. and Mr. Goldthwait, a neutral dark background is lit by a single light source from the side, ably highlighting the luxurious, yet restrained, satin of her dress and the embroidery of her chair.
Painted as if interrupted while reaching for fruit, Copley has directly engaged the viewer with the sitter of the portrait, thus enhancing the sympathy and respect for the subject. The 1770s muted palette dominated by warm browns is a contrast to the more pastel Rococo colors Copley used in his early portraits of the 1760s.
Most colonial painters were self-taught due to the total absence of art academies. The early colonial style, based largely on prints of English portraits, tended to be flat, evenly lit, and rich in realistic detail. Early portraits are characterized by unsophisticated drawing skills, awkward rendering of anatomy, and emphasis on the luxury items of the sitter.
By 1750, the American style began to change with the first influx of European artists, mainly from Britain. These academically trained artists were aware of the more current stylistic trends and techniques in painting. They also brought with them a group of stock poses and attitudes in portraiture. The late-Baroque style was enthusiastically embraced by the more sophisticated colonial patrons. Eventually, European courtly tradition was combined with American fondness for realism to create a distinct American style.
Copley was one of the two great geniuses of colonial painting, the other being Charles Willson Peale (1741–1827). He was first introduced to art by watching his stepfather, the English engraver Peter Pelham (1695–1751), who copied many engravings of British portraits. Copley spent much time reworking his stepfather's plates into prints.
After his stepfather died, Copley drew inspiration from whatever sources he could: mezzotints of English paintings, paintings in a small gallery run by the family of painter John Smibert (1688–1751), and anatomical plates in an encyclopedia, which he copied masterfully. In the end, he attained his mature style by acute perception of the material world.
Copley's style, in which he meticulously copied the textures and nuances of light that he observed, found eager patrons among wealthy New England families. They appreciated the rich materialism of Copley's surfaces and his ability to capture their luxuries, as well as the straightforward truthfulness of their likenesses. This came from a combination of intense scrutiny of every object he painted and Copley's overriding interest in recreation rather than mere representation.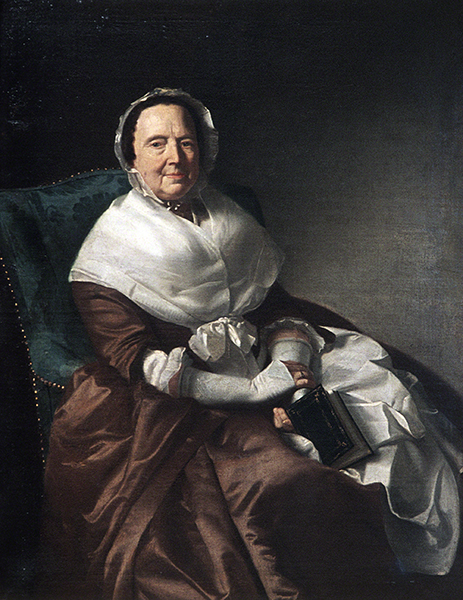 John Singleton Copley, Mrs Sylvanus Bourne (née Mercy Gorham), 1766. Oil on canvas, 50 ¼" x 40" (127.6 x 101.6 cm). The Metropolitan Museum of Art, New York. © 2021 Dr Ron Wiedenhoeft/Saskia, Inc. (NUF-0127)
I couldn't resist adding this beautiful rendition of this Barnstable matriarch. One thing that captures your eye is the quiet dignity of Copley's depiction. Also, it shows his reliance on stock poses he picked up from prints of British portraits. This pose, right down to the fichu (shawl) she wears, is repeated in his portrait of Mrs. Ebenezer Austin (Albright-Knox Art Gallery, Buffalo, NY). Also, his silk-upholstered chair appears in many portraits, including in both Mrs. Goldthwait and Mrs. Austin!
Correlations to Davis programs: Explorations in Art 2E Grade 1: 2.1, 2.2; Explorations in Art 2E Grade 3: 1.1, 1.2; Explorations in Art 2E Grade 4: 2.1; Explorations in Art 2E Grade 6: 1.1, 1.2, 6.1, 6.2; A Personal Journey 2E: 6.4; Discovering Art History 4E: 11.5