Curator's Corner
American Renaissance Entrepreneur
I often happen upon an artist's name and think, "Aha! I've never posted about this artist, and his/her work is awesome." That's what happened yesterday when I crossed paths with George Jakob Hunzinger's name.
---
In the annals of American furniture design, nothing better epitomizes the (ahem) "unique" tastes in some of the miscellaneous arts of the American Renaissance Period (1870–1900). This period of American art, often erroneously referred to as "Victorian," shares the same exuberant exploration of a zillion historical influences in furniture as British furniture of the period, but Victoria was not our queen.
American Renaissance is a better term for this period, because the US was expanding in so many directions at such a rapid pace—socially, industrially, financially, politically and militarily. Also, the middle class was expanding rapidly, and to assert their status, they needed fancy furniture! Well, Hunzinger was just the one to provide it!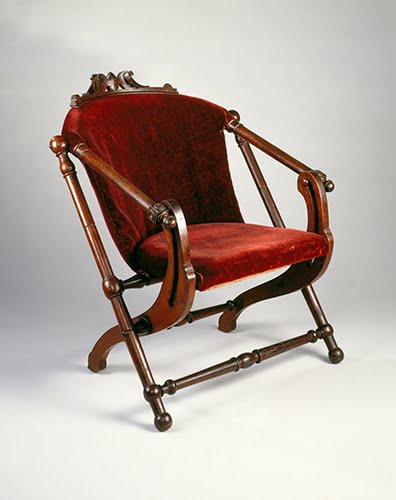 George Hunzinger

(1835–1898, US, born Germany), Folding Armchair, ca. 1873. Wood and original upholstery, 31 5/8" x 27 ½" x 29 ¼" (80.3 x 69.9 x 74.3 cm). © 2018 Brooklyn Museum. (BMA-5585)
The Industrial Revolution (1760–1820/1840) initiated a process that revolutionized the building of furniture by machines, rather than cabinetmaker artists. In the late 1860s, the Arts and Crafts movement evolved in Britain, and through the 1870s and 1880s spread to the US. The aesthetic of the movement was a return to traditional, handcrafted decorative arts such as furniture, with the combination of fine art and functional design. This ushered in a revival of past furniture styles going back to the Renaissance and even Ancient Egypt.
The middle ground between these two aesthetic poles was what would subsequently be termed "patent furniture." Patent furniture was aesthetically designed furniture that exploited the most up-to-date industrial techniques without sacrificing "high style." Hunzinger was a leader in this style of furniture from the 1860s through the 1890s.
Born in Tuttlingen, Germany, Hunzinger immigrated to the US in 1855. His family had been cabinetmakers in Germany since the 1600s. He was already an established furniture maker when he came to the US, eager to build a furniture company that took advantage of America's far-reaching advancements in industrial technology and inventions. Ultimately, the means of production for Hunzinger's furniture was a major source of inspiration for his patented designs.
Hunzinger was a prolific inventor himself, securing twenty-one patents in furniture design between 1860 and the year of his death (1898). Among his inventions based on modern convenience rather than concerns about historical styles were extension tables, swivel top and nesting tables, reclining and folding chairs, convertible beds, platform and folding rocking chairs, and an innovative seating material made of braided steel wire.
The artist's attitude toward modern production methods matched his instinct for modern marketing methods. He offered his furniture in a wide variety of woods, finishes, and upholstery, with price points that appealed to a broad range of customers. His reliance on the mechanical influences in his furniture designs had major impact on American furniture into the mid-1900s.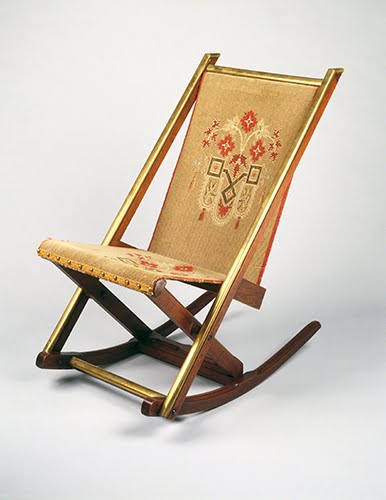 George Hunzinger, Folding Rocking Chair, ca. 1870. Walnut, brass, upholstery, 31 ¾" x 17 7/8" x 29" (80.6 x 45.4 x 73.7 cm). © 2018 Brooklyn Museum. (BMA-5364)
Folding chairs, such as the red armchair and rocking chair, appealed greatly to the hoards of people moving west during the late 1800s. Imagine the convenience of folding up this rocker and loading it in a wagon to migrate west—a bit of civilization on the frontier! The rocker is one of Hunzinger's more modestly priced items with it's simple printed fabric. The red armchair reflects elements of the Renaissance Revival. The design was loosely based on the Italian Renaissance Savonarola chair.
Elegant folding armchairs were popular among the middle class, who could not always afford to furnish every room in a house extravagantly, moving chairs from one room to another. They were also convenient for elegant outdoor events. Both folding chairs exhibit Hunzinger's patented construction that featured front legs that served as the side bars of the back. This was easy to produce in one piece, whether turned or straight, and could be very decorative as in the following two examples.
The following two examples demonstrate the confusion of historical styles that ultimately resulted from the mania for historical revival styles. Furniture historians would probably be hard-pressed to pin down a single influence in these designs. The overstuffed pink upholstery is most like part of Rococo Revival, while I'm not sure to what styles the rest of the chair alludes. The overstuffed yellow upholstery also waves at the Rococo Revival style. This armchair features another patented Hunzinger innovation, the "Lollipop Spindle" seen in the lower back of the chair. Hunzinger produced chairs in which Lollipop Spindles that formed the entire back of the chair. Ouch!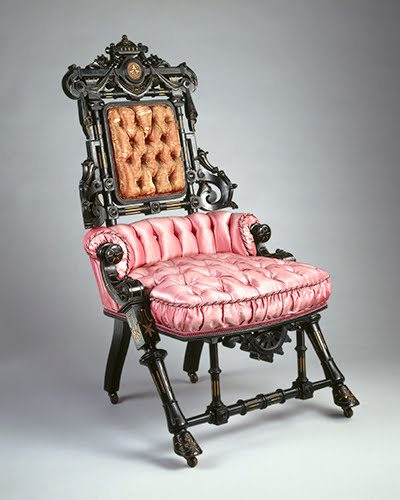 George Hunzinger, Side Chair, ca. 1869. Bonized wood, original upholstery, 44 1/2" x 25 ¾" x 28" (113 x 65.4 x 71.1 cm). © 2018 Brooklyn Museum. (BMA-5089)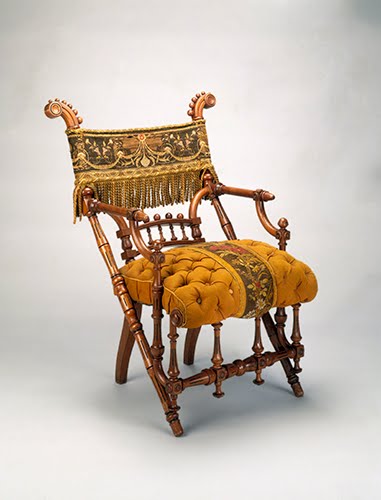 George Hunzinger, Armchair, 1869. Wood and original upholstery, 35 5/8" x 27 ¼" x 25 ½" (90.5 x 69.2 x 64.8 cm). © 2018 Brooklyn Museum. (BMA-5070)
Find out more about the many revival styles from the 1800s in my post Revival Curiosities from 2015.
Correlations to Davis Programs: Explorations in Art 1E Grade1: 6.35; Explorations in Art 2E Grade 1: 6.7; Explorations in Art 1E Grade 2: 6.35-36; Explorations in Art 2E Grade 2: 6.9; Discovering Art History 4E: 2.2