Curator's Corner
African American History Month 2021 III
---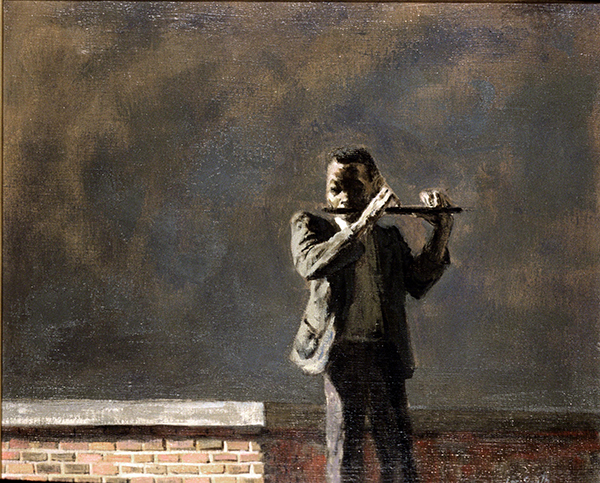 Hughie Lee-Smith (1915–1999, U.S.), Slum Song, 1944. Oil on canvas, 26 ¾" x 30 3/8" (68 x 77 cm). Smithsonian American Art Museum. Courtesy of the Los Angeles County Museum of Art from the landmark exhibition Two Centuries of Black American Art (1976). © 2021 Estate of Hughie Lee Smith/Artists Rights Society (ARS), New York. (8S-21927)
Many of Lee-Smith's paintings resemble stage sets because of his experience in building theater sets and as a modern dancer. The subjects of many of his paintings are single figures, often represented on stage. As a romantic realist, Lee-Smith's work presents everyday African Americans in mundane situations, presented with dignity. The dramatic lighting adds a monumentality to the figures in the artist's drive to define "iconic" versions of African American life.
In Slum Song, Lee-Smith set a mood with the overcast sky and tenebristic lighting, evoking a sense of hope in the midst of poverty. It also emphasizes the lone figure as a symbol of African Americans struggling against great odds in the quest for equality. At the same time, music is presented as a possible foil to the seeming insurmountable odds.
Lee-Smith was born in Eustis, Florida, but soon after moved with his mother to Cleveland, Ohio. He began drawing at an early age, realizing his goal to be an artist from that early point. In high school he studied great master paintings in color reproductions, immediately drawn to the Baroque artist Peter Paul Rubens (1577–1640), whose portraits of Africans impressed him greatly, particularly because of the dramatic chiaroscuro (contrasts in light and dark) in Rubens's works.
While in high school, Lee-Smith also took art classes at the Cleveland Museum of Art, where he learned about Renaissance painting, which would be a lasting influence throughout his career. Once again, it was the chiaroscuro that attracted him to the period. A major influence at this point was the late Renaissance, tenebristic work of Caravaggio (1577–1610). He subsequently received a scholarship to the Cleveland Museum of Art, where the greatest impact on his mature painting style became the lessons on the importance of values (light and dark varieties of a color). He also learned the significance of solid drawing.