Curator's Corner
African American History Month 2020 V
Contemporary African American artists use diverse techniques, ideas, and the history of African Americans in works of art that speak in new and exciting ways, including these works from the 1980s and 90s. Their influences include a variety of civilizations besides Africa, and are expressed in an endless variety of styles. Subject matter and philosophical orientations are no longer restricted by the debate between the "validity" of edifying scenes of African and African American life and abstraction. Between these two poles, African American artists have manifested a new consciousness that involves novel ways of incorporating African and African American heritage into their work without "spelling it out." The influence of personal and cultural heritage is still the major focus for most Black artists.
---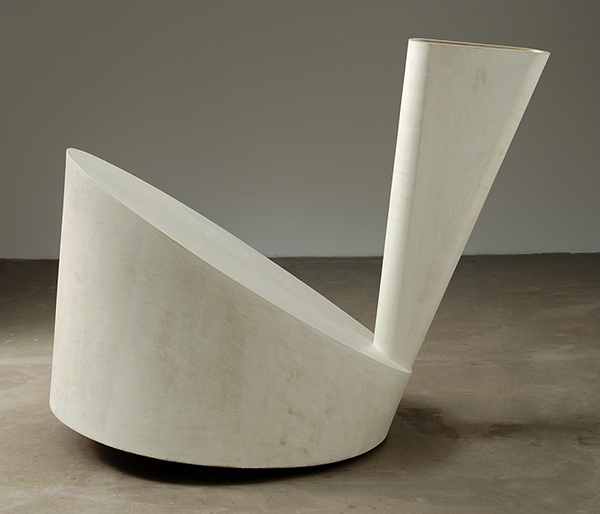 Martin Puryear (born 1941, US), Verge, 1987. Painted wood, 67 3/8" x 84" x 46 ¼" (171.1 x 213.4 x 117.5 cm). The Museum of Modern Art, New York. © 2020 Martin Puryear. (MOMA-S0723)
Although grounded in the minimalist aesthetic, Martin Puryear's works are far from the cold, machine-made primary structures or Cor-Ten steel works of artists such as Tony Smith (1912–1980). The reduced minimalist form is tempered by an insistence of the characteristics of the material—in the case of Verge, wood. In many ways, Puryear's work is related in spirit to the sculpture of Constantin Brancusi (1876–1957), an early modernist who often contrasted various materials with different textures in radically simplified forms.
Puryear's sculptures marry the Minimalist emphasis on simplicity with a traditional love and respect for material and process. Born in Washington, DC, he spent his youth studying practical crafts and how to build furniture, guitars, and canoes. He attended Catholic University to study biology, but switched his major to painting his junior year. He received his BA in 1963.
On a Peace Corps stint in the 1960s to Sierra Leone, Puryear learned an appreciation for the non-technological aspect of creating art, and he learned African techniques of working with natural materials. His interest in woodworking also led him to study Swedish furniture making in Stockholm. While in Sweden, he was also impressed by the traditional basketry and quillwork of the people of Lapland. Puryear received an MFA from Yale in 1971 and subsequently taught at Fisk University in Nashville and the University of Maryland.
During the 1970s, Puryear's mature sculpture style formed. By the 1980s, he was exhibiting large-scale works, and received his first commissions for large outdoor works. Puryear's sculptures resist classification either as biomorphic or industrialized forms. They are most often combinations of both, a celebration of finely honed craftsmanship of pre-industrial times with a totemic quality inherent in his respect for the material.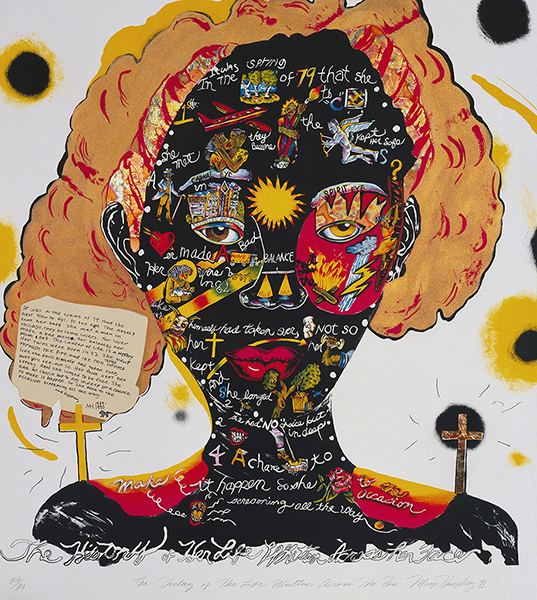 Margo Humphrey (born 1942, US), The History of Her Life Written Across Her Face, 1991. Color lithograph with copper leaf and collage additions on paper, sheet: 32 ¼" x 29 5/8" (82 x 75.3 cm). The Museum of Modern Art, New York. © 2020 Margo Humphrey. (MOMA-P1409)
The History of Her Life Written Across Her Face is Margo Humphrey's most recognized subject. She began sketches for it in 1986, inspired by images of veiled women whose physical features are obscured and by a National Geographic photograph of a woman with a Sanskrit prayer tattooed on her face. Her time in Africa and the South Pacific, where she met many cultures that adorn the body and face with images, served as further inspiration.
This work is biographical in its charting of the journey and struggles of an African American woman artist during the Feminist Art Movement period (1970s). However, it deals with a broad range of ideas of American culture—from eating habits and superstitions to love and religion—in order to paint a broader picture of the human spirit. The bold, simplified self-portrait is overwritten with images, symbols, and text that relate a personal narrative. The same narrative is presented in a piece of handwritten text pasted to the portrait.
While her prints chronicle the life of an African American woman artist, her works also exude a positive spirit. This is conveyed through visual metaphors. Everyday objects become recurring symbols in her prints: zebras embody the strength of her heritage; a plate of yams represents nourishment or survival. Whether celebrating her childhood or confronting her personal fears, Humphrey's artwork conveys an overall sense of hope and love.
Humphrey was born in Oakland and obtained a BA from California College of Arts and Crafts (1960) in painting and printmaking and an MFA from Stanford University (1972) in printmaking. Her printmaking teaching career has included the University of the South Pacific in Suva, Fiji; Yaba Technological Institute of Fine Art, Nigeria; the University of Benin, Nigeria; Trowell School of Fine art in Kampala, Uganda; and the National Gallery in Harare, Zimbabwe. Her broad experience with other world cultures greatly informs her art work.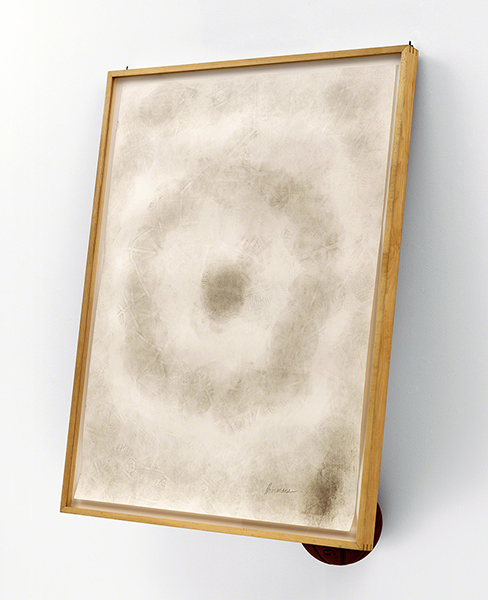 David Hammons (born 1943, US), Out of Bounds, 1995–1996. Paper in artist's frame with basketball support, 52 ½" x 41 ½" x 11 ½" (131.2 x 105.4 x 29.2 cm). The Museum of Modern Art, New York. © 2020 David Hammons. (MOMA-S0540)
Out of Bounds is one of several works David Hammons created on the theme of the basketball hoop. He considers basketball an important element in African American culture. He feels that African Americans have made basketball an "art of improvisation," a combination of sport, ballet, and theater. He achieved the dirt marks on this paper by bouncing a basketball against it.
Hammons is a painter, sculptor, and installation artist. He creates installations and site-specific works in which he uses found objects as a platform for social commentary. He was influenced by Dada found-object works from the early 1900s by artists such as Marcel Duchamp (1887–1968).
Another inspiration for Hammons was the Italian Arte Povera movement, which was characterized by assemblages made of humble materials such as junk. As an African American urban artist, Hammons develops his work out of the debris of his community's life in order to confront cultural stereotypes and racial issues.
Hammons was born in Illinois. He studied art in Los Angeles when the California Assemblage movement was flourishing in the 1960s. Hammons work pioneered the aesthetic, which is sometimes also called Junk Art or Funk Art. After graduating from the Otis School of Design, he moved to New York, where he has lived and worked since the mid-1970s.
Preferring to work in public spaces, Hammons has consistently consciously avoided the attention of critics, galleries, and museums. He has repeatedly turned down invitations for exhibitions of his work and participation in group showings in the United States and abroad. However, Hammons work is found in the collection of many prestigious museums in the United States.
Hammons first gained attention of the New York art scene in 1989, and has created installations consistently since then. He has used materials such as grease, human hair, barbecued ribs, elephant dung, cheap wine bottles, and dirt.