Curator's Corner
African American History Month 2020 II
---
The Civil Rights Movement of the 1960s galvanized African American artists to push for a revival of exhibitions and study of African American art. This led to the formation of the group Spiral in 1963. It included artists who had been active during the Harlem Renaissance (ca. 1920–1930s). Spiral revived the debate from that period about whether African American art should reflect themes relevant to Black people's African ancestry or if modernist styles were legitimate representations of "blackness." Although the group only lasted through 1965, it sparked an energetic resurgence of African American representation in galleries and museums by the 1970s and 1980s, which included a wide range of modernist experiment.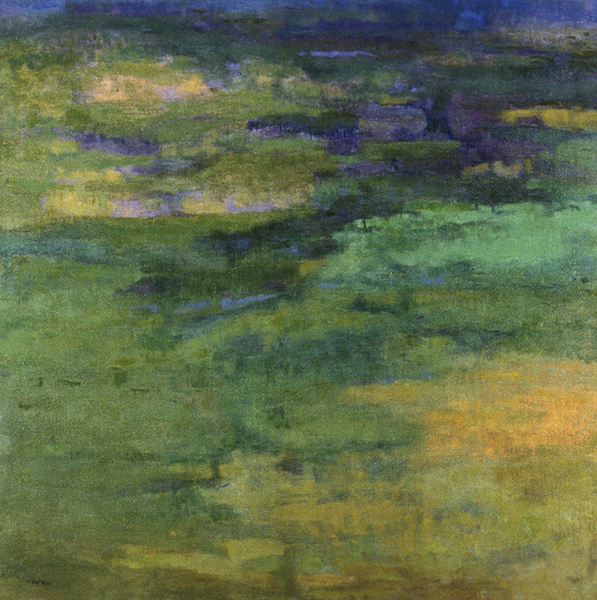 Richard Mayhew (born 1924/1934, US), Rockland, 1969. Oil on canvas, 50" x 50" (127 x 127 cm). Private Collection? Image Davis Art Images. From the landmark exhibition Two Centuries of Black American Art, 1976, Los Angeles County Museum of Art. (8S-21960)
Richard Mayhew was one of the founding artists of the Spiral group. Born on Long Island, he is of African American and Aboriginal American heritage (his father was African American and Cherokee and his mother was African American and Shinnecock). His Shinnecock grandmother taught him about the culture's reverence for nature, a fact that Mayhew attributes to his interest in painting landscapes. As a teenager he studied European and American painting in New York museums. He was greatly influenced by the American Barbizon landscape painter George Inness (1825–1894). At 17, he knew he wanted to be an artist.
Starting in the late 1940s, Mayhew studied art at the Brooklyn Museum School, the Pratt Institute, and Columbia. The period was alive with enthusiasm for the action painting of the Abstract Expressionists. The freedom and energetic brushwork allowed him to explore nature in a spiritual sense rather than descriptive physical one. His first solo show was in 1955 at the Brooklyn Museum. It is easy to see how Mayhew's landscapes adapted Inness's perception of landscape as a spiritual exercise, particularly combined with his inherent Aboriginal respect for nature.
In Spiral, Mayhew argued that an artist's individual style, even abstract, was a valid statement about the African American community, as much as references to African art or scenes of African American life. If it was meaningful to the African American artist personally, then it was a boon to the Black art community. Jazz musicians who saw Mayhew's works likened them to the blues, a musical genre developed by African Americans.
Rockland, a view in Rockland County on the western side of the Hudson River, dates from a period when Mayhew's landscapes verged on pure abstraction. Comparing his work to that of late Inness is very fruitful. For more of this artist's work, see the ACA Galleries website; the colors will blow you away, or bring tears to your eyes.
The series continues Wednesday with a post about Dindga McCannon, founding member of the group Where We At, Black Women Artists, Inc.