Curator's Corner
African American History Month 2018 I
I have decided to apply officially to change the name of one of this month's official designations to include African American Art History Month (although I haven't really). When one looks at the contributions to our society of African American artists and art educators, everyone would agree with my application!
---
Alma Woodsey Thomas (1891–1978) is one of the most inspirational art educators and artists I've ever come across. I've also always admired Claude Monet (1840–1926), because even in later life he continued to expand his Impressionistic dissolution of form to the point of abstraction. Similarly, Thomas began abstraction later in life after a lifetime of painting realistic still-life and landscape works. Her work is brilliant!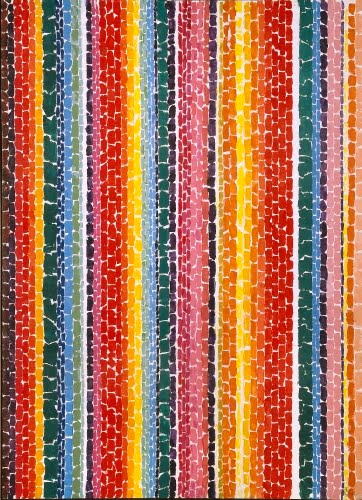 Alma Thomas (1891–1978, US), Earth Sermon—Beauty, Love and Peace, 1971. Acrylic on canvas, 72" x 52 1/8" (182.9 x 132.2 cm). Image © 2018 Smithsonian Institution, Hirshhorn Museum and Sculpture Garden, Washington, DC. (SI-409)
Thomas retired in 1960 after working as a public-school art teach for thirty-five years. She began studying at American University and discovered a love of color learning about Abstract Expressionism and Color Field painting. In 1966, Howard University—from where she was the first woman graduate in their art program (1924)—offered her a one-person show. Rather than show her works inspired by Color Field, she minimized her brushwork and, inspired by the moving leaves outside her window, came to her ultimate mature style as seen in Earth Sermon.
Earth Sermon is part of Thomas's series of Earth paintings that came out of that shift in strategy. If you look at these paintings close up, you see a multi-colored underpainting, over which is laid a field of pure color in short brush strokes. Visually, one could compare this to the pointillist technique of the Post-Impressionists, because the colors reverberate off one another in glorious effect. In short, her work is full of joy!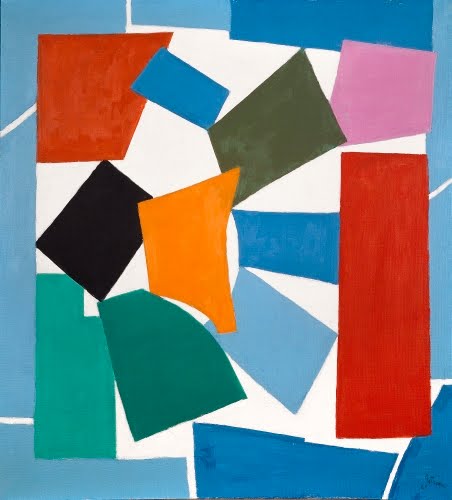 Alma Thomas, Watusi (Hard Edge), 1963. Acrylic on canvas, 47 5/8" x 44 ¼" (120.9 x 112.1 cm). Image © 2018 Smithsonian Institution, Hirshhorn Museum and Sculpture Garden, Washington, DC. (SI-386)
This work dates to the period (1960–1966) when Thomas was inspired by the coloristic aspects of Abstract Expressionism and Color Field painting. This is clearly influenced by Color Field's reliance on un-nuanced blocks of pure color. However, it was mainly inspired by another artist who was a brilliant pioneer of pure color abstract works, Henri Matisse. Thomas applied the precepts of Color Field—pure color laid down in unmodulated shapes—to pay homage to Matisse's late work The Snail (1953, Tate Gallery, London). The Snail came from Matisse's period when he produced collages of cut paper painted in bright gouache colors.
View all of the posts in my African American [Art] History Month 2018 series.