Curator's Corner
A Young Wheat Plant for Spring: Hamada Shōji
As an avid learner of the thousands of years of Japanese ceramic arts history, I am always excited to contemplate an artist's work that I had never studied carefully before. Shōji Hamada's simple decorations of young plants are symbolic of his belief, according to his artist's statement, that his ceramic artworks are not created, but rather born from his intuition, just as plants are from seeds.
---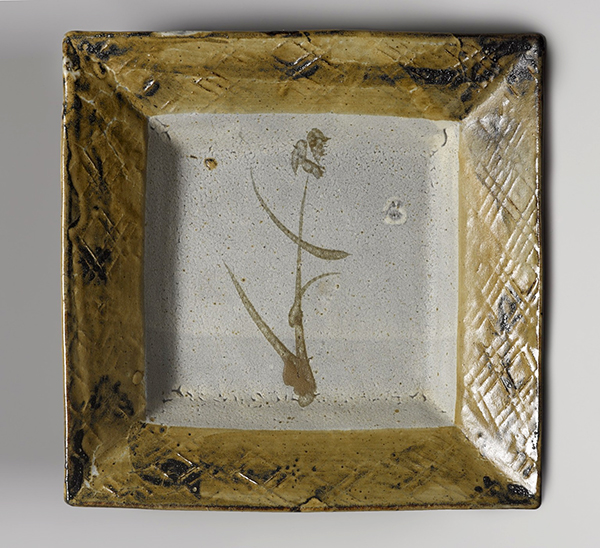 Hamada Shōji (1894–1978, Japan), Square Plate, ca. 1960. Stoneware with iron-oxide decoration and underfired glaze, 2 1/8" x 12 9/16" x 12 9/16" (5.4 x 31.9 x 31.9 cm). Brooklyn Museum, Purchase gift of Mr. and Mrs. Harry Kahn, 75.179. © 2023 Artist or Estate of Artist. (BMA-5312)
Hamada's work is characterized by simple, yet elegant economy of design. A popular form in his body of work is the rustic square plate with spare, expressionistic brushed on design, often depicting a single plant form. In the case of this plate, it is a sheaf of wheat. Another typical decorative feature of these square plates is the diagonal lattice work incised around the rim of the plate.
The plate is glazed with iron (tenmoku) glaze, one of a wide range of painterly glazing Hamada used. Made from scrap iron powder, the glaze is applied with a dog-hair brush. The gestural, spontaneous decoration of this work is reminiscent of that of Kenzan (1663–1743), an Edo period (1615–1868) ceramic artist whose thick-walled and gesturally decorated wares were favorites for the tea ceremony.
The Japanese tradition of ceramics is one of the oldest on Earth. The Jōmon culture, which flourished between 5000 and 200 BCE, created the first ceramics on the planet that were decorated for decoration's sake ,rather than for ritual purposes. Porcelain developed in Japan during the 1600s, pioneered mostly by Korean ceramic artists who had come to Japan in 1590. The tea ceremony (chanoyu) and flower arranging (ikebana), influenced by Zen Buddhism, are cultural developments of the 1500s that brought increased respect for the ceramic arts.
In the early 1900s, a group of ceramic artists founded the Japanese Folk Art Association. They were inspired by the British Arts and Crafts Movement, reacting against the rapid "Westernization" and industrialization of Japan. This group of artists promoted the idea of the hands-on ceramic artist, one who took part in every stage of making ceramic vessels.
The need to restore a national identity after World War II (1939–1945) helped strengthen the movement to fortify traditional art forms. Historically, the reverence and respect for ceramic arts in Japan elevated the art form to the same status as painting or sculpture. Unlike their counterparts in China and Korea, individual Japanese ceramic artists have traditionally enjoyed almost star-like status. This idea has been perpetuated by government-sponsored exhibitions of ceramic art and public recognition of artists designated Living National Treasures.
Hamada was a very influential Japanese ceramic artist, particularly in rustic, rural ceramic wares that were part of the Mingei (Japanese folk art) movement. Born in Tokyo, Hamada graduated from Tokyo Technical College in 1916 and worked initially for the Kyoto Ceramic Research Institute. From 1919 to 1923, he traveled extensively to learn diverse forms of folk ceramic traditions, including British medieval pottery and Korean stoneware traditions.
In 1923, Hamada put up a kiln in Mashiko, where he established a workshop in a rebuilt farmhouse. Mashiko was a ceramics center since Jōmon times, and Mashiko wares are renowned for the thick, high-silicic acid clay that produces chunky, rustic forms. Mashiko wares were highly prized during the Edo period. Hamada's contemporary Mashiko wares influenced ceramic artists worldwide, particularly in the U.S.
Designated a Living National Treasure in Japan in 1955, Hamada's work had a major impact on the Mingei movement of the 1960s. He was a co-founder of the Japan Folk Art Association. In 1974, he established the Mashiko Sakokan Museum, built out of his home.
Correlations to Davis Programs: Explorations in Art 2E Grade 1: 1.9; Explorations in Art 2E Grade 6: 2.5; Experience Art: 2.3; The Visual Experience 4E: 10.10; Experience Clay 3E: Chapter 5, Chapter 7, p. 292