Curator's Corner
Women's (Art) History Month 2020 I
Since this year is the 100th anniversary of the Nineteenth Amendment to the United States Constitution, which granted women the right to vote, it is especially fitting to observe Women's History Month with art by women artists (not just Americans, though).
---
Between the 1400s and 1700s in Western Europe and America, arts education and training of women did not improve markedly. Women with the drive to be artists had to train under fathers or male relatives who were established artists. Women were also denied membership in the guilds that ensured continual patronage to artists.
During the 1700s, the academy system was introduced to regulate artistic production and patronage. The academies established standards for educating and training artists, as well as hierarchies for subject matter and style. Few women were allowed into the academies. The easiest way for a woman to be trained as an artist was still with a male relative. However, this period witnessed the beginning of the practice of commissioning women artists to teach classes of young women students at the academies.
Françoise Duparc (1726–1778, born Spain, active France from 1730), Woman Seated with Her Arms Crossed. Oil on canvas, 28 3/8" x 22 13/16" (72 x 58 cm). Musée des Beaux-Arts, Marseilles. Image © 2020 Davis Art Images. (8S-12885)
This portrait by Françoise Duparc is sometimes called The Mender or The Washerwoman. The thick impasto (build-up of paint) is reminiscent of the rich surfaces found in portraits by Dutch Baroque painter Johannes Vermeer (1632–1675). This portrait of an older woman is also important sociologically. Duparc has treated the depiction of a common woman with dignity and respect, without irony or caricature. In treating common people with the same respect shown for members of the nobility, Duparc's work is close in spirit to that of Jean-Baptiste Chardin (1699–1779), perhaps the most eminent of painters who worked in the Bourgeois Baroque style.
French painting of the late Baroque period in France (sometimes called the Rococo, ca. 1715–1780) can be categorized into two main tastes: the artificial elegance of the courtly style and the so-called Bourgeois Baroque Style. The latter stressed genre scenes and portraits of the middle class and people of humble origins. The Bourgeois Baroque is characterized by painterly rendering of forms and simple, honest characterization.
Duparc was born in Spain of a French artist family that returned to Marseilles in 1730. She was trained by her sculptor father and by the Baroque portrait painter Jean-Baptiste van Loo (1684–1745). She did not acquire his dramatic, overly idealized style. As referenced above, she was also greatly influenced by the painterly portraits of Vermeer.
Duparc traveled to Paris and London. She probably also traveled in Russia, possibly initially as van Loo's pupil, executing portrait commissions. She returned to Marseilles in 1771, and was elected to the Academy of Marseilles as a teacher in 1777. On her death, she bequeathed all of her remaining paintings to the city of Marseilles. However, only four works are now firmly attributable to her, among which this is one.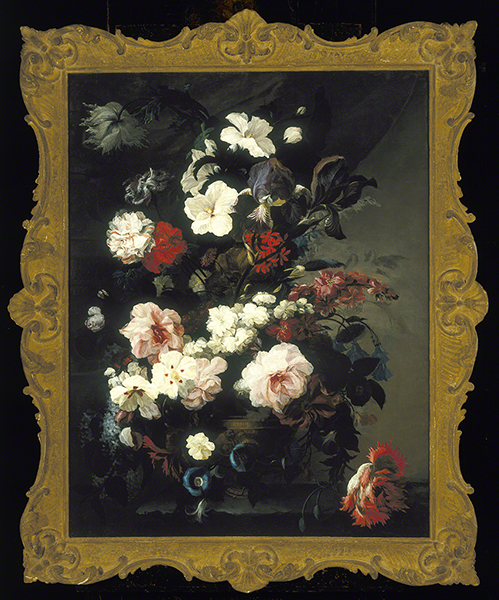 Mary Moser (1744–1819, Britain), Flowers, Still Life (Jardinière of Flowers), ca. 1780. Oil on canvas, 34" x 26 ¼" (86.4 x 66.7 cm). © 2020 Brooklyn Museum. (BMA-4969)
Mary Moser was one of the most prominent women painters of the 1700s in Britain. She was the daughter of Swiss metalworker, enameller, and jeweler George Michael Moser (1706–1783), who immigrated to London in 1720. Her ability at drawing encouraged her father to train her in painting. At the time, women were excluded from academies because of the practice of training with live models. Therefore, many women artists became proficient in still life and portraiture.
Like her counterparts on the continent—Rachel Ruysch (1664–1750), Louise Moillon (1609–1696), and Anne Vallayer-Coster (1744–1818)—Moser became skilled at floral still-life works, even though she also painted portraits and history subjects. Her first recognition came as a medal for her flower drawings from the Society of Arts at the age of 14. In 1768, along with Angelica Kauffmann (1741–1807), she was one of only two women who were founding members of the Royal Academy. Her skill in still life and the prestige of being an academician led to royal patronage.
While her still life paintings reflect a strident Baroque realism, Moser's compositions reflect the more casual and spontaneous aesthetic of the Rococo period. At the Academy, she exhibited under the name Mary Lloyd until 1802, when her failing eyesight forced her to stop painting. Other British women artists of note before the 1800s were Susan Penelope Rosse (1652–1700), a miniature portrait painter, and Anne Killigrew (1660–1685), also a portraitist.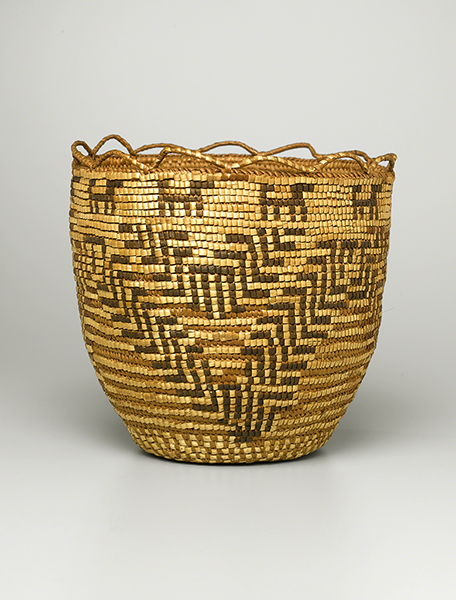 Skokomish (Coast Salish) First Nations (Washington state), Burden Basket, late 1800s or early 1900s. Cedar root, cedar bark, beargrass, dye, 10 1/4" x 10 5/8" x 10 5/8" (26 x 27 x 27 cm). © 2020 Brooklyn Museum. (BMA-4742)
Unlike white European and American cultures, Aboriginal women participated actively in the arts and were greatly respected for their talents. Aside from basketry, First Nations women artists were involved in painting, quilling, ceramic, and weaving arts. Such arts were passed down from mother to daughter, rather than women waiting for the approval and/or training of their fathers.
Basketry is an art form that dates from the earliest times of First Nations and flourishes to the present day. Women of the western First Nations cultures were among the most technologically proficient basket artists in the world. This basket, probably used for gathering and storing food, is an example of plaiting, where the weft simply passes over and under a vertical warp. The wolf pattern under the rim and lower centipede pattern are examples of imbrication, where the fibers are dyed before being incorporated into the weave.
The people today known as the Skokomish actually came from several different groups of Coast Salish people, collectively referred to as the Twana. Their territory once covered the Hood Canal basin in western Washington state. Archeologists believe that the Coast Salish have inhabited this region of British Columbia, Oregon, and Washington since as early as 9000 BCE. The Skokomish designation includes the Twana, Klallam, and Chimakum clans. The culture's first contact with Europeans (Spanish and British) occurred in 1592 and 1792. Of the nine Twana extended clans, the largest is the Skokomish (which means "big river people").
Correlations to Davis programs: Explorations in Art 2E Grade 6: 4.4; A Community Connection 2E: 5.3; A Global Pursuit 2E: 2.5; Exploring Visual Design 4E: 6; Discovering Art History 4E: 4.10, 11.5; The Visual Experience 3E: 16.3