Curator's Corner
Wearable Art for Winter
It's winter in New England, and scarves really come in handy here. Unfortunately, they need to be warm and aren't likely to be worn as fashion statements, as these two Yuh Okano artworks should be. These are really not winter scarves, but I thought the season would be a good reason to show off this artist's work once again.
---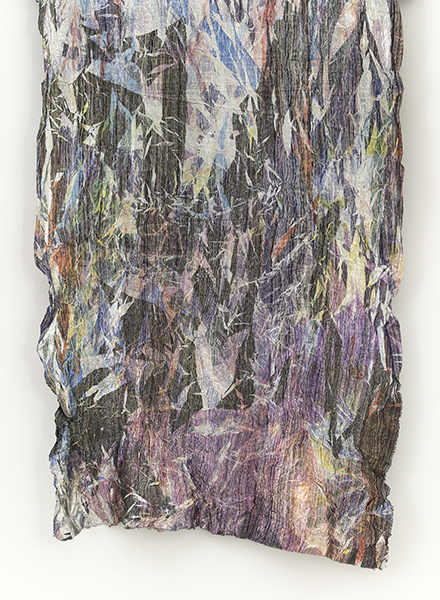 Yuh Okano (born 1965, Japan, designer) and Daito Pleats Company (1979 to present, Gumma, Japan, manufacturer), Epidermis (Forest), 1994. Polyester, shibori-dyed and heat pressed, 100" x 30" (254 x 76.2 cm). The Museum of Modern Art, New York. © 2020 Yuh Okano. (MOMA-D1042)
In Japan, there has not traditionally been a drastic distinction drawn between textile arts and fine arts. The process of becoming a silk artist once followed the same tradition as painting, where an artist worked first as an apprentice with an established fiber artist.
Today, the perception of textiles as fine art has become even more established in Japan. Many contemporary artists experiment with novel approaches to working with silk, the most traditional of Japanese fabrics. What has changed over the last one hundred years is the perception in Japan of silk as an art form reserved for the wealthy. Japanese artists have also experimented with human-made materials in novel ways.
Okano uses the traditional Japanese technique of shibori—which is similar to tie-dyeing—in combination with heat pressing polyester to create rippling waves. In her Epidermis series of works, the artist encourages the viewer/wearer to experience some sort of connection with nature. In the work above, the three-dimensional nature of the heat-pressed pleats is augmented by the tie-dyed, abstract pattern of the interior of a forest. Okano often produces textiles like this to act as installations, in the sense of a tapestry.
Okano received her initial training in the basics of fiber arts in Tokyo. Between 1995 and 1997 she achieved a BFA from Rhode Island School of Design. While studying there, she met the Japanese master and fashion designer Junichi Arai (born 1932), who was a visiting instructor. Arai's use of unconventional materials in his fiber constructions—such as aluminum or polyphenylene—as well as his sophisticated pleating processes, had a great impact on Yuh's art.
Through pleating and dyeing, Okano creates decorative and vibrant three-dimensional surfaces. In the late 1990s, her distinctive fabrics attracted the attention of several major US fashion houses. Thereby TextilesYuh came into being in Brooklyn, NY.
Another piece from the Epidermis series recalls the ever moving and changing smells, sights, and sounds of the ocean, featured in my post from 2018.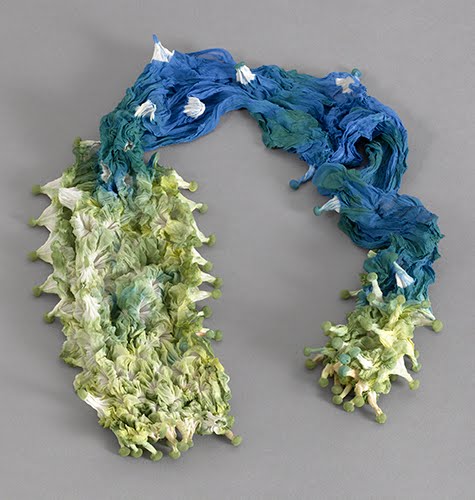 Yuh Okano and Daito Pleats Company, Epidermis (Ocean) scarf, 1994. Polyester, shibori-dyed, heat set, length: 47" (119.4 cm). Image © 2018 The Museum of Modern Art, New York. © 2018 Yuh Okano. (MOMA-D1044)