Curator's Corner
It's Scarf Weather
I'm not sure how warm these scarves would be in winter, but they sure would be fabulous displayed over a black overcoat! The honor accorded Japanese textile art equals that of ceramics, and certainly exceeds that of jewelry. What is awesome is that so much of Japanese textile design involves hand work.
---
Although shibori is often designated as Japanese tie-dye, it is much more complicated process and deserves a category of its own. The whole impetus behind shibori is the creation of a resist-dyed, three-dimensional fabric. It involves twisting, pulling, and pinching fabric before dyeing it. Yuh Okano explores this technique beautifully.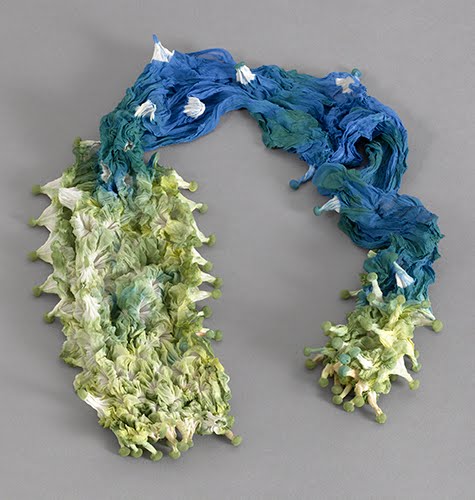 Yuh Okano (born 1965, Japan, designer) and Daito Pleats Company (1979 to present, Gumma, Japan, manufacturer), Epidermis (Ocean) scarf, 1994. Polyester, shibori-dyed, heat set, length: 47" (119.4 cm). Image © 2018 The Museum of Modern Art, New York. © 2018 Yuh Okano. (MOMA-D1044)
Shibori is an ages-old traditional technique of resist dyeing cloth. Like tie-dye, small sections of textile are bound together with string. The bound section acts as a resist, keeping the cloth under the string from being dyed in the dye bath. Okano has developed her own method of shibori wherein she places a small resin bead into the cloth before tying a section. She then dyes the fabrics in multiple dye baths. Once the dye is set by steam, she removes the resin beads. What results are three-dimensional bubbles, pods, and thorn-like shapes. Lastly, the polyester is heat-set to preserve these shapes.
Okano traces some of the influence in her textile designs to shibori patterns in kimonos from the Edo Period (1615–1868). In effect, her works are a synthesis of the artificial (polyester) and the traditional (shibori). Synthetic fabrics, such as polyester, are ideal for use of the heat-set method of "freezing" surface qualities in dyed textiles.
Both of these examples from her Epidermis series show how her patterns are also influenced by the natural world. The Ocean works recall not only waves in the ocean, but also the sea life underneath, such as coral and algae. Interestingly, Okano is expressing these elemental ideas in a basically modern, technology-produced fabric (polyester is a synthetic resin).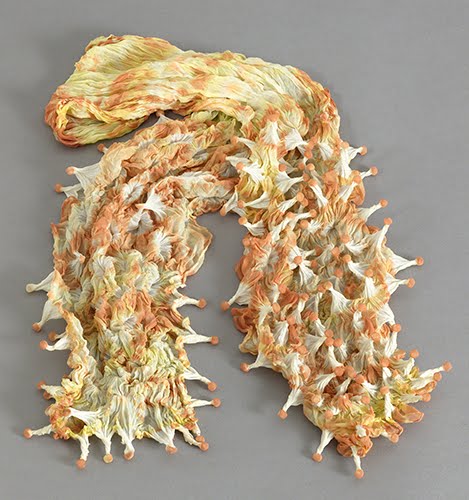 Yuh Okano and Daito Pleats Company, Epidermis (Ocean) scarf, 1994. Polyester, shibori-dyed, heat set, length: 53" (134.6 cm). Image © 2018 The Museum of Modern Art, New York. © 2018 Yuh Okano. (MOMA-D1043)
Okano was born in Japan and now has studios in both Japan and New York. Her initial studies in textile arts were in Japan, and she then received a BFA from the Rhode Island School of Design in 1991. For the remainder of the 1990s, she was an assistant to the famous textile designer Arai Junichi (born 1932). He works in the city a Kiryu, a centuries-old center of fabulous textile arts north of Tokyo. He has invented many extraordinary contemporary textiles using such materials as nylon and aluminum foil. He has even enfolded hand-made paper into his textiles. In 1999, Okano started her own company called Textiles Yuh. She produces scarves and fabrics for other clothing.
Heat-set textiles such as those by Okano remind me of another Japanese textile designer I've posted about, Reiko Sudo (born 1953). She was also an associate of Junichi. Like Okano, she uses polyester and the heat-setting process to produce marvelously pleated textiles.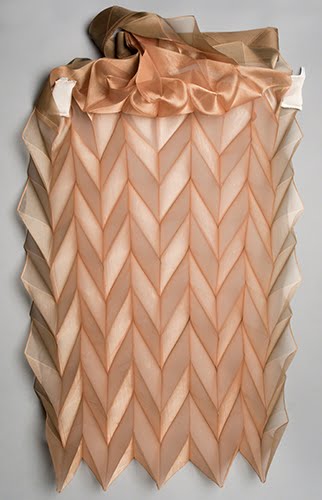 Sudo Reiko (born 1953, Japan, designer) and NUNO Corporation (1984 to present, Tokyo, manufacturer), Origami Pleats textile, 1997. Heat-set polyester plain weave, 3' by 23' 4" (91.4 x 711.2 cm). Philadelphia Museum of Art. © 2018 Reiko Sudo. (PMA-7136)
Correlations to Davis programs: Personal Journey 2E: 3.5; Explorations in Art Grade 3 1E: 6.33; Explorations in Art Grade 3 2E: 6.4; Explorations in Art Grade 4 1E: 5.28; Explorations in Art Grade 4 2E: 5.5; Exploring Visual Design 4E: Chapter 6; The Visual Experience 3E: 10.8, 12.4