Curator's Corner
September Red
This will be my second posting recently of a New York School-related (sort of) artist, but I couldn't resist. While riding around rural Massachusetts this week, I spotted a young maple tree that is already showing all of its leaves in the same color as this gorgeous painting by Clyfford Still. The common wisdom in New England, unlike the Midwest where I grew up, is that August is the end of summer. Phooey to that I say! However, this painting did put me in mind of that beautiful little tree, and the title is appropriate for the season!
---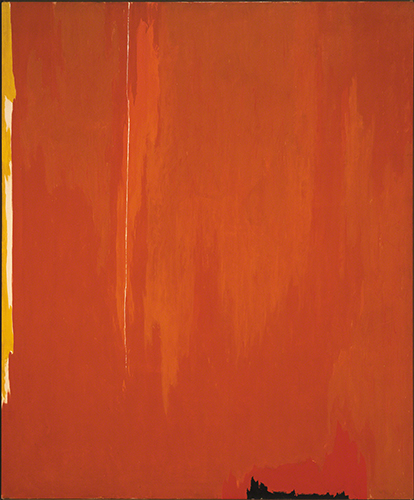 Clyfford Still (1904–1980 US), September 1955, 1955. Oil on canvas, 9' 6" x 8' (289.6 x 241.3 cm). Albright-Knox Art Gallery, Buffalo, NY. © 2019 Artists Rights Society (ARS), New York. (AK-3615sllars)
Still did not move to New York until 1950. By 1947, he was painting huge canvases. His work was characterized, like this painting, by large, crusty areas of fluid paint and thick impasto with bright color contrasts. The color areas merged into one another with often jagged edges, which gives his work an expressionistic power. Over the next 20 years he persisted in his basic image, a predominant color varying in value, shot through with contrasting colors of various intensity.
Unlike most of the other artists associated (by some art historians) with Abstract Expressionism, most of Still's artistic development took place outside of New York. Born in North Dakota, he attended school and taught in the west until the 1940s. He painted in a free, abstract style already in the 1930s, with some vestiges of figures. His works involved large, flowing images executed in thick, coarse paint textures he achieved with both brushes and palette knife. His first one-person show was at the San Francisco Museum of Art in 1943, where he met Color Field artist Mark Rothko (1903–1970).
While in New York in 1945, he was exposed to the work of the nascent Abstract Expressionists' work. Rothko introduced him to Peggy Guggenheim (1898–1979). She gave him a solo exhibition of his work at her Art of This Century Gallery, where many of the other Abstract Expressionists had their first shows.
However, Still was not interested in Surrealism and resisted the New York School's interest in creating art of mythic impact. He habitually did not title his work, or simply gave dates to his work to avoid any connection with a specific subject. In this sense he, like Rothko, went beyond many of the Abstract Expressionists in their quest to avoid any lyrical, mythological, or historical associations.
This 1940s work shows how far Still's abstraction was developed without the input of the European Surrealist artist who had immigrated to New York during World War II (1939–1945), and who were a major influence on Abstract Expressionists such as Jackson Pollock (1912–1956) and Arshile Gorky (1904–1948).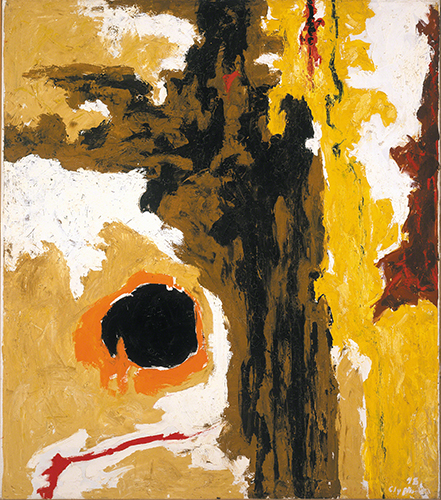 Clyfford Still, 1947-8-A, 1947. Oil on canvas, 45" x 40" (114.3 x 101.6 cm). Albright-Knox Art Gallery, Buffalo, NY. © 2019 Artists Rights Society (ARS), New York. (AK-3510sllars)
Still had a large retrospective at the Albright-Knox in 1959. In 1964, he donated thirty-one paintings to that museum. It included 1963-A (below), which featured a trend in his work from 1963 in which he juxtaposed large negative space with positive space of dynamic brushwork and color.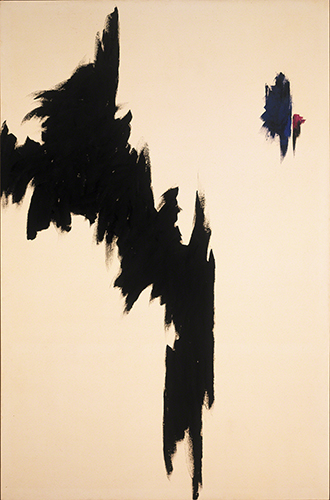 Clyfford Still, 1963-A, 1963. Oil on canvas, 9' 6" x 6' 4" (289.6 x 191.8 cm). Albright-Knox Art Gallery, Buffalo, NY. © 2019 Artists Rights Society (ARS), New York. (AK-3516sllars)