Curator's Corner
Wear a Protective Mask!
My dear friend Matt was an engineering professor at a local university. You wonder why I start with that line? Well, that's because he was also an artist in wood, as I mentioned in a previous post. He showed me how artists form a bowl out of a wood burl on his lathe. And he made me wear the head shield while he was showing me, because he told me of the dangers lathe artists face if they do not wear a head shield.
---
Long story short, I gained a massive respect for artists in wood, because when I paint I don't even bother putting on latex gloves! So, imagine my excitement when we added this piece to our Davis Digital collection, which was worked on a lathe so precisely that the bowl is translucent! And it's tiny (well, small)!!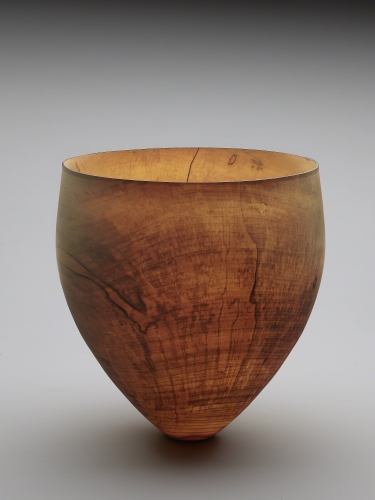 Merete Larsen (born 1953, Denmark), Translucent Vessel, 2000. Sycamore, 7 ¾" x 7 ¾" (19.7 x 19.7 cm). Image © 2018 Philadelphia Museum of Art. © 2018 Merete Larsen/Artists Rights Sociary (ARS), New York. (PMA-8715larars)
One of the reasons the art of wood is so sophisticated in Scandinavian countries is because of the arboreal abundance. In Denmark, artists who adopted the aesthetic goals of the Bauhaus in Germany helped form the Royal Academy of Fine Arts in Copenhagen (1924) to push the modernist goal of elegant functionalism without ornament. That was the beginning of "Scandinavian Modern" in furniture that revolutionized contemporary interiors.
Merete Larsen, born in Copenhagen in 1953, states that she has had a love of wood since childhood. She studied cabinet making from 1976 to 1979 in SIlkeborg, Denmark. She went on to study furniture restoration at West Dean College (1980–1981) in Chichester, England. While in England, she first tried turning wood herself on a lathe. She did not take it up seriously, though, until 1992.
Larsen states that she begins her work with a log and a chainsaw. She cuts sections of wood and brings them to the studio. It literally takes hours and hours of turning on the lathe for the artist to achieve the translucent results seen in this piece. She bases many of pieces on the shapes of Chinese porcelain from the 1700s. Larsen prefers native woods such as sycamore, beech, and ash.
I have seen many of her bowls and vases that she paints with acrylics, applying a shellac to finish them. I think I prefer this bowl displaying the natural grain of the wood. It's almost as if Larsen has created a porcelain out of wood!