Curator's Corner
Lathe and Nature Magic
When I see a work of art that blows me away, I've just got to share it with as many people as I possibly can. This work was my "epiphany of the week" that I recently sent to my co-workers. I'm sure we all realize that there is strong and proud traditional emphasis on process, design, and crafting within the contemporary woodworking community.
---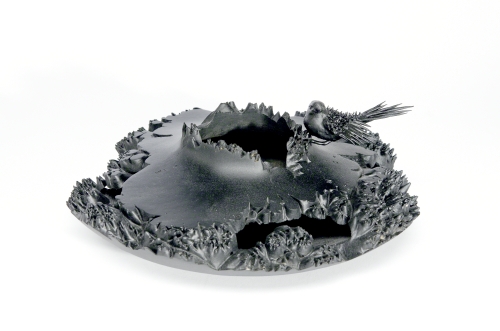 David Sengel (born 1951, US), Night Bird, 2000. Ebonized maple burl, sassafras, rose and locust thorns, 4 ¼" x 10" x 9 ½" (10.8 x 25.4 x 24.1 cm). Philadelphia Museum of Art. © 2017 David Sengel. (PMA-8029)
I'm pretty sure I don't care if wood is worked to produce a functional piece or a sculpture, I still just call it ART. FINE ART at that. All one has to do is look at David Sengel's work to realize why I say this!
David Sengel is a really unique individual, aside from being a great artist. He grew up learning about woodworking in his father's workshop. For some time he honed his ability with the lathe, making functional works of art. At some point, he decided it would be more interesting if what he created had some sort of narrative. That is clearly evident in this piece. One of his chief inspirations is a daily walk through his land in North Carolina, where he observes details in nature that eventually end up in his art.
A dear friend of mine was a lathe enthusiast, who turned amazing pieces out of burl wood. His preferred burls came from Australian trees, but I imagine trees all over the world have burls. Burls are growths on trees, which may be caused by insects, fungi, or environmental stresses. They usually look like a big bump on the side of a tree. My friend Matt used to make amazing bowls from burls on his lathe, often including the deformities in the finished piece. I'm kind of imagining that this work by Sengel is displaying some of the deformities of the burl.
In this piece, Sengel has ebonized the wood. Ebonizing is not simply staining the wood with a dark color. It involves a process that causes a chemical reaction to make the wood turn black, imitating the precious ebony wood that is practically extinct on our planet. The tannins in the wood are what react with the treatment. A combination of tea, steel wool, and vinegar is often used to ebonize wood. Tea is loaded with tannins. It must be done after the wood is turned, because ebonizing only affects the surface.
I'm not sure what part of this piece is from the sassafras tree, but I'm pretty sure the bird is composed of rose and locust thorns. I've seen other works by Sengel with those components. Sengel's work is amazing, and he uses every part of a tree imaginable, including the roots!
Sengel's art can be found in a number of museums, including the Philadelphia Museum of Art, Smithsonian American Art Museum, and Mint Museum. The following websites feature his work and the work of other wood artists: