Curator's Corner
A Roesen is Still a Roesen...
I'm a big fan of artists, especially American artists, who may not be household names like Homer, Peale, or Eakins, but who nonetheless had an impact on art during their careers. There is such a broad range of styles in—particularly—1800s American art that sometimes gets glossed over.
---
While Severin Roesen is given passing mention in many art history texts on American art, he was an important influence on a genre of still life that became very popular in the mid-1800s, that of trompe-l'oeil realism (fool the eye realism). In a broader perspective, Roesen's still lifes really do hark back to the beginning of the tradition of still life as an important fine art subject matter, the 1600s in northern Europe.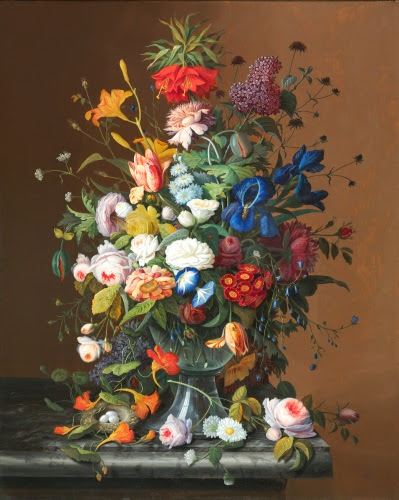 Severin Roesen (ca. 1815/1816–ca. 1872, US, born Germany), Flower Still Life, 1853. Oil on canvas, 40" x 32" (101.6 x 81.3 cm). © Philadelphia Museum of Art. (PMA-5287)
Roesen immigrated to the US around 1848 with many other German artists who were fleeing the political turmoil during the unification of Germany. Although his instruction as an artist is not known, he most likely received professional training in oil painting. While in Germany he painted floral designs on porcelain, highly detailed work reflected in his paintings. Once in the US, he initially settled in New York, where he quickly established a firm reputation for his lush still life paintings. Around 1858 he moved to Pennsylvania, ultimately settling in Williamsport, a city in a region where there were many German immigrants, and a thriving lumber industry.
Roesen's lush, object-packed compositions were painted in brilliant color and meticulously detailed. The abundance of fruit and flowers in his still life paintings reflect the optimism and pride Americans had in their growing country in the period before the Civil War (1860–1865). This optimism at the abundance of the American continent, and the emphasis on extreme realism, were also reflected in the magnificent, sweeping landscape paintings of the Hudson River School during the same period. His style is very reminiscent of Dutch Baroque still life works, particularly the usual setting of the objects on a ledge or tabletop, and the fact that many of the objects had symbolic meaning. For instance, a bird's nest with eggs in it was a symbol of fertility (the fertility of the American wilderness), while a rose was a symbol for passion, and fallen buds intimate the impermanence of life. While his tightly packed compositions may seem to be casually arranged, the objects are arranged with great care for maximum visual impact and color balance.
Roesen became very successful in Williamsport, painting still life works for the parlors and dining rooms of the local lumber barons. His studio was well known as a meeting place for the elite of the region. Many people would visit his studio to watch him paint. His still life style is a marked contrast to the reserved, sparse still life paintings of the Peale family. He influenced a number of artists, especially John Francis (1808–1886).
Mention of Roesen in public records ends in 1872, most likely the year of his death. His still life paintings remain in many private collections in Williamsport, where there is strong community interest in his legacy.
Here are two Dutch Baroque floral still life painters. Roesen's painting bears a striking resemblance to them in the wide variety of objects; the shallow, shelf-like space; and the meticulous detail.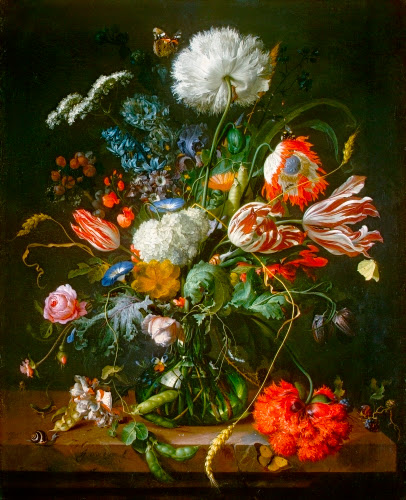 Jan de Heem (1606–1683/1684, Netherlands), Vase of Flowers, ca. 1660. Oil on canvas, 27 3/8" x 22 ¼" (69.6 x 56.5 cm). © National Gallery of Art, Washington. (NGA-P0866)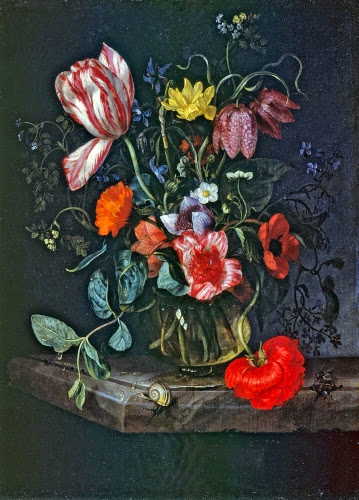 Attributed to Jacob van Walscapelle (1644–1727, Netherlands), Flowers in a Vase. Oil on wood panel, 15 ¾" x 11 9/16" (40 x 29.5 cm). © Worcester Art Museum, Worcester, MA. (WAM-599)
Correlations to Davis programs: Explorations in Art Grade 4: 6.36, Explorations in Art Grade 5: 2.8, Explorations in Art Grade 6 1.6, Exploring Painting: 9, Exploring Visual Design: 3 studio, Discovering Art History: 13 activity 1