Davis Desk
Introducing K12ArtChat the podcast!
We have said this so many times we probably sound like a broken record but it's true—our mission here at Davis is to support art educators. In order to continue our focus on that mission, we work to stay flexible, relevant, and constantly adapt. With this in mind, we are beyond excited to announce the latest way we are working to bring you real-time inspiration and information that can help you!
Introducing K12ArtChat the podcast!
---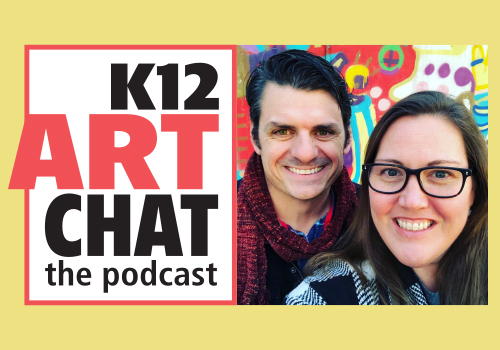 You may have heard of the popular Twitter chat #K12ArtChat. This weekly conversation happens on Twitter every Thursday at 8:30 CST with Matt and Laura Grundler of The Creativity Department. Each week Matt and Laura facilitate a chat with a guest host that dives deeply in to engaging topics that are relevant to what is happening in the classroom today. Next week's guest is Tricia Fuglestad and the conversation will focus on Ways to Engage with Students. We encourage you to check it out on Twitter using #K12ArtChat.
NOW Laura and Matt Grundler have partnered with us to bring you K12ArtChat the podcast! This is a podcast for K–12 art educators interested in connecting with colleagues and ideas. Each episode takes you backstage with guest hosts from #K12ArtChat to dig into the latest art education innovations and resources. We are excited to bring you a wide array of interesting and engaging guests! Our lineup is full and packed with exciting contemporary artists, authors, and thought leaders who are shaping art education. Listen in every Thursday! You'll find tips, tools, and inspiration to keep you connected and moving forward. Check out new episodes wherever you listen to your favorite podcasts.
In the meantime, learn more about Matt and Laura Grundler, a.k.a. The Creativity Department. And check out their blog to read about our exciting partnership.
Get more great inspiration and lessons to use in your classes today. Check out our Free Resources here on DavisArt.com.