Davis Desk
International Nurse's Day
Today is the birthday of the woman credited with establishing protocols and training for modern nursing, Florence Nightingale (1820–1910, British) in Hampshire, England. She created a core of nurses to tend to the British wounded during the Crimean War (1854–1856) in Turkey. Her example had a profound impact on American women during the Civil War in the US (1860–1865). And we know how important nurses are during this pandemic!
---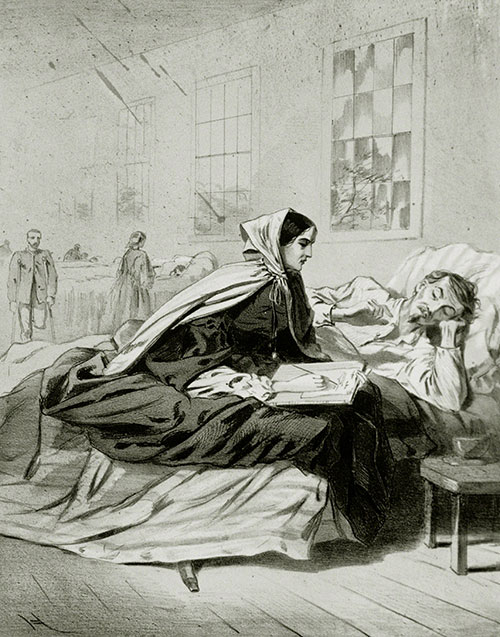 Welcome to our first guest post from Davis' Curator of Fine Art Images, Karl Cole. Karl is the author of our Curator's Corner Blog and our resident Art Historian. During the week, Karl educates all of us across the Davis teams on amazing artworks, movements, and time periods. We are so lucky to have this resource right in the office to help us keep learning and growing that we're going to share it with you! Come back often to read Karl's "lessons," and get an inside look at what we learn each week at Davis!
---
Nursing was one occupation in which many women served in the mid-1800s. Of the 620,000 soldiers who died during the Civil War, approximately half of them did so from disease or disease caused by a wound. The high casualty rate put a strain on what few hospitals there were and caused a demand for volunteer nurses.
Women from all economic classes, both black and white, Southerner and Northerner, served as volunteers in hospitals for wounded and sick soldiers. They were a vital part of the war effort, providing comfort and care for the wounded and dying, and keeping morale up. The wounded were often placed in makeshift tents near army barracks, or housed in public building, train stations, or large private homes near battlefields.
In this lithograph by Winslow Homer, a well-to-do woman helps a soldier write a reply to a letter from home. Such service helped keep up a soldier's morale. In fact, many army songs were composed in praise of such service on both sides.
About the Artist
Homer was essentially a self-taught artist. He was encouraged at an early age by his mother, an amateur artist. In his native city of Boston, he apprenticed at 19 to the lithography firm of John Bufford (1810–1870). Bufford's firm was a rival to that of Currier and Ives (1834–1906). Bufford did lithographs of book illustrations and music cover sheets and did most of the drawing. This established an artistic foundation in graphic arts which helped sustain Homer financially for the first twenty-five years of his career.
In 1859 he moved to New York to become a freelance illustrator. His formal art education was a few evening classes at the National Academy of Design. He did illustrations for Harper's Bazaar, Appleton's Journal, Ballou's Pictorial, Frank Leslie's Illustrated Newspaper, Harper's Weekly, and Every Saturday, among other publications.
During the Civil War (1860–1865), Homer did hundreds of sketches as an artist-correspondent. Unlike his fellow illustrators, however, Homer preferred to concentrate on camp life rather than battle scenes. This reflected Homer's intrinsic interest in genre scenes that would characterize much of his painting output. Some of his illustrations eventually were translated into paintings.
As a self-taught artist, the multiple facets of army life that Homer depicted gave him a chance to hone his drawing skills, dependent on direct observation. It also confirmed his penchant for extreme, observed realism.
Homer studiously used the backdrop of the Civil War as a practice canvas upon which to record a series of his impressions, a few of which became iconic images of the common soldier. Many of his sketches would of course appear as wood engravings in Harper's magazine. Still dozens more would become study-vignettes for future paintings, some of which he put on exhibition and offered for sale. Campaign Sketches was a portfolio of scenes of the war that was published by Louis Prang lithographers in Boston. It was hyped as containing "spirited camp scenes". By 1863, however, the public was weary of the war and sales weren't quite what Homer had hoped, even at $1.50 for the set of prints.