Davis Desk
Happy Juneteenth, 19 June, 2021: Celebrating the newest National Holiday!
We know we're a day early celebrating Juneteenth, but It's about time! African Americans have been celebrating Juneteenth forever! The movement to make it a federal holiday was spearheaded by Opal Lee, an activist and educator from Texas who, at 94, was at the White House when the president signed the decree. Her family was burned out of their house in Fort Worth, Texas, on June 19th, 1939, by a racist mob. Congratulations to the "Grandmother of Juneteenth!" Let's celebrate with art that is part of the journey to this point in our history.
---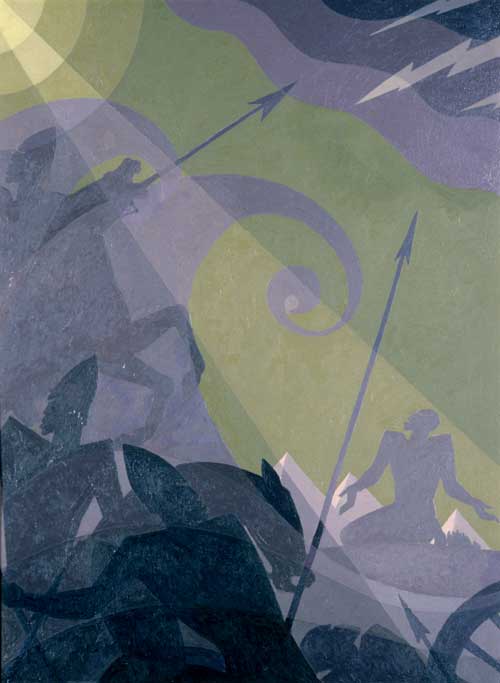 This image of "Let My People Go" was a copy of a work originally included as an illustration for James Wheldon Johnson's book God's Trombones in 1927. The book was a series of poems taken from "folk sermons" of African American oratory. Here Douglas illustrates the Old Testament story of God ordering Moses to bring the Jewish people out of Egypt, equating it with the liberation of African Americans from racism and repression.
Douglas' distinctive modernist aesthetic combines the flat, faceted form of European Cubism with his own personal abstraction of figures into silhouettes, influenced by the combined profile / frontal view of figures in ancient Egyptian art and by American Art Deco. His muted palette allows his works to be more about the importance of the narrative than to the modernist approach. Light rays and smoke are added layers of facets to the overall design of the composition which includes pharaoh's army, the waves of the Red Sea parting, and an African American Moses kneeling on the shore.
During World War I (1914–1918), the mass migration of Southern African Americans to northern industrial cities resulted in great concentrations in those cities of artists, writers, and musicians. The rich milieu in these cities—New York, Chicago, Detroit, and Kansas City, among others—created a renaissance in African American culture that had never happened before.
Perhaps the richest example of this renaissance occurred in New York's Harlem neighborhood, where the truly first African American art movement evolved during the 1920s. This revolution is known as the Harlem Renaissance. African American art became a celebration not only of their unique American culture but also of their unique African heritage.
The works of Aaron Douglas are most often identified with the Harlem Renaissance. After graduating from the University of Kansas and teaching art for two years, Douglas moved to New York in 1925. He was trained in academic methods of drawing and design. Douglas became an illustrator of books and magazines, including such major periodicals as "Vanity Fair," which gained him national attention. He also painted in oil, tempera, and gouache.
The strong quality of his drawing and design attracted the attention of many influential men, including Albert Barnes, a wealthy white patron and supporter of African American artists. Douglas was inspired by the West African art and European modern painting and sculpture in the Barnes collection. The shallow space and monochromatic palette of Cubism and the simplification and abstraction of form in African sculpture helped form his mature style.