Curator's Corner
The Subject as Art
Did you ever find it hard to decide what the most significant aspect of a work of art is? This can happen when we look at a work and find multiple levels of meaning, aside from purely aesthetic concerns. The works of many contemporary artists show a reverence for not only styles of the past but of techniques and materials, to the point where those become some of the most compelling aspects of the work.
---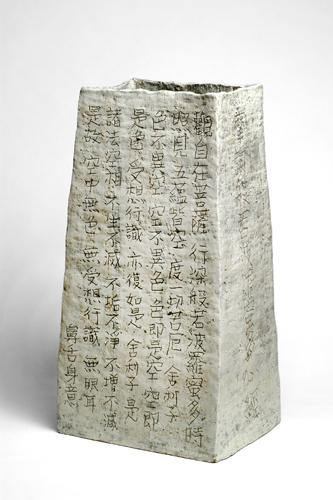 Yoon Kwang-cho (born 1946, Korea), Heart Sutra, 2001. Stoneware, 31 7/8" x 16 ½" x 13" (81 x 42 x 33 cm). Philadelphia Museum of Art. © 2012 Yoon Kwang-cho. (PMA-4074)
Yoon Kwang-cho is an acclaimed ceramic artist from South Korea. He studied in Seoul, and, like many of his peers, he derived inspiration from the ceramic tradition of Korea's past. Korea's long history of ceramic production dates back at least to 5000 BCE. Yoon was particularly inspired by punch'ong ware, a type of stoneware popularized between the 1300s and 1500s [the Joseon Dynasty period (1392–1910)], which was an indigenous Korean ware. A variety of decorative techniques including stamped, incised, and inlaid motifs is indicative of punch'ong. Typically, the design is achieved with an initial blue-green glaze covered in white slip through which the design is scratched.
Although inspired by styles from the past, Yoon's forms are not typical of traditional Korean wares. They are triangular, elliptical, and rectangular, almost impossible to achieve on the wheel. His forms are slab-built and often take on the spirit of sculpture rather than pottery. While emulating ancient decorative techniques, he also infuses his works with a modern aesthetic.
Yoon feels that an artist should put heart into his or her work, feeling that punch'ong works lie beyond the concept of traditional aesthetics, and reflect aspects of nature itself. Interestingly, this piece conveys a time-honored Buddhist tradition from China, Korea, and Japan in the copying of the Heart Sutra. The Heart Sutra is a Mahayana Buddhist text, one of the most popular of Buddhist scriptures, concerned with the perfection of wisdom. Yoon used a nail to incise through the slip.
There are many other examples of works of art that emphasize subject just as much as technique or form: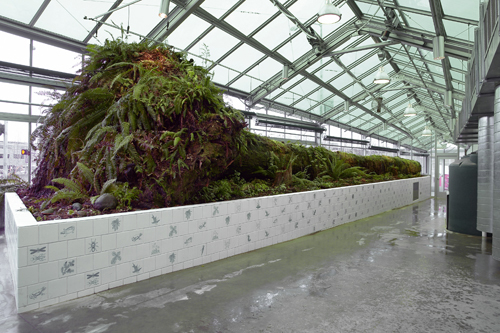 Mark Dion (born 1961, US), Neukom Vivarium, 2006. Mixed-media installation, greenhouse structure: 78' 4 15/16" (23.9 meters). Gift of Sally and William Neukom, American Express Company, Seattle Garden Club, Mark Torrance Foundation, and Committee of 33. Photo: Paul McCapia. Courtesy the Seattle Art Museum. (ART21DI-169)
Mark Dion is concerned with our throw-away society and the impact it has on the environment. Works such as Neukom Vivarum focus on the reverence for untouched nature, ironically "packaged" in an installation.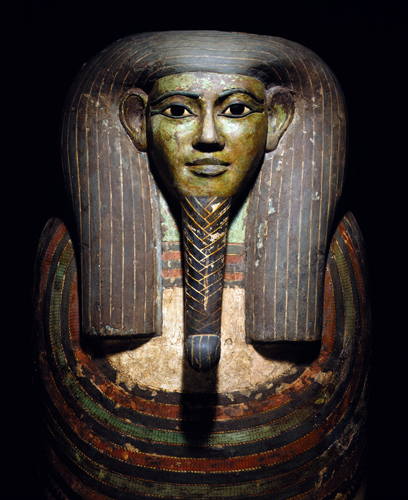 Ancient Egypt, Late Kingdom, Dynasty XXV, Coffin of Horankh, close-up of head, ca 700 BCE. Gessoed and painted wood with obsidian, calcite, and bronze inlay. © Dallas Museum of Art. (DMA-59A)
While we admire the beauty of ancient Egyptian coffins, we sometimes forget that the ritual of mummification and burial were essential to Egyptian beliefs about resurrection after death. All the most significant art that has come down to us from ancient Egypt revolves around the funerary rituals.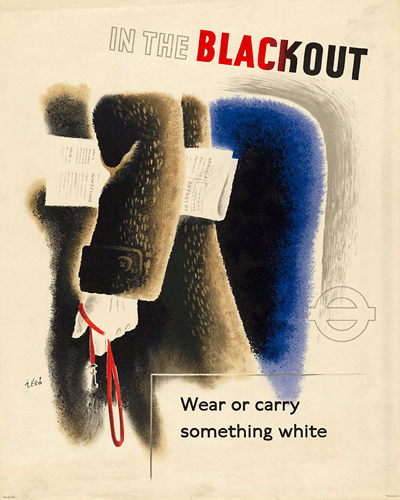 Zero (Hans Schleger) (1898–1976, Germany/Britain), Poster: In the Blackout, Wear or Carry Something White, 1943. © The Museum of Modern Art, New York. (MOMA-D0541)
Posters are the easiest way to see subject matter trumping style. During World War II (1939–1945), posters carried important messages to the public, such as this one to warn people about how to dress during blackouts.
Activity: Create a rectangular, triangular or multiple-sided vessel out of clay using the slab method. After the shape is complete, create a design using personal symbols. Sketch out symbols that mean something personally, and arrange them on paper before committing them to the vessel with a nail, pencil, or other pointed object.
Correlations to Davis programs: Explorations in Art Grade 2: 3 17-18 studio; Explorations in Art Grade 3: 6.35; Explorations in Art Grade 5: 6.29-30 studio; A Global Pursuit: 4.3; Exploring Visual Design: 1, 2, 6, 10, 11; The Visual Experience: 10.6, 13.6