Curator's Corner
Guess What? An artist in Wood
Have I ever indicated to you how much I despise the word "craft," "decorative art," or "minor art" to categorize something outside of the realm of painting-sculpture-architecture (sure I have)?? Heck, I consider a gorgeously presented plate of food in a restaurant to be the work of an artist. So, you can imagine how excited I got when I looked at this dish by the great artist-teacher James Prestini.
---
I mean, how could anyone look at this fabulous creation and not think "work of art"? Actually, I issue a challenge to anyone to explain to me why this beautiful work of art is the work of a "craftsperson" rather than an artist! A friend of mine in Worcester—a wood artist who works on a lathe—explained to me the complexity and, yes, danger of creating works of art on a lathe. My respect for the medium increased a hundred-fold.
James Prestini (1908–1993, US), Dish (No. 263), ca. 1945. Polish Zeleny Topol wood, width 6 3/8" (16.2 cm). Photo © The Museum of Modern Art, New York. (MOMA-D0707)
The Arts and Crafts Movement in the West (ca. 1860s–1890s) and then the establishment of the Bauhaus School (ca. 1919–1933, Dessau and Weimar, Germany) were the impetus for a revolution in thought about what had previously been considered "minor" art forms. The germinal idea was that fine art and industrial design could merge and revolutionize the idea of what "fine art" is. This idea spread in a major way to the US during World War II (1939–1945) with the emigration of many artists from Bauhaus. Schools such as Cranbrook Academy in Bloomfield Hills, MI (est. 1932) and the Illinois Institute of Technology in Chicago (est. 1940) furthered the ideas of Bauhaus, creating a new respect for design.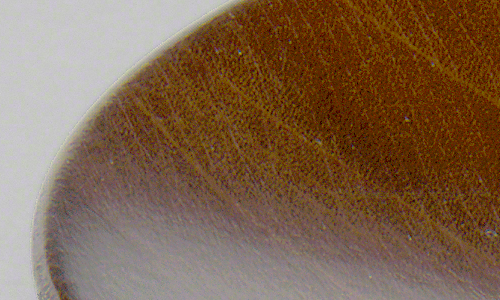 James Prestini (1908–1993, US), Dish (No. 263), detail, ca. 1945.
James Prestini was a practitioner of the Bauhaus philosophy of art combining with "craft." He believed that craft was the structure of a work of art, and art was the soul of the structure. Like the Bauhaus artists before him, he believed that optimum creativity integrated both. He studied mechanical engineering at Yale and then continued his studies at IIT in Chicago. Between 1933 and 1953 he turned wood in forms that were so refined they mirrored glass and ceramic objects. He preferred the use of straight-grained woods.
Prestini's simple, sophisticated works suggest the clean certainties of science in his exploration of the grain. While his works cannot be considered simply "craft" or "art," they speak to the period in which they were designed, where modernism combined utility and beautiful artistic form. He was part of a revolution in thought about what constituted fine art, and the discussion included glass, ceramics, furniture, and metal work.