Curator's Corner
Women's History Month 2023: Lucy Ashjian
In the first half of the 1900s, there were numerous pioneering women documentary photographers who defined the genre. This was particularly true during the Great Depression (1929–1940), the severe, worldwide economic downturn. Photographer Lucy Ashjian was one of those women.
---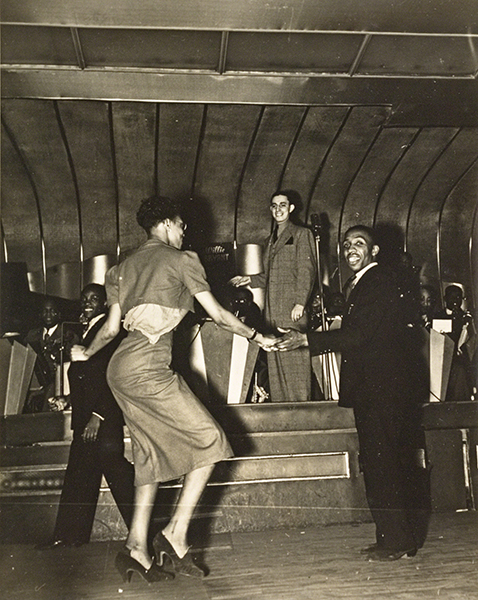 Lucy Ashjian (1907–1993, U.S.), Savoy Dancers, from the Harlem Document series, ca. 1937. Gelatin silver print, 9 5/16" x 7 5/16" (23.7 x 18.6 cm). Courtesy of the Philadelphia Museum of Art. © 2023 Artist or Estate of Artist. (PMA-3753)
Ashjian was an active participant in the Photo League, a cooperative of photographers who collaborated on social and creative projects from 1936 to 1951. Many important photographers belonged to the League, including Berenice Abbott (1898–1991), Lewis Hine (1874–1940), and Aaron Siskind (1903–1991). Most notable among their photography projects was the Feature Group, which spawned Harlem Document. Initiated by Siskind, Harlem Document was an effort by the Photo League, like the Federal Arts Project, to document American culture during the Great Depression.
A committed Communist, Ashjian was as passionate about social change as Siskind. Her work on the project centered mainly around Harlem, the 6th Avenue Elevated train, and the area around the Bowery. Like fellow women photographers Dorothea Lange (1895–1965) and Abbott, she did not pose her subjects, waiting for the pregnant moment that told the story best. Her photographs show a consummate command of formal photographic practices, yet also an ability to convey a human connection to her subjects without sentimentality or agenda.
By the end of the 1910s, photography was a firmly established medium almost universally accepted as an art form in its own right. In the period between World War I (1914–1918) and World War II (1939–1945), photography's role expanded to journalism, advertising, and publishing. In the U.S., photography used as reportage had slowly evolved starting during the Spanish American War (1898) and World War I (1914–1918).
Popular weekly magazines with dedicated photography stories caused a flourishing of straight-image photography in which the photographer's composition added subtle nuance. Such photography was made easier with the development of smaller, handheld cameras that gave the photographer more mobility. The genre usually involved shooting with the available light and unposed subjects. The photographer snapped multiple images of a subject in a short time in order to achieve the desired composition. Often, groups of photos were printed in magazines to "tell a story."
Photography was also nourished by acceptance from avant-garde art movements of the time. Dada and Surrealism—two movements that advocated new themes and new forms of art to express the irrational nature of society—had major impact on developments in photography. Such movements inspired experimentation with collage, photomontage, extreme close-up, movement, and unusual angles.
Ashjian held a noteworthy position in the New York photography scene of the 1930s and 1940s. She was born in Indianapolis, the daughter of Armenian refugees. She studied at Butler University, graduating in 1927. She and her husband moved to New York in the early 1930s and Ashjian earned a diploma from the Clarence White School by 1935.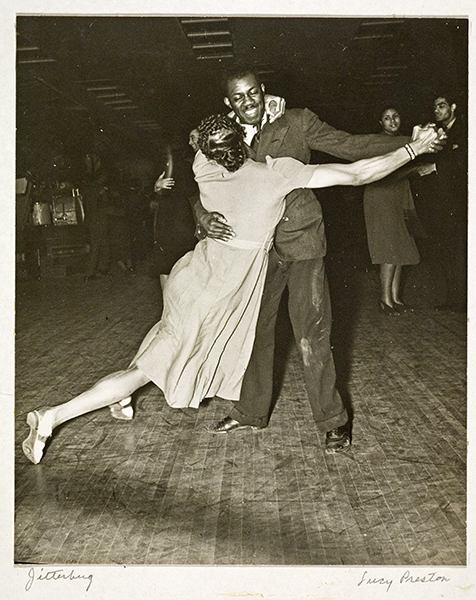 Lucy Ashjian, Jitterbug, from the Harlem Document series, ca. 1937. Gelatin silver print on paper, 9" x 7 ½" (23 x 19.1 cm). Courtesy of the Philadelphia Museum of Art. © 2023 Artist or Estate of Artist. (PMA-3751)
Correlations to Davis programs: Experience Art 1E: 2.1; The Visual Experience 4E: 9.1; Focus on Photography 2E: Chapter 6; A Community Connection 2E: 7.2, 7.3; Discovering Art History 4E: 14.5