Curator's Corner
Women's History Month 2023: Helène Aylon
National Women's History Month recognizes the contributions women have made to society. Many of these women advocated for ecological, feminist, and antinuclear causes, including conceptual, painting, installation, and ecofeminist artist Helène Aylon. She also made major contributions to the genre of Process Art, which is one of her enduring legacies. Process Art was a movement that emphasized the creation and duration of a work of art as equally as important as the finished work.
---

Helène Aylon (1931–2020, U.S.), Luna, 1970. Acrylic burnt into steel, approx. 10' x 4' (304 x 122 cm). Image courtesy of the late artist to Davis Art Images. © 2023 Artist or Estate of Artist / Licensed by VAGA at Artists Rights Society (ARS), New York. (8S-16775ayvg)
Aylon's work of the 1970s was dominated by her interest in Process Art. The works of from about 1969 through 1975 were made with industrial materials such as sheet metal, acrylic, plastic, and spray paint. She left the results to chance and the natural tendencies of her materials, although, as most artists who explore unconventional techniques, Aylon developed her own kind of control. Luna is an example of the paintings in the Elusive Silver series (1969–1973), which were her first distinct group of process-driven works. In Luna, Aylon sprayed acrylic paint on the surface of metal made supple by applying a blowtorch to it. As the metal cooled, the colors moved and coalesced, forming the "surface of the moon."
By the mid- to late-1960s, art movements began to reflect the collapse of the mainstream American art world, dominated by the market-driven, commercially oriented, male-dominated Abstract Expressionists. The 1970s marked the beginning of the Feminist Art Movement. The questioning of the political, racial, and social status quo led women to protest against gender inequality in increasing numbers. Several books, including The Feminine Mystique by Betty Friedan (1963) and The Female Eunuch by Germaine Greer (1970), helped raise awareness of these issues.
Women artists, art historians, and critics began to organize and protest discrimination against women artists. They formed cooperative galleries, university feminist art programs, and coalitions that published art journals and reviews of women's art. These efforts were complimented by a widespread public desire to see more open, pluralistic, and humanistic art. In 1972, the Women's Caucus for Art was formed, which gave women a forum to explore issues surrounding women artists and art history. The Los Angeles County Museum of Art organized the landmark exhibition Women Artists 1550–1950, a major steppingstone toward equality of representation, although it would take into the 1980s for greater strides to be made.
Aylon was raised in an Orthodox Jewish family in Brooklyn. After marrying a rabbi at 18 and having two children, she began studying art at Brooklyn College. Her mentor there, Color Field artist Ad Reinhardt (1913–1967), introduced her to fellow Color Field artist Mark Rothko (1904–1970), both of whom had a major impact on the direction of her art. Widowed at 30, Aylon entered the professional art world influenced by Grace Hartigan (1922–2008) and Lee Krasner (1908–1984), who experimented with what paint and dyes could do.
From her earliest works, Aylon was an abstractionist with a definite influence from Abstract Expressionism's painterly wing. However, she asserted a feminist consciousness, rejecting the dominant Abstract Expressionistic notion of heroic male "mark making." Aylon experimented with the idea of "painting creating itself," allowing her works to inform the evolution of her ideas. Her first public work was a mural at Bedford-Stuyvesant community center, and her first commission was a huge mural on a Jewish theme at JFK airport. By 1970, she was showing work in one-person exhibits. She became swept up in the burgeoning Feminist Movement when she moved to San Francisco in 1973 and got an MFA in women's studies at Antioch College.
During the 1980s, Aylon embarked on projects focused on ecofeminist concerns. The work put her at the forefront of the nascent Land Art movement of artists such as Agnes Denes (born 1931) and Mierle Ukeles (born 1939). Many of these projects were related to her antinuclear activism. In her later career, she focused primarily on her Jewish identity, considering roles women played in Old Testament scripture. Her landmark project, The Liberation of G-D, documented instances in the Old Testament that excluded women from the narrative.
Another work from the Elusive Silver series: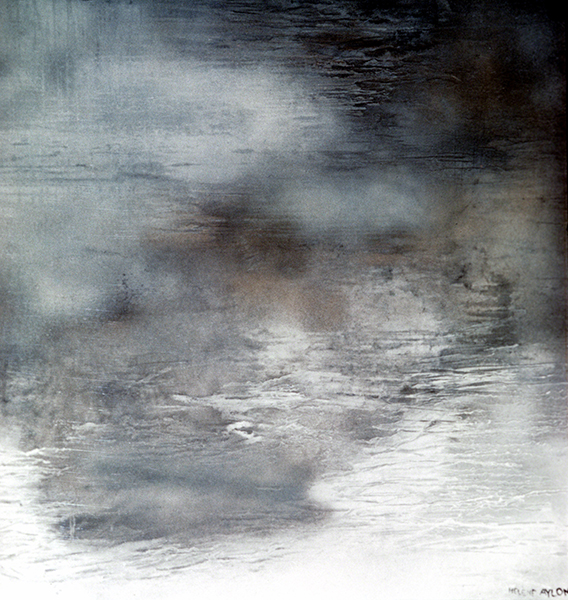 Helène Aylon, Dubrovnik, 1969. Acrylic and Plexiglas on metal, 3' x 3' (91 x 91 cm). Image courtesy of the late artist for Davis Art Images. © 2023 Artist or Estate of Artist / Licensed by VAGA at Artists Rights Society (ARS), New York. (8S-16771ayvg)
Reflecting on her series The Breakings (1977–1979) in an interview available from the San Francisco Museum of Modern Art, Aylon stated:
I felt there were millions of artists who were making their marks, and I sort of felt that the Abstract Expressionist said it all with abstract art in a way….I wanted to see what would happen if I was the artist who did not make my mark and let something [the medium] tell me something that I did not know….It was a matter…of giving up control.
Correlations to Davis Programs: The Visual Experience 4E: 8.4, Explorations in Art 2E Grade 4: 6.7; Explorations in Art 2E Grade 6: 5.1; Experience Painting: Chapter 9; The Visual Experience 3E: 5.5, 6.6