Curator's Corner
Women's History Month 2022: Maria Martinez
I'm going to feature examples of outstanding women artists who played key roles in art history for Women's History Month. Ceramic artist Maria Martinez was truly at the forefront of Pueblo potters who helped reinvigorate traditional Pueblo ceramic techniques in the early 1900s.
---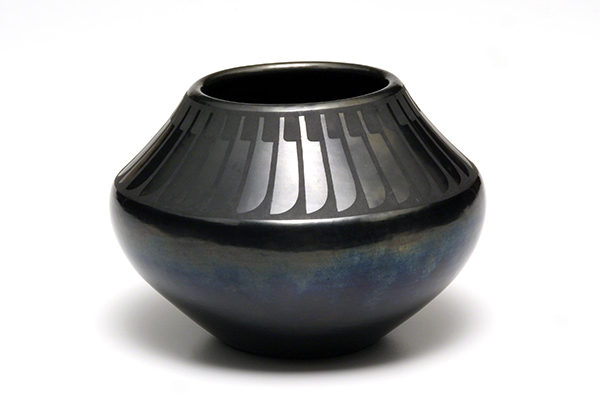 Maria Martinez (1887–1980, San Ildefonso Pueblo, New Mexico), Popovi Da (painter) (1923–1971, San Ildefonso Pueblo, New Mexico), San Ildefonso Jar (Jar with Feather Design), 1964. Clay mixed with volcanic ash, paint, 4 ¾" x 6 7/8" (12.1 x 17.4 cm). Courtesy of the Spencer Museum of Art, University of Kansas, Lawrence, Kansas. © 2022 Artist or Estate of Artist. (SMA-101)
Martinez's black-on-black ware is unique for its contrast of glossy and matte surfaces. The shiny surface was achieved using slip (clay mixed with water) with high iron content, which was applied while the pot was drying and burnished with a stone. The matte areas were painted onto the surface and left unburnished. The pottery was fired on an iron grille in a wood and cow manure fire. Once the fire reached its highest temperature, fresh fuel was used to smother it, producing a smoky, reducing atmosphere that turned the pots black.
Most commonly, Pueblo pots are formed with a coil technique in which long, rope-like coils are circled around the base of the pot and smoothed together to create the walls of the vessel. This process begins after a batch of clay is mixed and has set for a few days. A "pancake" of clay is formed and pressed into a puki, a bowl-shaped form that supports the bottom of the pot as it is being built. Then clay coils are added to the puki.
The First Nation cultures of the Southwest developed over thousands of years and flourished between 500 and 1100 CE. There were three major prehistoric cultural groups in the Southwest: the Anasazi in the Four Corners region (where the borders of Utah, Colorado, Arizona, and New Mexico meet); the Hohokam in southern Arizona; and the Mimbres Mogollon in the central and southeastern sections of Arizona and New Mexico. Agriculture and hunting provided the means of survival for these early societies. When the Anasazi culture declined, many of the Anasazi migrated to the Southwest. These cultures were nicknamed Pueblo by the Spanish invaders.
Anasazi migrants built San Ildefonso Pueblo in present-day New Mexico around 1300. Ceramics is the major art form that has survived from the early Pueblo cultures. San Ildefonso is one of the more prominent of the nineteen Pueblos because of its ceramic tradition. The famous black-on-black ware was pioneered there. Pottery making in San Ildefonso began to decline in the 1830s. As in other Pueblo cultures, women have traditionally been the ceramic artists, because they were responsible for collecting and carrying water and preparing food in ceramic vessels.
Martinez, born in San Ildefonso Pueblo, learned the basic skills of traditional Pueblo ceramics from her aunt Tia Nicolasa. At the time, the traditions of ceramic arts across all nineteen pueblos were being lost because of the availability of various Anglo wares. The pivotal moment in Martinez's ceramics career came in 1908 when archeologist Edgar Lee Hewett (1865–1946) from the Museum of New Mexico researched shards of jet-black pottery from the ruins of Tsankawi, an Anasazi site in Bandelier National Monument. He looked for a ceramic artist to replicate the blackware. Going to San Ildefonso, where the descendants of Tsankawi lived, everyone recommended Martinez as the best potter in the pueblo.
Martinez and her husband Julian (died 1943) experimented with many different clays, tempering agents, and firing methods in order to reproduce the blackware of the ancient shards. They learned from Serafina Tafoya (1863–1949), a ceramic artist at Santa Clara Pueblo who was still making works the ancient way. Maria and Julian subsequently refined their process for producing pots (Maria) and gathering clay and decorating them (Julian).
By the 1920s, Martinez's pottery was nationally famous. The 1950s was her most prolific period, aided by her son Adam (1901/1903–2000), who took over his father's role in gathering clay and firing, and his wife Santana (1909–2002), who painted the pots. Adam's brother Popovi Da (1923–1971) took over firing and painting when Adam and Santana starting making pottery on their own in 1956. Popovi Da began producing his own ceramics in 1962. Maria traveled the world demonstrating her processes. She was the matriarch of a now six-generation Martinez dynasty of ceramic arts. She always attributed her skills to Serafina, who was the matriarch of an eight-generation dynasty.
Correlations to Davis programs: A Community Connection 2E: 1.4; Explorations in Art 2E Grade 3: 6.7; Experience Clay 2E: p. 147; Exploring Visual Design 4E: p. 149; The Visual Experience 3E: 14.5; Discovering Art History 4E: 4.10