Curator's Corner
Women's History Month 2022: Julia Margaret Cameron
Julia Margaret Cameron is counted among the first professional woman photographers in Western art history.
---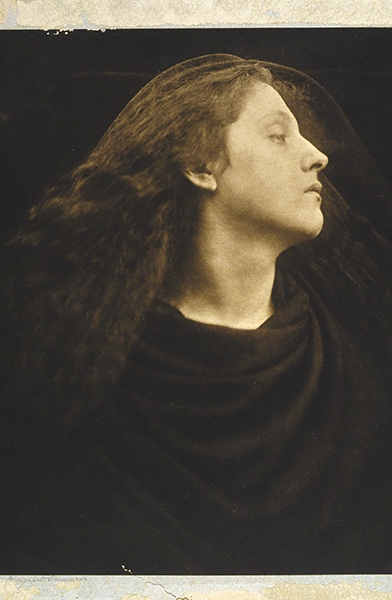 Julia Margaret Cameron (1815–1879, England), Call and I Follow, Let Me Die, 1867 (negative, printed later). Carbon print from a wet collodion negative on paper, 13 11/16" x 10 ½" (34.8 x 26.7 cm). © 2022 Philadelphia Museum of Art. (PMA-1472)
Cameron enlisted friends, family, and even household servants for her subject matter and models. This allegorical portrait is that of one of her most frequent sitters and best friend, Mary Hillier. Cameron described her portraits of women as a symbol of womanhood that was "great thro' love."
The subject of Call and I Follow, Let Me Die comes from an obscure Victorian song by M.W. Balfe (1808–1872, Ireland) called The Song of Love and Death.
Sweet is true love, tho' giv'n in vain;
And sweet is death, who puts an end to pain;
I know not which is sweeter; no, not I.
Love, art thou sweet? Then bitter death must be;
Love, thou art bitter; sweet is death to me.
O Love, if death be sweeter, let me die!
Sweet Love, that seems not made to fade away;
Sweet death, that seems to make us lifeless clay;
I know not which is sweeter, no, not I!
I fain would follow love, if that could be;
I needs must follow death, who calls for me;
Call and I follow; let me die!
Balfe in turn borrowed the story from Idylls of the King by Alfred, Lord Tennyson (1809–1889). The overly sentimental verse of the song, based on the sonnets of Shakespeare, lent themselves perfectly as subject matter for Cameron, as did her skill at diffused lighting and her soft-focus technique. British portraits of the 1800s emphasized what was termed "sensibility": a combination of intelligence, vulnerability, and melancholy, all considered attractive qualities for women.
During the 1800s, photography was generally not accepted as a valid art form by the artistic establishment (the all-powerful academies). Painting was considered the most "noble" medium, and art critics advised photographers to imitate painting. The period from the mid-to-late 1800s saw rapid improvements in photographic processes and equipment. Unlike painting and sculpture, photography did not require training in the academies, long apprenticeships, or lengthy practice.
For these reasons, women were encouraged by photographic journals to use the medium. Women photographers would not need to be exposed to nude models in the academies, and they could practice the art form from home, still considered the most "appropriate" place for women. In England, amateur photographers like Cameron believed that photography as art should deal with suitable and uplifting themes.
Besides straight portraiture produced by studios, there was also a more intimate type of portrait produced by amateurs. These amateurs were mainly upper class men and women who considered photography a proper hobby. Few of these photographers made a living from it, although some paid publishers to issue albums of their photographs for sale in print shops. Cameron was an exception to other amateurs, and she became a groundbreaking professional in the realm of Artistic Photography.
Born in Kolkata, India, Cameron was the daughter of a British official of the East India Company. She was educated in England and France, returning to India in 1838. When her husband retired in 1848, their family moved to London. She was included in a circle of artists that formed a salon at Little Holland House, the Kensington home of her sister, Sarah Prinsep (1816–1887). She also met the Lord Tennyson, whom she photographed many times. However, it was not until she was 48 years old that she embarked on a career as an artist.
Cameron began to make photographs in 1864 with a camera given to her as a gift from her daughter. Through trial and error, she taught herself the difficult process of wet collodion glass plate negative photography. Almost immediately, Cameron viewed her activity as a professional one, vigorously copyrighting, exhibiting, publishing, and marketing her photographs. Within eighteen months she had sold eighty prints to the Victoria and Albert Museum, established a studio in two of its rooms, and arranged with a West End print seller to publish and sell her photographs. She also considered herself an artist and called her photographs "High Art." Within a year she became a member of the Photographic Societies of England and Scotland.
Photography at the time that imitated painting was called Artistic Photography (the style now called Pictorialism). Cameron's allegorical portraits were strongly influenced by Pre-Raphaelite painting in England. The Pre-Raphaelites emulated painting from the early Renaissance in Italy.
Correlations to Davis programs: Focus on Photography 2E: Chapter 5; The Visual Experience 4E: 3.3, 9.2; Discovering Art History 4E: 12.4