Curator's Corner
Women's (Art) History Month 2021 I
Although there are records of women artists from antiquity, women artists between the 1400s and 1700s in the West were either considered anomalies or miracles. The advent of artists' guilds during the late Middle Ages established a male-dominated milieu that, for men, flourished during the Renaissance. Women who had the drive to be artists, for the most part, had to rely on training from father artists or male relatives. Despite being banned from guilds and the access to lucrative patronage, many women flourished as professional artists, some beyond the borders of their hometowns.
---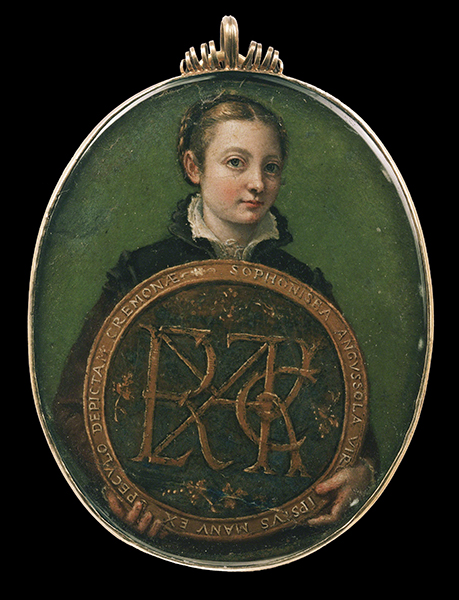 Sofonisba Anguissola, Self-Portrait, ca. 1556. Oil on parchment, 3 ¼" x 2 ½" (8.3 x 6.4 cm). © 2020 Museum of Fine Arts, Boston, MA, Emma F. Monroe Fund. (MFAB-178)
Sofonisba Anguissola not only achieved artistic fame beyond the borders of her hometown (Cremona, Italy), but across borders throughout Europe. She was one of the first women documented to pursue a lifelong career as a painter, as well as the first woman artist known to have achieved an international reputation. Unlike her contemporary male artists who craved elevated social status (such as the position of Court Painter) as a sign of success, Anguissola grew up in a noble family of Cremona, not burdened with that particular drawback. Her father gave her and her five sisters a humanist education and taught them Latin.
Anguissola apprenticed to the local expert painters Bernardino Campi (1522–1591) and Bernadino Gatti (died 1576), both of whom reflected Mannerist tendencies in their painting styles. Her manager-father soon recognized her painting talent and promoted her work throughout northern Italy. He took her to Milan in 1558, where the Duke of Alba introduced her to the court of Spain.
After this, Anguissola became an attendant for Philip II's third wife, Queen Isabel de Valois (1545–1568). Her painting talent was greatly admired by the Spanish court. Her work was praised by Michelangelo and Anthony van Dyck. Passages about her accomplishments appeared in volume 5 and volume 8 of Giorgio Vasari's Lives of the Most Eminent Painters, Sculptors, and Architects (1550).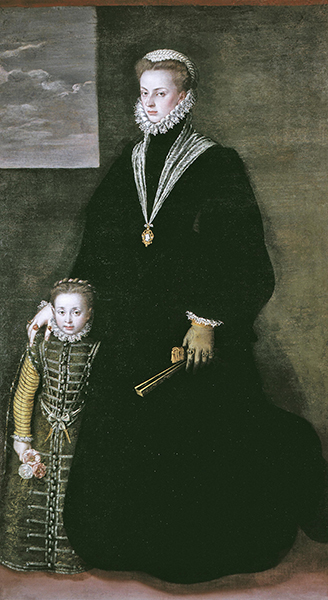 Sofonisba Anguissola (ca. 1532–1625, Italy), Juana of Austria and a Young Girl, 1561–1562. Oil on canvas, 76 3/8" x 42 5/8" (194 x 108.3 cm). © 2021 Isabella Stewart Gardner Museum, Boston, MA. (GM-5)
In this portrait, Anguissola reflects the influence of Mannerism. The figure is thin and elongated, although her hands are overemphasized, perhaps as a symbol of their "good works." The black garment, a color reserved only for royalty in Spain, heightens the austere nature of the portrait, as does the sterile, neutral background that does not allude to trappings of the subject's royal station. As a present for the pope, the austerity was probably intended.
The subject of the portrait, Juana of Austria (1535–1573), was the daughter of Holy Roman Emperor Charles V (1500–1558) and regent for her brother Phillip II of Spain (1527–1598). She thereafter retired to found a monastery, Las Descalzas Reales. This portrait was a gift to pope to prove her piety. She wears a pendant of the "sacred heart of Jesus," a symbol of the Jesuit order, and shelters a young aristocratic girl who is probably intended for the religious life.
Correlations to Davis Programs: Discovering Art History 4E: 9.3