Curator's Corner
Winter's Almost Here
Winter is near. Although I'm often drawn to brilliant color palettes in landscapes, I find this winter example just as enticing to walk into. Remember the common wisdom established by Song Dynasty (960–1279/1280) artists about what made a good traditional Chinese ink wash landscape: the composition encourages the viewer to take a stroll through the depicted scene. I find that Ruth Cyril has that effect on me. On top of that, she's a fascinating person about whom very little is known after 1963.
---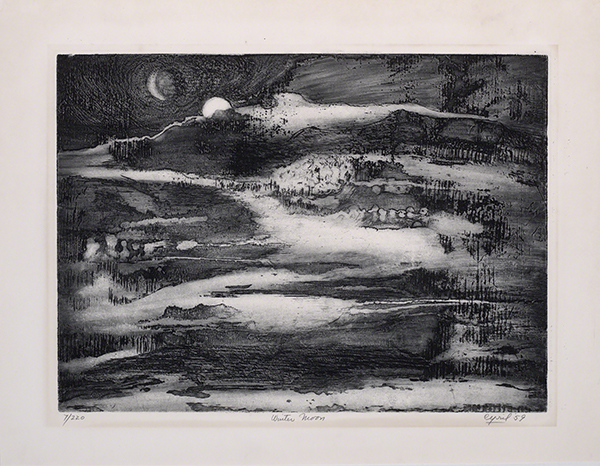 Ruth Cyril (1938–1988, U.S.), Winter Moon, 1959. Etching on paper, plate: 15 3/8" x 22 5/8" (39.1 x 57.5 cm). Albright-Knox Art Gallery, Buffalo, NY, gift of Frederic P. Norton. © 2020 Artist or Estate of artist. (AK-4175)
Cyril often applied her experience in jewelry making to her work on intaglio copper or other metal plates. This would involve incising, filigree, and granulation techniques that were added to the lines made by the burin (the plate etching tool). These additions to the plate gave many of her works, such as Winter Moon, a three-dimensional feel. Cyril's work very expertly combines nuanced shades of black inks to produce a push-and-pull of contrasts of high and low values.
This work also recalls the birds-eye view-like traditional Chinese ink landscape paintings, where distance is suggested through the use of swaths of high-value ink washes, in Cyril's case the bands of snow. Cyril's landscape also has the interest in active surface movement with implied texture that may indicate the influence of Abstract Expressionism action painting.
Cyril, a printmaker, designer, and painter, was born Ruth Goldfarb in New York. She studied at the Greenwich House Art School, the School of Contemporary Art (where she studied jewelry making), New York University, the New School for Social Research, and the Art Students League. At the League, she studied under pioneer modernist Hans Hofmann (1880–1966) and his early Cubist disciple Vaclav Vytlacil (1892–1984). According to the author Christina Weyl, who chronicled the printmaking renaissance of the 1930s and 1940s in America in her book The Women of Atelier 17 (Yale University, 2019), Goldfarb changed her last name to Cyril after her time at the Art Students League. She later signed her works with the androgynous one-name moniker "Cyril."
In 1947, Cyril took classes in the intaglio printmaking processes etching and engraving at Atelier 17 in New York. Atelier 17 was opened in 1946 by Abstract Expressionist painter and printmaker Stanley Hayter (1901–1988, England). Hayter is credited with encouraging a reinvigoration of printmaking processes that engendered a flourishing of printmaking in the mid-1900s, when it truly came into its own as a stand-alone fine art medium.
Cyril learned the viscosity (semi-fluidity, stickiness) printmaking process, in which oil-based inks of different colors and viscosities were applied at the same time to a single intaglio plate. In spirit, Winter Moon is very much in keeping with the works of another woman artist who studied at Atelier 17, Helen Frankenthaler (1928–2011), whose print works also explored the viscosity process to produce effects that mirrored her early landscape abstractions.
Cyril also studied at the Atelier 17 in Paris (founded by Hayter in 1927), a printmaking studio that had been used at various times by such artists as Pablo Picasso (1881–1973) and Marc Chagall (1887-1985). In 1957 she received a scholarship to study at the Sorbonne University in Paris. Cyril became a member of the French Guild of Printmaking and the Society of American Graphic Artists.
Correlations to Davis programs: Experience Printmaking 1E: Chapter 5