Curator's Corner
A Winter Bench
Dutch artists have been innovators in design since forever. Artists of the De Stijl movement of the early 1900s are standouts in this category. The works of that movement characteristically feature designs reduced to basic geometric shapes and primary colors. Think Mondrian and Rietveld.
---
Speaking of Rietveld, I never really looked at his Red and Blue Chair (1918–1923) as terribly comfortable, but it does make for appealing sculpture. That said, ceramic artist Wouter Dam graduated from the Gerrit Rietveld Academie in Amsterdam. At that school, ceramic sculpture seems to play a major role in the curriculum, not just functional wares. I really like this piece from 1997. It reminds be of snow on a park bench.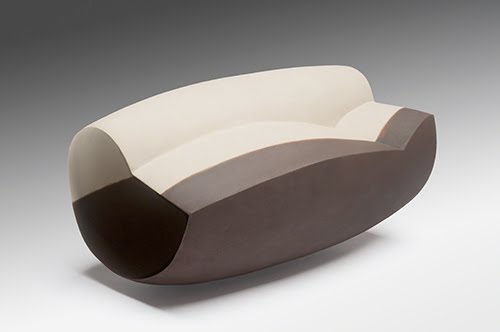 Wouter Dam (born 1957, the Netherlands), "Ceramic Form," 1997. Ceramic, 7" x 14" x 9" (17.8 x 35.6 x 22.9 cm). Philadelphia Museum of Art. © 2018 Wouter Dam. (PMA-7904)
Dam's ceramic sculptures are an interesting combination of an ode to utility and a clear love of free-form designs. Interestingly, his early works, while sculptural, maintained utility. This is something that he abandoned in his later mature work. The artist has stated that he tries to give his works a vague sense of a real vessel in order to allow the viewer to imagine which utilitarian form the work insinuates. There is, however, an asymmetry to his works that defies traditional vessel forms. Dam begins his undulating, elegant forms by throwing on the wheel, which is not at all obvious in the work above. He subsequently cuts, folds, and twists to achieve his dramatic forms.
When these two pieces were created, Dam achieved a matte finish by rubbing dry pigment into the surface of each form before firing. He now sprays on stains to achieve the same effects. Dam prefers a matte finish to his pieces so that the subtle curves and shapes of his forms are easy to discern.
Dam asserts that the influences on his pieces are wide-ranging. His works reference Neolithic and Iron Age ceramics, the human body, wooden boats, and crashing waves. The vessel form derivation is a little clearer, as is the idea of crashing waves, in the piece from 2001 below. For works like this, Dam again started on the wheel, throwing a variety of cylinder, vase, and bowl shapes. He then cuts and joins the pieces together to form these almost ribbon-like shapes. The undulating curves and velvety surfaces of these pieces beg to be touched!
The son of an architect from Utrecht, Dam was encouraged from a young age to appreciate the arts. He started studying at the Gerrit Rietveld Academie in 1975, exploring pioneering shapes and volumes that have continued to the present day.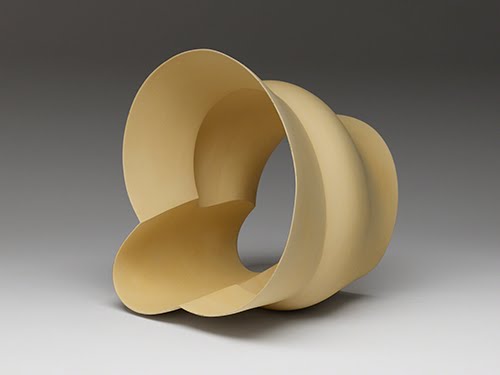 Wouter Dam, "Ceramic Form," 2001. Stoneware, 12" x 22 7/16" (30.5 x 45.7 cm). Philadelphia Museum of Art. © 2018 Wouter Dam. (PMA-8761)
Correlations to Davis programs: Experience Clay 2E: 3, 5; Beginning Sculpture: 2