Curator's Corner
Turning
My reference to the word "Turning" has to do with the changing colors of leaves in the now-upon-us autumn season. Instead of focusing—in gloomy fashion—on the end of summer, however, I choose to focus on an artist whose work really interests me. Of course, in this artist's work, the word "turning" doesn't have anything to do with autumn foliage, but so what?
---
John Beech is an artist with a very particular view of the entrenched practices of the deified Art World. I find his work awesome in its unpredictability, and love the fact that at the same time that it is very thoughtful, it also seems very spontaneous.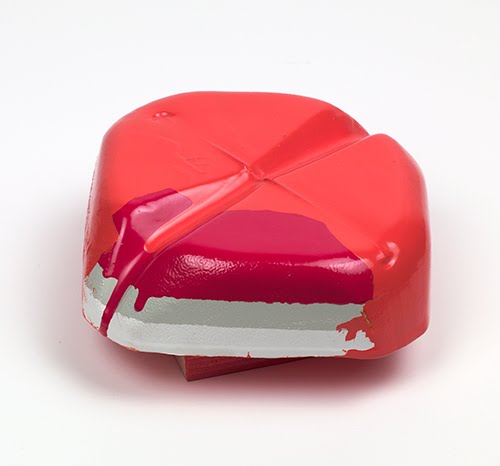 John Beech (US, born 1964 Britain), Turning Object #13, 2005–2006. Mixed-media, 6" x 6" x 3 ½" (15.2 x 15.2 x 8.9 cm). Albright-Knox Art Gallery, Buffalo, NY. © 2018 John Beech. (AK-3131)
Beech grew up in a small town in Britain, but moved to the US with his family in 1981 when his father got a job in Silicon Valley. He attended the University of California Berkeley to study architecture, but a trip to Morocco and India in 1985 changed his perspective on art. There, he witnessed materials recycled out of necessity and the patching of everyday objects with whatever is available. When he returned to UC Berkeley, he altered his major to fine art with a new passion for painting and sculpture.
Beech's work is a paradoxical mixture of painting and sculpture. He has called himself a "reductionist," which would tend to indicate that his work is connected to Minimalism. However, his complex painting/sculptures go beyond the simple math of Minimalism. Turning Object works are an interesting combination of the found object aesthetic of Dada and Surrealism, the simplicity of Minimalism, and the excitement of Abstract Expressionism in the random (seemingly) application of pure color. The nice thing is that these objects revolve in order to appreciate all sides.
John Beech, Small Rolling Platform #49, 2001. Enameled plywood and casters, 10" x 10" x 10" (25.4 x 25.4 x 25.4 cm). Albright-Knox Art Gallery, Buffalo, NY. © 2018 John Beech. (AK-3291)
Beech views Minimalist sculptor Donald Judd (1928–1994) as an influence, insomuch as his work emphasizes simplicity in sculpture. Beech considers his sculptures a sort of "street-level" brand of minimalist sculpture. Like his Turning Object series of pieces, works such as this are definitely meant to be viewed in motion. He elevates the utilitarian aspect of the components of such works with his brilliant "action painting" coloration of the work. Works like Small Rolling Platform #49 inevitably call to mind Dada found object works, with the addition of painting that makes the work so interesting.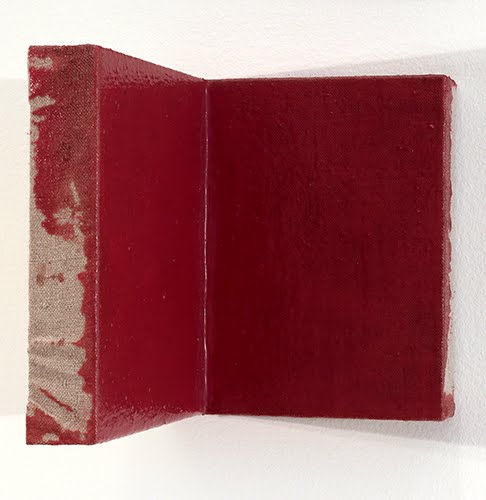 John Beech, Bent Glue Painting, 2002. Glue on canvas mounted on wood, 8" x 7 ½" x 9" (20.3 x 19.1 x 22.9 cm). Albright-Knox Art Gallery, Buffalo, NY. © 2018 John Beech. (AK-1323)
Beech thinks of many of his works as painting/objects. This may stem from his time as a museum installation technician while he was in college. He realized that the traditional Art World emphasized the front of a work of art as the primary point of interest. His Glue Paintings, in which he exploits the possibilities of Elmer's Glue, often are presented backwards to show the support of the work. This bent piece emphasizes the fact that what is habitually viewed as two-dimensional is actually interesting three-dimensionally. He has done many installations that feature his painted canvases turned against the wall, revealing the stretched canvas and stretcher bars as the focal point. Brilliant!
To sum up, Beech's varied body of work is a joy to behold. It truly does afford the viewer a new way of looking at art as part of the real world. Or is that a way of seeing real art in the world? You decide.