Curator's Corner
Too Nice to Put on the Floor
Every so often I learn about a period in history in a certain place that seemed to have everything going for it—relative peace, flourishing economy and vibrant artistic culture, and a government that encouraged the co-existence of a variety of religions. It doesn't seem to have happened very often in history. It did briefly in Spain under the Nasrid kingdom, and beautiful art was produced, as well as fabulous architecture.
---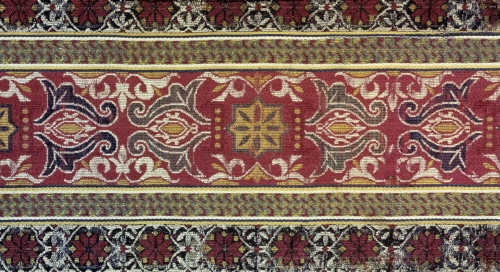 Spain, Textile fragment, 1300s or 1400s. Silk lampas weave with satin weave ground and plain weave pattern, width: 16 1/4" (41.3 cm). © Philadelphia Museum of Art. (PMA-1003)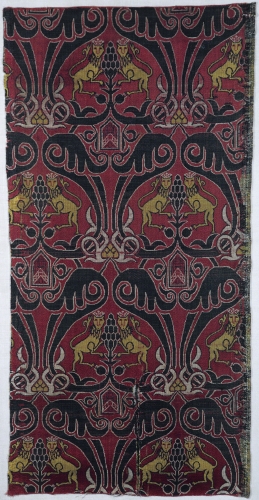 Spain, Textile fragment, ca. 1400. Silk lampas weave with satin weave ground and plain weave pattern, 21 3/4" x 10 13/16" (55.3 x 27.5 cm). © Cleveland Museum of Art. (CM-525)
These beautiful textile fragments from Spain are examples of an art form that had a major impact in Western Europe during the late Gothic and Renaissance periods. Textiles from Islamic lands flowed into Western Europe during the 1300s and 1400s, facilitated by Venice's trade with the Byzantine Empire, and through Muslim Spain's contacts with North Africa. In Arab lands, such textiles were used not only as garments and rugs, but also as wall hangings and window and door coverings. The lampas weave was a favored technique in Muslim lands. It was a doubleweave technique with two wefts, one above another, with the second creating a raised motif. Doubleweave textiles were not reversible.
Obviously such imported items were luxuries for the well-to-do. Not only were these textiles from the Middle East considered valuable and beautiful, most people did not use them as rugs, but rather as either wall hangings or even table cloths. Their patterns had a huge impact on the textile factories in Flanders, the prosperity of which fueled the Renaissance in the Low Countries. Here are three examples of these textiles popping up in northern paintings: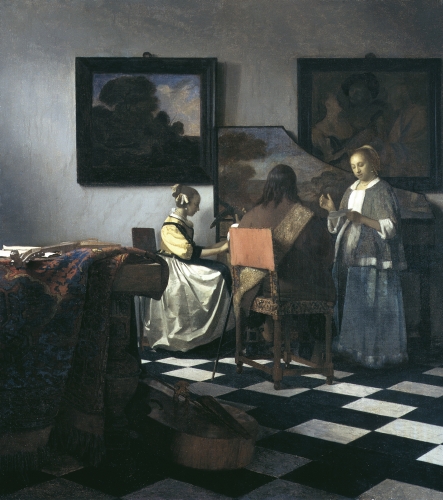 Johannes Vermeer (1632–-1675, Dutch), The Concert, ca. 1665. Oil on canvas, 28 1/2" x 25 1/2" (72.5 x 64.7 cm). © Isabella Stewart Gardner Museum, Boston. (GM-48)
In the foreground we see Middle Eastern textile used as a tablecloth.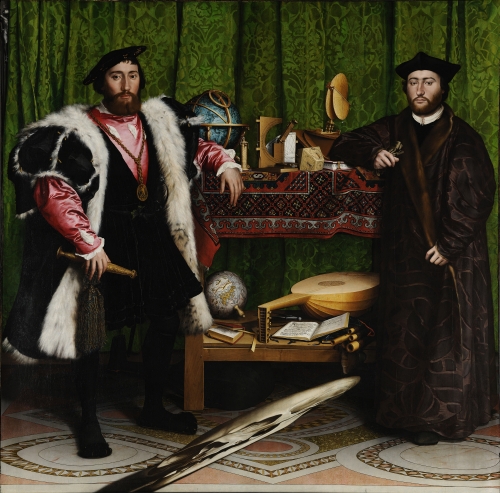 Hans Holbein, the Younger (1497–1543, German) The Ambassadors, 1533. Oil on panel, 81 1/8" x 81 5/8" (206 x 207.4 cm). © The National Gallery, London. (DAH-1021)
In this work, an Islamic textile is a tablecloth, while a Flemish silk textile forms the background.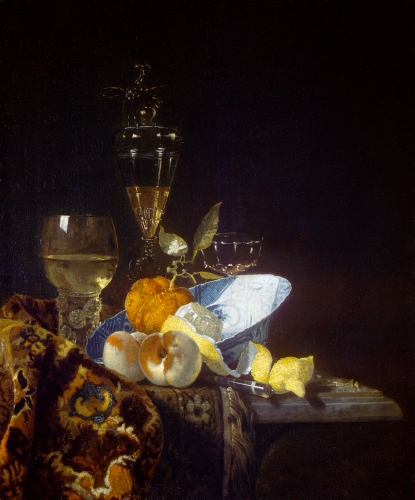 Willem Kalf (1619–1693, Dutch), Still Life, ca. 1660. Oil on canvas, 25 3/8" x 21 3/16" (64.4 x 53.8 cm). © National Gallery of Art, Washington, DC. (NGA-P0853)
Another luxurious table cover.
Muslims took over large parts of Spain in 711 from the Visigoths. In the 700s the Muslim capital was Córdoba. After the fall of these Umayyads in the 1000s due to increasing pressure from Christian kingdoms of Spain, the Muslim rulers were reduced to the southern part of Spain. The Nasrid Dynasty, founded by Muhammad I al'Ghalib (died 1273) controlled Jaén, Almeria, and Málaga, ruling from Granada. Granada became a leading cultural center of the Muslim world, encouraging scholarship in science, mathematics, and the arts, with thriving Christian, Muslim, and Judaic communities peacefully coexisting. Even after the Nasrid downfall in 1492, art forms and styles of the Islamic world persisted in Spanish art, and continued to have influence on the rest of Europe. Textiles from the Middle East and Asia continue to be a major export art form to the present day.
Correlations to Davis programs: Explorations in Art Grade 2: 6.36; Explorations in Art Grade 3: 6.31, 6.connections, 6.31-32 studio; Explorations in Art Grade 5: 2.10; A Personal Journey: 3.1, 3.4; A Community Connection: 5.2; A Global Pursuit: 4.4; Exploring Visual Design: 11; The Visual Experience: 10.8, 14.2; Discovering Art History: 2.2, 4.7