Curator's Corner
The Receptive Eye
Every now and then one comes across an artist who tends to get bypassed in art history books. Obviously, those books can't cover every artist that participated in significant art movements. So, that is my job!
---
Francis Celentano (1928–2016) was part of The Responsive Eye, a landmark show at the Museum of Modern Art, New York in 1965. That exhibition, which is seen by many art historians as the "launching point" of the Op Art stylistic movement, featured such renowned Op Art artists as Bridget Riley (born 1931), Richard Anuszkiewicz (born 1930), and Yaacov Agam (born 1928). Celentano's work is absolutely gorgeous!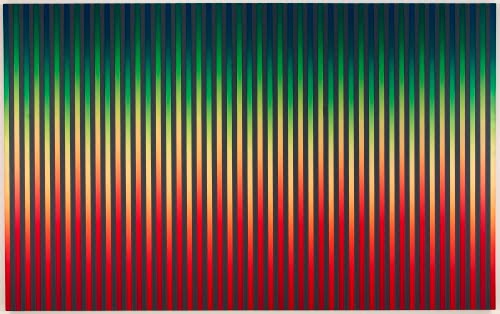 Francis Michael Celentano (1928–2016, US), Gamma, 1970. Acrylic on canvas, 60" x 96" (152.4 x 243.8 cm). Collection of Albright-Knox Art Gallery, Buffalo, NY. © 2018 Estate of Francis Michael Celentano. (AK-3172)
Francis Celentano was born in the Bronx and graduated from New York University in 1951 with a BA in Art History and Psychology (what a dual major!). In 1957, he achieved an MA in Art History. As an undergraduate, he took courses with Philip Guston (1913–1980), who introduced him to Abstract Expressionists and other members of the New York avant-garde art circle. He was initially drawn to the spontaneous and intuitive nature of Abstract Expressionism's action painting.
A year's study in Rome (1957–1958) reportedly changed his inclination toward the New York "school." Celentano was struck by the illusionism of Renaissance artists such as Piero della Francesca (1415–1492) and Andrea Mantegna (1431–1506). This led to a Hard Edge period—a style in which abstract shapes are given the illusion of three-dimensions—and then Op Art, which ultimately led to his inclusion in The Responsive Eye.
The color lyricism and rational schematics of Celentano's work are hallmarks of the visual movement evinced by Op Art. This meticulous approach to painting is the antithesis of the action painting wing of Abstract Expressionism, which is one reason I find Celentano's work is so compelling. Instead of his painting being a conscious rejection of Abstract Expressionism—as Pop Art and Minimalism were—Celentano's evolution as an Op artist seems completely understandable. His exploration of color theory, which he began to study seriously in 1968, produced paintings such as Gamma, in which the optical structure coincides with dramatic color interactions.
In later life, he experimented with computer manipulations of color, enabling him to produce large-scale paintings in his signature style of vibrating color and meticulous construction. Celentano once equated "perceptual" (Op) art with the distortions of perception provided by nature and culture. These are distortions I can live with!
Correlations to Davis programs: Explorations in Art Grade 5: 3.15, 3.16; Discovering Art History: 17.2