Curator's Corner
A Lyrical August Gift
I'm always wowed by color. And when I found out that the landscape-like backgrounds of this artist's work are derived from pond scum powder (spirulina is the source, considered a healthy additive to food), then I had to share it with you! Aside from having a wonderful sense of complementary colors, this artist has produced a body of work that is so varied, only a link to more of his work will explain.
---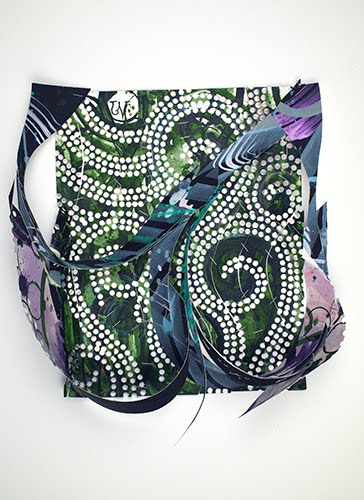 Tam Van Tran (born 1966, US, born Vietnam), Untitled, 2007. Acrylic, spirulina, pencil, collage and staples on paper, 12" x 12" (30.5 x 30.5 cm). Image © 2018 Albright-Knox Art Gallery, Buffalo, New York. © 2018 Tam Van Tran. (AK-3837)
Tran's family fled Vietnam after the collapse of South Vietnam in that stupid war (1955–1975, I refuse to capitalize the word "war"). They moved to Denver, where Tran painted his interpretation of Impressionism as a child. He subsequently studied at the Pratt Institute (BFA 1990) and later obtained a degree from the School of Film and Television at UCLA (1996).
Since the 1990s Tran has worked in such a variety of formats that I must simply refer you to the gallery website linked above. What attracts me to his work is his sense of color, and that fact that his works transcend both painting and sculpture. Formally his works seem very Western, but thematically I can't help but think of landscape. And what's interesting in these pieces is that the landscape is brought into the third dimension. You never saw Picasso do a redefinition of the picture plane quite like this, did you?
Tran lists his long-standing influences as the Buddhist idea of non-duality (the absence of self, separate from ego), popular culture, and processes in nature. The last one I attribute to the three works I'm showing you. These works have such wonderful references to landscape—a centuries old staple of Asian art—and, yet, become extremely personal by combining decorative motifs that are purely Western.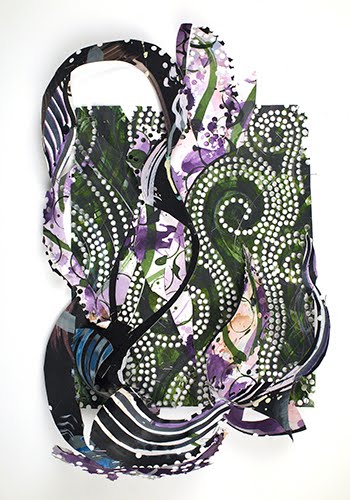 Tam Van Tran, Untitled, 2007. Acrylic, spirulina, pencil, collage and staples on paper, 17 ½" x 14" x 4 ½" (44.5 x 35 9/16 x 11.4 cm). Image © 2018 Albright-Knox Art Gallery, Buffalo, New York. © 2018 Tam Van Tran. (AK-3836)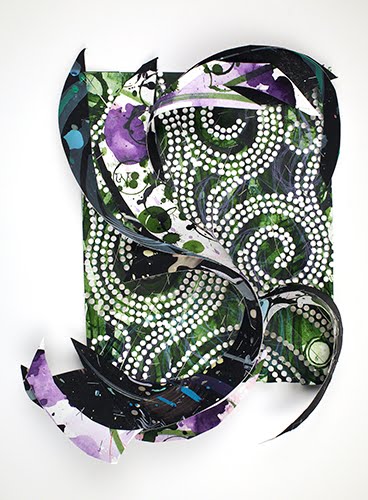 Tam Van Tran, Untitled, 2007. Acrylic, spirulina, pencil, collage and staples on paper, 16" x 14" x 4 7/8" (40.6 x 35.6 x 12.4 cm). Image © 2018 Albright-Knox Art Gallery, Buffalo, New York. © 2018 Tam Van Tran. (AK-3835)