Curator's Corner
Surprise!
I always like to be surprised, learning about an artist I know little or nothing about. I'm certain that the names that come to mind when the style "Abstract Expressionism" is mentioned are Pollock, de Kooning, Motherwell, and Gottlieb.
---
Well, in my many many years as an art historian I've discovered a lot of artists who hung out with the New York School "star artists" who are never mentioned in art history texts as Abstract Expressionists. This is particularly true about the women. The whole Abstract Expressionist marketing machine was very loud about the male stars, but many of the women associated with the "group" did not receive affirmation of their art until the 1960s. It's no wonder the Guerilla Girls had posters which intimated that the only way for women to be represented in a museum was as a nude model for a male artist! Well, I've found another artist associated with the Abstract Expressionists, Esther Schwabacher, and her work is Great!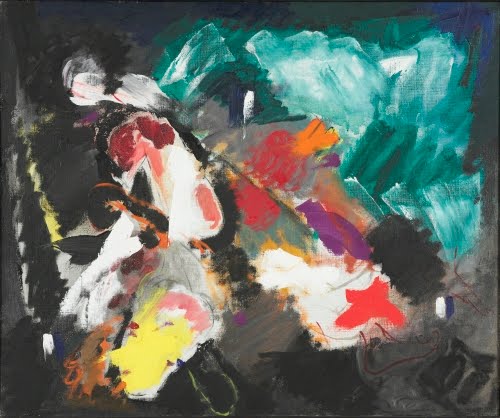 Ethel Schwabacher (1903–1984, US), Tempest, 1951. Oil on canvas, 30" x 36" (76.2 x 91.4 cm). Philadelphia Museum of Art. (PMA-6883)
As you know, there were many women who made important contributions to Abstraction Expressionism in the 1940s and 1950s in both the action painting and color field genres. Elaine de Kooning (1918–1989), Joan Mitchell (1925–1992), Grace Hartigan (1922–2008), and Helen Frankenthaler (1928–2011) are among the artists who gradually gained acclaim for their art in the 1960s after the "men's club" ambience of the 1950s New York School faded. Ethel Schwabacher was part of this group of women artists. She, along with the above mentioned four and several other women are part of a show I really wish I could see at the Denver Art Museum, "Women of Abstract Expressionism."
Ethel Schwabacher was born in New York. At the age of 5 her family moved to Pelham, where, as a child, she painted in the garden. At 15 she enrolled at the Art Students League of New York. She also studied sculpture at the National Academy until 1921. Her initial training was in sculpture, but she abandoned that in favor of painting in 1927 after she finished an apprenticeship with the academic-realist sculptor Anna Hyatt Huntington (1876–1973).
Anna's foundation in abstraction came when she studied under American Cubist Max Weber (1881–1961) at the Art Students League. It was further cemented by her friendship there with Arshile Gorky (1904–1948). At the time the soon-to-be Abstract Expressionist's paintings were Cubist and figurative. After 6 years in Europe, during which time she studied the modernist experiment in Paris, she took independent study with Gorky in 1934 and 1936. At that time Gorky introduced her to the Surrealist idea of automatism, the act of painting without conscious control. She was inspired by the biomorphic Surrealist abstract forms of Gorky's work. From that point on, Schwabacher became interested in expressing her subconscious in paintings. Like Tempest, her works are characterized by automatism in abstract forms, with many of her paintings referencing nature. This painting comes from the year of her husband's death, and Tempest may have the dual intention of expressing her feelings of loss, anxiety, and separation.
This is typical of Gorky's work around that period: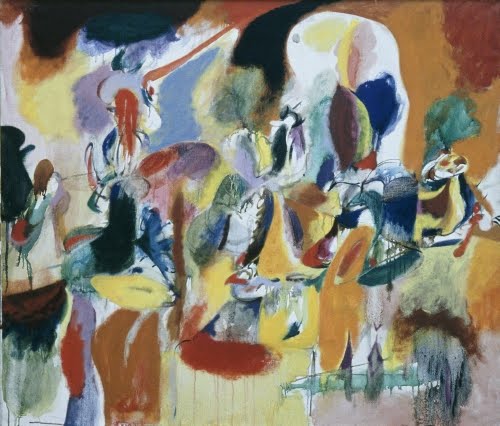 Arshile Gorky (1903–1984, US, born Armenia), Water of the Flowery Mill, 1944. Oil on canvas, 42 1/4" x 48 3/4" (107.3 x 123.8 cm). Metropolitan Museum of Art, New York. © 2016 Estate of Arshile Gorky / Artists Rights Society (ARS), New York. (PRF-0006)
Correlations to Davis programs: Explorations in Art Grade 4: 6.35; Explorations in Art Grade 6: 5.25; A Community Connection: 6.2, 8.4; Exploring Painting: 12; The Visual Experience: 9.3, 16.7; Discovering Art History: 17.1