Curator's Corner
Women's History Month 2017 II
There aren't many women architects who share the star power of names such as Mies van der Rohe or I.M. Pei, but, like many things in the old timey art history books—like sculpture—architecture was considered male territory. Well, Julia Morgan's nearly 700 completed buildings would tend to negate that view, and we need to honor her during Women's History Month.
---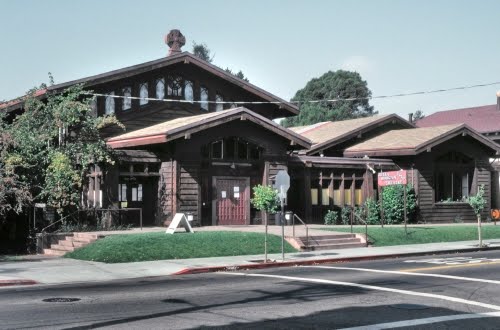 Julia Morgan (1872–1957, US), Saint John's Presbyterian Church (now the Julia Morgan Center), Berkeley, California, 1908–1910. Photo © 2017 Oliver Radford. (RAD-183)
This charming former church is a West Coast version of the Arts and Crafts style that was big at the time. Her employing leaded glass, casement windows, and overhanging eaves are the same attributes of the style seen in Frank Lloyd Wright's (1867–1959) houses of the same period.
Morgan was born in San Francisco and grew up in Oakland. Her parents wanted a higher education for their daughter, an unusual attitude about young women in the 1890s. She attended UC Berkeley, an overwhelmingly male school, and gradually decided to study architecture. She was the first woman to graduate from Berkeley with a degree in civil engineering (1894).
While studying at Berkeley she attracted the attention of the famous architect Bernard Maybeck (1862–1957). After hiring her, he suggested that Morgan study at the École des Beaux-Arts in Paris, the most prestigious architecture school in the world at the time. Morgan became the first woman to enroll in that school. Morgan graduated in 1902 from the École des Beaux-Arts where training was in a historicist (revival of historical styles) vein.
She opened an office in San Francisco. In a period when many architects were beginning to experiment with modernism, Morgan's designs persistently remained conservative and respectful of her clients' tastes. One of her more famous commissions was her work on William Randolph Hearst's famous castle San Simeon, which lasted from 1919 to 1938.