Curator's Corner
Spring Green from Gary Hume
In my ongoing celebration of spring, I'm featuring British artist Gary Hume. His Spring Angels series of eight screenprints sets just the right tone with their vibrant colors. In some of the prints, the dominant color—green—contrasts with deep cobalt violets (yay). What is more joyous than the beautiful array of greens available in nature during this season?
---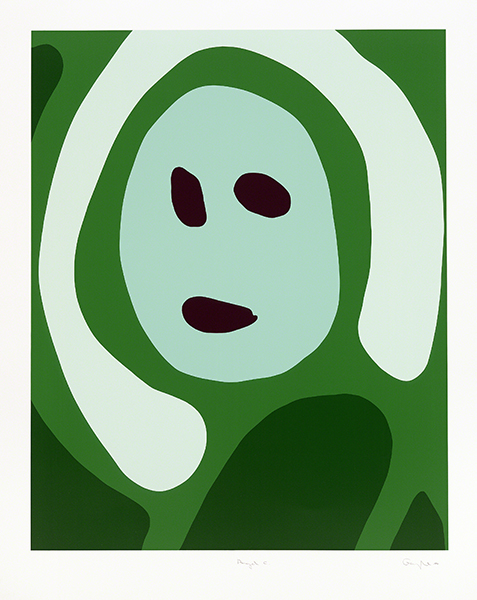 Gary Hume (born 1962, England), Spring Angel C, from the series Spring Angels, 2000. Screenprint on paper, composition 42 ½" x 34" (107.8 x 86.3 cm). Courtesy of the Museum of Modern Art, New York. © 2023 Gary Hume/Artists Rights Society (ARS), New York. (MOMA-P1212)
The imagery for Hume's angel prints and paintings comes from photographs he took of the three large angel sculptures suspended from the ceiling of the Cathedral of Brasília in Brazil. The angel sculptures were made by Alfredo Ceschiatti (1918–1989) with Dante Croce in 1970. Hume simplified his photographs into abstract, vaguely figural compositions for his prints. The variety of greens in the prints were inspired by foliage the artist collected.
Hume's reductive aesthetic approach to artmaking infuses much of the more recent work of the Young British Artists (YBA), a group of British artists that Hume is often associated with. His work is a compromise between the two poles of representation and abstraction, while the subject matter has a passing familiarity with the kitsch-aesthetic of Pop Art.
In 1952, a group of young artists and architects formed the Independent Group. These artists discussed how contemporary British art could reflect popular modern culture. Incidentally, these artists built the foundation for what would become Pop Art—a term first used by a British critic in 1958—long before American artists explored the phenomenon. Pop culture flourished in Britain during the 1960s, and Britain was culturally the source of the "mod" aesthetic in fashion, interior design, and architecture.
There was a long period when British modernism was eclipsed by American movements that rebelled against Abstract Expressionism (such as Minimalism and American Pop Art) in the 1960s and 1970s. A new generation of British artists initiated a series of exciting movements in th 1980s and 1990s, revitalizing British art. One of these groups was YBA.
Other than their age and nationality, the artists of YBA shared no common style or philosophy. They were painters, sculptors, photographers, and installation artists, many of whom studied at Goldsmiths' College, University of London. Another term for their work was Britart. The moniker Young British Artists came from the title of six shows of that name held at Saatchi Gallery in London, a premier location for modernist and contemporary art exhibits that opened in 1985.
Born in Tenterden, Kent, Hume attended Homewood School and subsequently Goldsmiths' College. After graduating in 1988, he soon became renowned for his paintings of everyday subjects using high-gloss industrial paints on aluminum. By the mid-1990s, Hume's subjects had been considerably simplified in both form and color, using just two or three colors per subject. His work went from a brilliant palette to a more muted one by 2002.