Curator's Corner
The Artistic Legacy of Conquest, part 2
---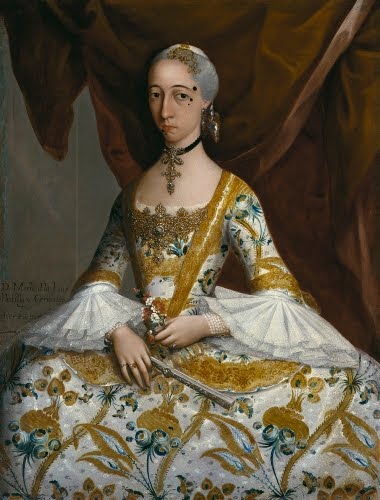 Miguel Cabrera (1695–1768 Mexico), Doña Maria de la Luz Padilla y Cervantes, ca. 1755–1760. Oil on canvas, 43" x 33" (109.2 x 83.8 cm). © 2017 Brooklyn Museum. (BMA-389)
I don't know if this woman looks miserable because: a. the paniers (side hoops) of her skirt are very unwieldy, or b. she's unsure the velvet beauty marks (chiqueadores) are really a hot beauty item, as they were in France at the time. Either way, I think the flowers she's holding indicate this may be a wedding portrait.
By the end of the 1600s, the Viceroyalty of New Spain, centered in Mexico City, had established social customs based on the model of European monarchies. The social hierarchy of elite classes consisted of the following, in order of the most honored: families born of European Spanish blood (peninsulares), those of Spanish descent born in Mexico (criolles), and those of Spanish descent married to Aztec royalty (mestizo).
Miguel Cabrera was an indigenous Mexican painter from the Zapotec culture in Oaxaca. He was universally recognized during his lifetime and the century that followed as the greatest painter of New Spain. He was born in Antequera and moved to Mexico City in 1719.
Cabrera may have been trained either by the Rodríguez Juárez brothers (Juan, 1675–1728 and Nicolás 1667–1734), or by José de Ibarra (1688–1756). Ibarra is considered the key artist in the transition in Mexico from the Baroque style to the Rococo. This painting shows the strong affinity of Cabrera's work to that of the Baroque Spanish artists Murillo and Zurbarán. The subdued, dramatic lighting; theatrical composition; and dark palette are all typical of Spanish Baroque painting.
Cabrera was the favorite painter of the archbishop of Mexico City—of the Jesuit order and of the Mexican nobility—so he enjoyed many lucrative commissions. Although famed for his portraiture, portraits are outnumbered by religious works in his body of work. In 1753, he founded Mexico's first academy of painting and served as its perpetual president.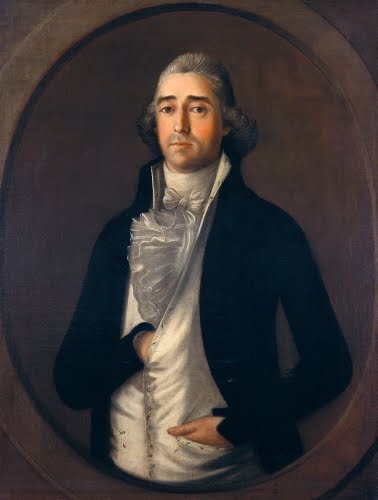 José Francisco Xavier Salazar y Mendoza (1750–1802, born Mexico, active in US), Portrait of a Man. Oil on canvas, 36 1/2" x 28" (92.7 x 71.1 cm). © 2017 Worcester Art Museum, Worcester, MA. (WAM-206)
Indeed, Spanish Colonial art also originated in the US. Most Americans forget that large parts of the South and Southwest were home to Spanish colonists before other Europeans from British and French colonies, and, of course, before the Mexican-American War (1846–1848). This beauty of a portrait comes from an expatriate Mexican artist who settled in New Orleans.
The French founded New Orleans in 1718. It was ceded to Spain in 1762 as part of the peace negotiations with Spain at the end of the Seven Years War (1756–1763). Only under Spanish domination did New Orleans begin to flourish and establish an urban identity, becoming a center of trade. New Orleans was handed back to the French in 1800 after Napoleon's invasion of Spain. He sold it to the United States in 1803.
With the increased prosperity came a desire by New Orleans' well-to-do to patronize the arts. Since the city had no native artists, and no art school existed until the end of the 1800s, many of the artists who rose to prominence under Spanish rule were from Mexico. Salazar y Mendoza was the best known of those artists and the most sought after for portraiture commissions at the time.
Originally from Mérida on the Yucatan in Mexico, Salazar and his family moved to then-Spanish-ruled New Orleans around 1782. Already an accomplished artist trained in the Spanish Rococo style, he received numerous commissions for portraits of prominent families and community leaders. Under his tutelage, his daughter Francisca because an artist and assisted him in his studio. He may have also been assisted by his brother.
Salazar's portrait of a prosperous gentleman reflects his awareness of Spanish portraiture of the period. The emphasis in Rococo portraits was a subtle idealization of the subject's features, emphasis on luxurious garments, and elegance of bearing that would reflect the status and refinement of the sitter. Like most Spanish Rococo portraits, the palette is somewhat darker than that in French and English portraits of the same period. The neutral background is similar to those seen in American portraits of the period.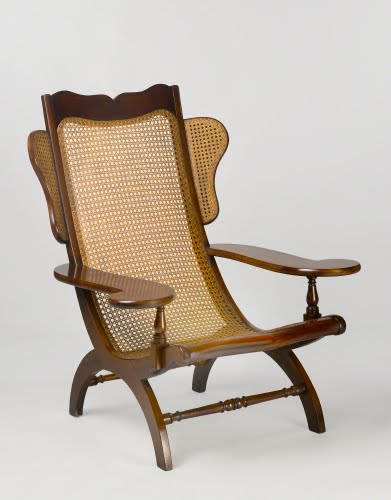 Cuba, Easy chair, ca. 1825–1850. Mahogany with old and new caning, 43" x 35 3/4" x 35 3/8" (109.2 x 90.8 x 89.9 cm). © 2017 Brooklyn Museum. (BMA-5127)
Am I the only one who thinks this chair has a set of big ears? Seriously, this is what happens when 1800s revival instincts kicked in in furniture design. This chair, called butaca, displays influences from Rococo (the wavy wings and top rail), Renaissance (the klismos-like x-legs), and Baroque (the turned arm posts) furniture. It was probably modeled on the early 1700s wing chair, although, ironically, wing chairs were meant to retain heat in front of a fireplace. A cane chair probably wouldn't do that.
Because Cuba was not free of Spanish control until the early 1900s, the dominant influence on Cuban arts was European, with some indigenous aspects. This chair is apparently based on some type of more ancient Mesoamerican form of x-leg camp chair. This style of butaca was apparently popular throughout the Caribbean Spanish colonies starting at the end of the 1700s. Rather than for grand public rooms of elite families, it was intended for intimate domestic spaces.