Curator's Corner
Sous-Verre Painting
I once watched an artist in Switzerland do a reverse painting on glass, and the technique amazed me. As an artist, one is thinking in reverse, literally painting details and foreground first, then middle ground, then background.
---
Gora Mbengue was a leading artist in contemporary reverse glass painting (sous verre in French, souwère in Wolof) technique on glass in Africa. Senegalese "under glass painting"(or reverse glass painting) technique migrated from northern Africa in the late 1800s, and quickly became a popular means of expression. Looking at works of art in this genre it is fascinating to try to decide which layer of color went down after the initial black outlines.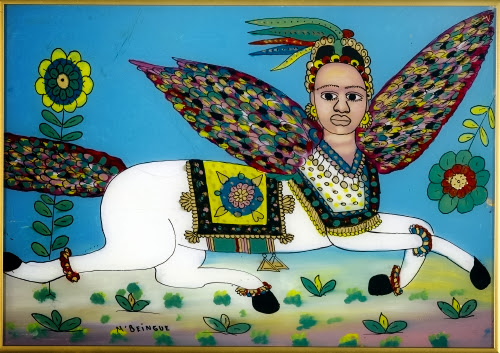 Gora Mbengue (1931–1988, Wolof People, Senegal), Al-Buraq, 1975. Paint on glass, 34.3 x 48.9 cm (13 1/2" x 19 1/4"). Brooklyn Museum, Brooklyn, NY. © 2014 Estate of Gora Mbengue. (BMA-3555)
The reverse glass painting technique has existed since ancient times. Although the works may seem to be works under a glass matte, they are actually painted on the reverse of a piece of glass. This entails doing details first, usually with a brush the size of those used to paint ceramics. Once the outline and details are established—such as the facial features and outline of the horse's body—then colors are applied from lightest to darkest, the exact opposite of traditional painting where the artist establishes an underpainting of darks and lights.
In Senegal, reverse painting initially represented symbolic scenes from the Qur'an, traditional stories, and cultural symbols. It eventually added portraiture and genre scenes to the oeuvre. Mbengue, a Sufi Muslim, has followed the tradition in Islamic art of not directly depicting the Prophet Muhammad. Al-Buraq was the angel that carried Muhammad to the throne of God upon his death. The well-known image of the angel would encourage people to contemplate the Prophet's ascension without the necessity of depicting him.
Click here to find a good bibliography from the Smithsonian on West African sous-verre painting.
Question for students: Souwère paintings are made on the back of a glass surface. This requires the artist to start with the finest details, add layers of color on top, and then finally add a background layer. Look closely at the painting. Can you find evidence of all three steps?
Correlations to Davis programs: Explorations in Art Grade 6: 3.16; A Community Connection: 1.1, 8.5; A Global Pursuit: 1.5; Discovering Art History: 4.8, 7.3; Experience Painting: 9; Exploring Painting: 1, 2; The Visual Experience: 9.3, 14.2, 14.3