Curator's Corner
Sleigh Rides and Christmas Carols: Hattie Brunner
Some artists have a knack for setting a mood in a genre scene (scene of everyday life). Such is the case with Visionary artist Hattie Brunner, the so-called "Pennsylvania-German Grandma Moses." Like Anna Moses (1860–1961), Brunner believed that Christmas was more than just a day. Her snow scenes make viewers want to climb into her compositions to enjoy the experience she depicted. Similarly, historic Chinese landscape artists believed that a composition was only successful if the viewer wanted to take a stroll through it.
---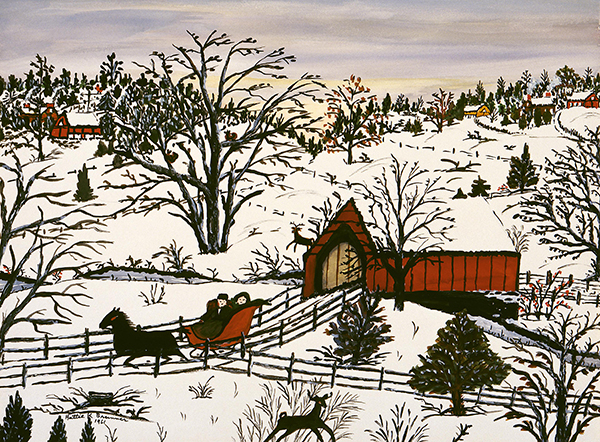 Hattie Brunner (1889–1982, U.S.), Untitled, 1961. Watercolor on paper, 10 5/8" x 14 9/16" (27 x 37 cm). Courtesy of the Brooklyn Museum. © 2022 Artist or Estate of Artist. (BMA-604)
Brunner's work reflects everyday activities of her Pennsylvania-German community such as apple butter making, sleigh rides, auction sales, and ice skating. A great number of her works are snow scenes. Like most Visionary artists, Brunner often worked from memory. Her watercolor paintings didn't commemorate any specific events, showing general slices of life. The lack of a light source and shadow, flat vertical perspective, and non-sculptural forms are all hallmarks of the Visionary style. Like Grandma Moses, however, Brunner had an intuitive knack for compositions balanced not only in palette, but also in placement of forms and contrast of light and dark shapes. Her works are endowed with an all-over decorative surface.
There is a tradition of naïve, or "primitive," artists going back as long as the tradition of trained artists. After the 1920s, such art, often called "folk art," gained a greater appreciation when abstraction evolved. Abstract artists came to value folk art for its personal, naïve, and often intuitive vision, something for which many modernists strove. In the 2000s, the term folk art has been replaced by the more politically correct Visionary Art.
In the U.S., the folk-art tradition is nurtured by a desire to see representations of the "good old days" in art. Such a sentiment has been present among Americans since the early 1800s. The tradition of self-taught artists in America predates that of trained artists. Since the 1960s, museums dedicated to self-taught artists, such as the American Folk Art Museum in New York and the American Visionary Art Museum in Baltimore, have reshaped the thinking and understanding of American Visionary artists.
A farmer's daughter and one of eight children, Brunner was born in Lancaster County, Pennsylvania. After her father died when she was seven, Brunner started working to help support her family. She worked a variety of jobs during her youth and started buying antiques at age 18. She worked in a shirt factory to put herself through the Academy of Music in Philadelphia. Eventually, she opened an antique shop in Reinholds, Pennsylvania.
Brunner did not start painting until she was 67, encouraged by her grandson who liked to draw. She painted a snow scene, which was eagerly bought by a customer in her antique shop. The enthusiasm for her work inspired her to continue painting. She painted in her home during the early morning before her shop opened or in the evening after she worked. At times, her paintings were in such high demand, she could not keep up with orders.
Throughout her painting career, Brunner preferred watercolor on paper. She eschewed any comparison of her work to that of Grandma Moses, although both artists' styles reflected not only the results of a long life, but that of a happy optimism. She produced more than 600 watercolors, only stopping when her eyesight began to fail.
This snowy landscape by traditional Chinese artist Shi Zhong also invites the viewer into the scene.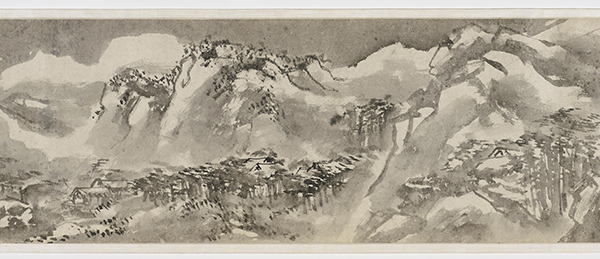 Shi Zhong (1438–1517, China), Snowscape, section of a handscroll, 1504. Ink on paper, 9 11/16" x 10'6" (24.6 x 319 cm). © 2022 Museum of Fine Arts, Boston. (MFAB-651a)
Shi Zhong was born in Nanjing. He was a professional painter, which is different than the scholar/amateur painters, many of whom were government bureaucrats. Shi was renowned as an "eccentric," an artist who did not strictly follow the rather conservative Chinese painting tradition and standards. His work is characterized by a loose, fluid, and sometimes expressionistic technique. His spontaneous execution caused him to favor winter scenes. His purpose in landscape was not just a recognizable place, but rather the essence or spirit of the landscape. Signing his works "Old Fool," his spontaneous style was probably an effort to attain an unencumbered naturalness. Like Brunner, many of his snow scenes were from memories rather than observed views.
Correlations to Davis programs: A Personal Journey 2E: 2.3, 2.4; A Global Pursuit 2E: 5.1; Experience Painting: Chapter 4; Explorations in Art 2E Grade 1: 2.5, 3.4, 3.5, 5.4; Explorations in Art 2E Grade 4: 1.8, 1.9, 3.1; Explorations in Art 2E Grade 6: 1.4; Experience Art 2.1