Curator's Corner
Sophisticated Sculpture = New Guinea
In January, I visited the Beyeler Foundation Museum in Basel, Switzerland, and I saw dozens of these elegant, monumental Yipwon figures. When you think of sculpture known for delicate and intricate carving, of whose work do you think? Michelangelo? Bernini? Barbara Hepworth? Well, I think that these beautiful sculptures from Papua, New Guinea, rival anything in the west for intricacy and delicacy of carving, elegant form, and powerful spiritual content. Also, these works are a great way to demonstrate one of the ELEMENTS OF DESIGN which are featured in most Davis textbooks and studio books: POSITIVE AND NEGATIVE SPACE.
---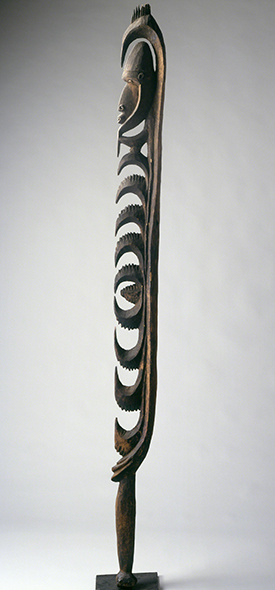 Yimam People, Papua New Guinea, Hook Figure (Yipwon), 1900s. Wood and shell, 92 15/16" x 7" x 4" (236 x 17.8 x 10.2 cm). Photo © Brooklyn Museum, Brooklyn, NY. (BMA-1609)

The Yimam people live in the Korewori River region of northeast Papua New Guinea. Papua New Guinea is one of the many islands that form the Oceanic region known as Melanesia in the South Pacific. Papua New Guinea is the largest of the Pacific islands. As in Australia, most arts were related to spiritual beliefs and supernatural communication. Rituals and ritual art were primarily the province of men.
The hook figures were stored in the men's ceremonial house. They represented spiritual and ancestral forces, or were meant to channel those forces for luck in hunting and warfare. The figure itself represents the external and internal aspects of the spirits. A head and a leg are clearly visible. The central section represents a body, with beautifully carved hooks representing the ribs, surrounding a central element that represents the heart. Although much care went into the carving of ritual objects, they were often discarded or allowed to deteriorate after they had served their function, or were perceived as ineffective.
Artworks such as this were a major influence on early-1900s artists in Europe who experimented with abstraction. The extreme stylization of this figure is remarkably similar to the work of Constantin Brancusi, Pablo Picasso, and other 1900s modernists.
There is a great book about the Korewori region's people and art called Korewori: Magic Art from the Rain Forest by Christian Kaufmann (2004, University of Hawaii Press).