Curator's Corner
Not Your Typical Mummy
I'm a big fan/geek when it comes to portraiture. This may stem from the fact that I can't paint a portrait of someone without it looking like a bad cartoon, but I digress. Additionally, I've always been fascinated by the art of ancient Egypt. I'm not so fascinated by the aspects of Egyptian art related specifically to the pantheon of deities, but to the aspects of Egyptian art that give hints about everyday life in ancient Egypt.
---
I had a professor in grad school who said—and I agree with her—that art is always significant in that it relays some idea about the estate of human kind at the time it was created. If one applies this to any art movement, it immediately becomes clear what she meant: the artist was reflecting what was going on at the time she/he was creating the work of art. I don't think there's anyone who would disagree with the idea that an artist cannot create in an art historical or historical vacuum.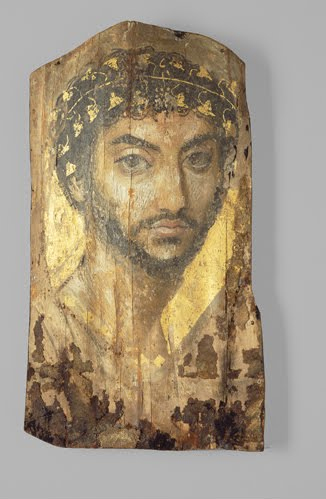 Ancient Egypt, Roman Period, Mummy Portrait of a Man, from the Fayum region, 100s CE. Encaustic on wood, 14 ½" x 8 5/8" x 1 3/8" (36.8 x 22 x 3.5 cm). © Art Institute of Chicago, Gift of Mrs. Emily Crane Chadbourne. (AIC-313)
In the fourth century BCE Alexander the Great (died 323 BCE, Macedonian/Greek) conquered Egypt. Subsequently, Greeks intermarried with Egyptians to form Greek ruling dynasties. In the first century BCE, the Romans occupied Egypt. The Greek idealized representation of the body was augmented by the Roman emphasis on extreme realism. While no Greek painting per se has survived from antiquity (outside of vase painting), the mummy portraits of Egypt may be a descendant from that tradition, enhanced by Roman obsession with realism as a way of honoring the deceased's uniqueness.
Although under Greek and Roman domination from the 300s BCE, the Egyptians maintained their religion and their funerary practices, including mummification and all the inherent rites. Because it was more expensive to commission elaborately carved, painted, and inlayed coffin lids, Egyptians during the Greek-Roman era opted for painted portraits of the deceased that were affixed over the head of the deceased in the coffin lid. The funerary portraits that have come down to us are mostly from wealthy families of Greek and Roman ancestry that had married into Egyptian families.
Roman artists used encaustic (wax) pigments because they were extremely durable. The man in this coffin portrait was most likely Greek in origin. The golden laurel wreath crown was a Greek symbol of victory, in this case victory over death. The large, vigilant eyes are typical of late Roman portraiture. How this is a contrast to the generalized, highly decorated head pieces of Egyptian mummies from only 800 years earlier!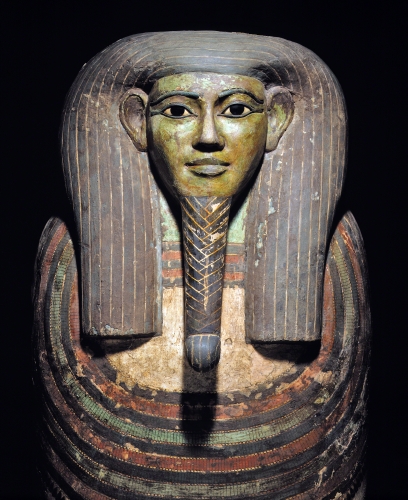 Ancient Egypt, Head of the Coffin of Horankh, ca. 700 BCE. Gessoed and painted wood, with obsidian, calcite and bronze inlay, near life-sized. © Dallas Museum of Art. (DMA-59A)
Correlations to Davis programs: Explorations in Art Grade 1: 2.8; Explorations in Art Grade 2: 2.8; Explorations in Art Grade 3: 1.1, 1.2, 1.3; Explorations in Art Grade 4: 2.7; Explorations in Art Grade 5: 1.1; A Personal Journey: 3.2, 6.1; A Global Pursuit: 2.1; The Visual Experience: 15.3; Discovering Art History: 5.3