Curator's Corner
Remembering Wayne Thiebaud
We lost a truly unique artist this past December 25th. I associate Wayne Thiebaud more with New Realism of the 1960s, but he has been inexorably linked to Pop Art in many Western art history texts. Regardless of his stylistic designation, he is one of those artists whose work, when you see it in a museum, makes you want to touch the artwork!
---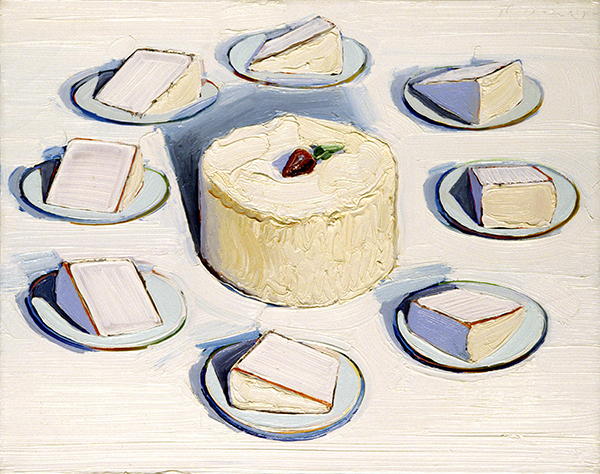 Wayne Thiebaud (1920–2021, U.S.), Around the Cake, 1962. Oil on canvas, 22 1/8" x 28 1/16" (56.2 x 71.2 cm). Courtesy Spencer Museum of Art, University of Kansas, Lawrence. © 2022 Wayne Thiebaud/Licensed by VAGA at Artist Rights Society (ARS), New York. (SMA-79thvg)
Thiebaud said that the pastries in works such as this are reminiscences of dessert counter displays in restaurants where he worked, although they could be seen as representations of mundane American consumerism. The crisp, clean, radially symmetrical composition of Around the Cake betrays Thiebaud's background in commercial art, where the product had to be presented cogently. The painterly surface and prominent brush work elevate it to a masterful fine art still life, where the thick impasto (build-up of paint) creates the illusion of icing spread with a knife! The impasto even mimics wrinkles in the tablecloth. Aside from the pastry case-like display, what makes this work any different than Baroque so-called "banquet piece" still-life paintings?
West Coast Pop Art developed, like its East Coast counterpart, as a reaction to Abstract Expressionism's domination of the art world during the 1950s. Unlike the overwhelming obsession with commercial aspects of American culture of East Coast Pop, West Coast Pop went rapidly in its own direction as a result of the peculiar commercial culture of California, where the style easily could have been invented.
The diversity of styles in California Pop Art stems partly from influences unavailable to East Coast Pop artists: the California Figuration movement, the Los Angeles hot rod scene, Hollywood and the film industry, and the Beat Poets of the 1950s. The Beat Poets, centered in San Francisco, mocked middle-class American values and susceptibility to commercialism.
Thiebaud, born in Mesa, Arizona, spent much of his youth in southern California. His early interest in comics and illustration led him to pursue a career in art. After a stint at Disney Studios filling in individual frames in cartoon shorts, he studied to be a commercial artist. While working as a commercial artist, he studied painting in order to ultimately pursue a career as a fine artist and taught to supplement his income. The technical skills he learned as a commercial artist led him in the direction of the unique subject matter of his early canvases: small, brightly colored arrangements of food products.
As there were no galleries in Sacramento in the late 1950s, Thiebaud exhibited his work in restaurants, theater concession booths, and shops, where his work was well received. It made an even greater impression in New York in 1961, where he had his first successful show. In 1962, his work was featured in the Pasadena Art Museum's (now the Norton Simon Museum) New Painting of Common Objects, considered America's first major exhibition of Pop Art. Subsequent shows in New York routinely grouped Thiebaud's work with that of Andy Warhol (1928–1987) and James Rosenquist (1933–2017), two iconic Pop artists.
Thiebaud, as a leading West Coast artist, resists identification with Pop Art. Critics have pointed to Thomas Eakins (1844–1916), Jean-Baptiste-Siméon Chardin (1699–1779), and Giorgio Morandi (1890–1964) as influences on his realist painting style. Thiebaud's style does not resemble any of the flat, hard-edged styles of other Pop artists. The impasto of his surfaces is instead reminiscent of action painters of Abstract Expressionism. Other influences are the painterly figurative work of fellow Californians Richard Diebenkorn (1922–1993) and Elmer Bischoff (1916–1991).
Here's another example of Thiebaud's luscious impasto in action, this time in pie slices: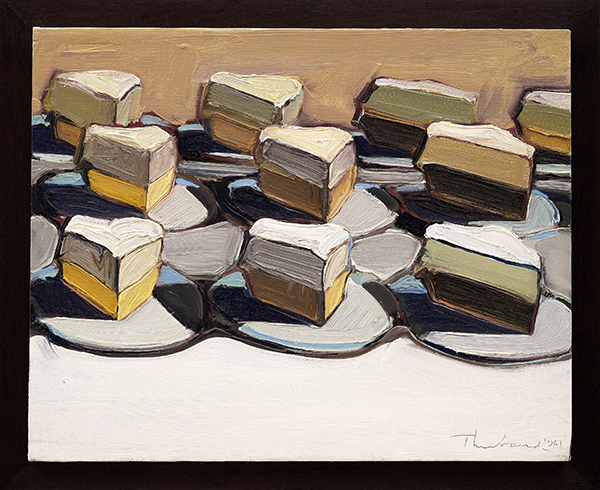 Wayne Thiebaud, Cut Meringues, 1961. Oil on canvas, 16" x 20" (40.6 x 50.6 cm). Courtesy of The Museum of Modern Art, New York. © 2022 Wayne Thiebaud/Licensed by VAGA at Artists Rights Society (ARS), New York. (MOMA-P1118thvg)