Curator's Corner
Realism of Ceramics Artist Ah Leon
I was blown away the first time I saw this artist's work, and I'm certain you will have the same reaction. We all know about the great ceramic tradition of Eastern cultures such as China, and Ah Leon certainly proves that this tradition is alive and well in the present day. His pieces are so refined, I think they would put the American trompe-l'oeil Realist painters of the late 1800s to shame in the amount of realistic detail. And, he started out as a painter!
---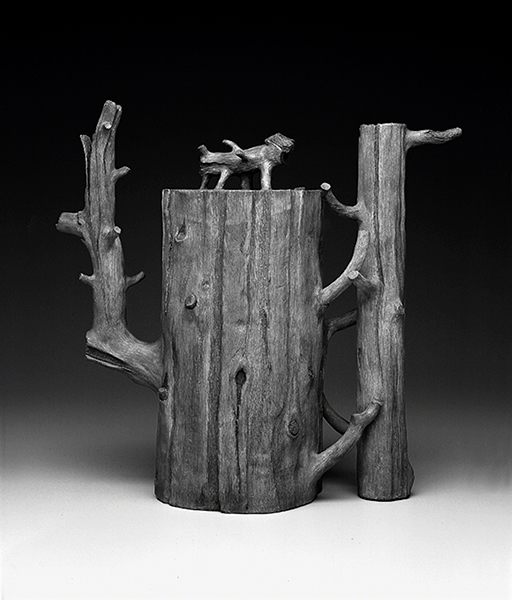 Ah Leon (Cheng Ching-liang, born 1953, Taiwan), Upright Tree Trunk Teapot, 1993. Stained stoneware, 17" x 18" x 8" (43.2 x 45.7 x 20.3 cm). Courtesy of the Mint Museum, Charlotte, NC. © 2020 Ah Leon. (MIN-211)
Ah Leon's ceramic teapots have an uncanny resemblance to the character of wood. He attributes the resemblance to wood to his firing process that creates colors similar to tree bark. He closely studies real trees and photographs of trees to understand natural textures and colors for his realistic ceramic works. While honoring the tea culture tradition of China, Ah Leon creates realistic sculptures that have features of tea pots, such as handle and spout. He hopes that his works are a bridge between traditional Chinese ceramics and contemporary Taiwanese art. He often thinks of works such as these teapots as pieces of wood that give the "illusion of clay."
Ah Leon was born Chen Ching-liang in Pingtung County, Taiwan. He grew up in a farming community and left home to pursue a college education. At the age of 19, he moved to Taipei and studied painting at the National Academy of Arts (1972–1976). In painting, his preferred style was Western Surrealism. When he later turned his attention to ceramics, this would have a major influence on his work.
Shortly after graduating, Ah Leon felt that painting was too tied to tradition, leaving him unfulfilled as an artist. He turned to ceramics because he felt that clay was capable of endless expressive possibilities and lasted longer than paintings. He obtained apprenticeships (1978–1982) with master ceramic artists, particularly in Yingko, a town near Taipei that is renowned for its wide range of ceramic art. There, he obtained a foundation in technical skills of ceramic art. Initially, he focused on functional wares, eventually selecting teapots as his main output. He was particularly influenced by the style of the wares of Yixing in China's Jiansu Province, noted for small, unglazed teapots dating as far back as the Ming Dynasty (1368–1644). Ah Leon travelled to Yixing to see the source of his inspiration.
In mimicking the Yixing style, Ah Leon used local Taiwanese clay from Miaoli County that is rich in iron and either buff or red in color. Although it has a high sand content, the artist considers it perfect for his particular form of self-expression. In 1987, Ah Leon visited the U.S. and met many ceramic artists who reflected the "ceramics as fine art" movement that had begun in the U.S. in the 1950s with artists such as Peter Voulkos (1924–2002). From these artists he understood that ceramic arts could be both utilitarian and fine art, which profoundly affected his approach to ceramics. By 1990, he had applied his interest in Surrealist realism—such as the paintings of Salvador Dali (1904–1989) and Rene Magritte (1898–1967)—to his teapots. His ceramic works have been termed trompe l'oeil (fool the eye) realism because he manipulates clay to mimic a variety of textures from the softness of bean curd to the rough, hard quality of wood.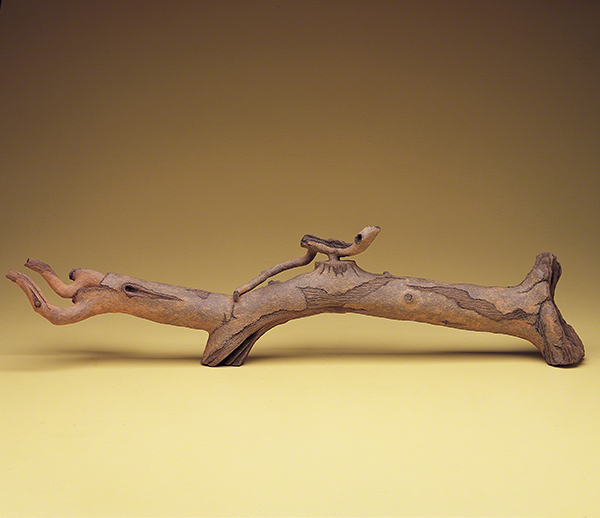 Ah Leon, Branch Teapot, 1992. Stained stoneware, 7 ¾" x 32 ¾" x 5 ½" (19.7 x 83.2 x 14 cm). Courtesy of the Mint Museum, Charlotte, NC. © 2020 Ah Leon. (MIN-219)