Curator's Corner
Gem of the Month: An American van Gogh
Ralph Albert Blakelock was born on October 15th. Because I am not in the habit of leaning on the "top 40 hits" of Western art as subject matter in this blog, I believe it would be interesting to do a little study on an artist who always seems to be just on the border of "being a star." Perhaps this is because he painted at a time when the first major American art movement—the so-called Hudson River School—was waning in popularity, and the "revolutionary" style of Impressionism was about to be introduced to the US by American artists who had studied in France after the Civil War (1860–1865).
---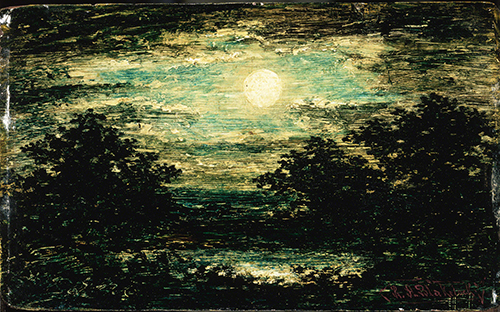 Ralph Albert Blakelock (1847-1919 US), Moonlight. Oil on wood, 5 7/8" x 9 1/2" (14.9 x 24.1 cm). © 2019 The Phillips Collection, Washington, DC. (PC-483)
In the 2000s, Blakelock's work would probably not be termed "Visionary," the contemporary term for naïve, untrained artists. His landscapes speak to a deep appreciation of the formal concerns of light source and composition. Moonlight is fairly typical of many of his compositions—a dark, shadowy foreground with bright moonlit or dusky sun illumination.
Blakelock is thought to have mixed coal tar into his pigments to achieve the pitch-black effect seen in the foreground trees. The moonlight often shimmers on bodies of water in the foreground that heighten the silent, mysterious mood of his works.
Romantic naturalism in American painting dominated the field through the 1850s. American art was more or less ruled by the all-encompassing national spirit of Manifest Destiny—the idea that Americans were meant to dominate the continent. This engendered a certain ethnocentrism that manifested itself in the predilection for "American scenes."
By the late 1860s, some American artists began looking beyond America for inspiration, and many increasingly looked to Europe—primarily Munich and Paris. On the other hand, in the same period, there were many American artists who were motivated by inner vision. Many of these artists were self-taught or augmented their arts training with personal experiment. Their work involves a personal edge akin to Expressionism. Some of this personal vision mirrored what would occur in American art during the early 1900s.
Blakelock was a remarkably original landscape artist during the late 1800s. Born in New York City, he dropped out of medical school after a year to pursue painting as a vocation. He studied briefly at Cooper Union, but was largely self-taught. By 1867, he was painting landscapes in a style influenced by the Hudson River School, a style that had seen its heyday about 20 years earlier, but was still popular with the public. He exhibited these at the National Academy of Design, one of the first American official "art schools."
In 1869, Blakelock made an extensive trip through the newly explored western territories, including the lands controlled by First Nations peoples. He also went into western Mexico and parts of Central America. This trip forever drove out of his aesthetic the romantic realism of the Hudson River School in favor of a style that explored the vast, mysterious nature of the wide-open frontier and unexplored nature. His subject matter came to be dominated by imagined, evocative views of forests and rivers, usually in stark lighting. This aesthetic endured in his painting for the rest of his career.
In many ways, I feel that Blakelock's career was similar to Vincent van Gogh (1853–1890). He was constantly on the verge of bankruptcy and was consumed with self-doubt about his work. Blakelock's visionary paintings did not sell well, and the financial strain of a large family to support and little financial success caused a series of mental breakdowns that landed him in hospitals from 1899 until the last year before he died. At that time, his paintings were rediscovered and exhibited in New York to great success. Even while hospitalized, Blakelock continued to paint his mysterious, evocative landscapes that spoke more to personal experience rather than academic training.
This work probably pre-dates his trip to the West: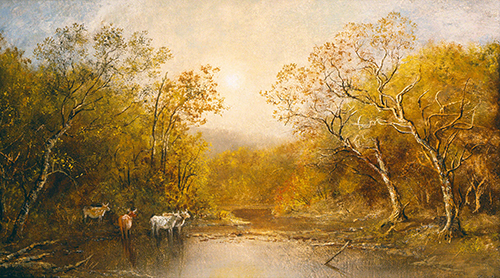 Ralph Albert Blakelock, Landscape with Cows. Oil on canvas, 18" x 31 15/16" (45.7 x 81.2 cm). © 2019 Butler Institute of American Art, Youngstown, Ohio. (BIAA-190)
Like van Gogh, Blakelock had an innocent, sincere love of nature, which comes through clearly in his work. Despite the fact that he was largely self-trained, his compositions are exquisite in color balance, nuances of light, and compelling surfaces.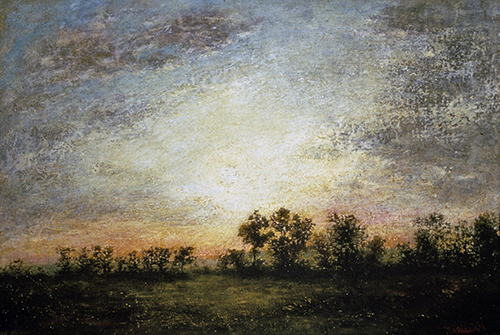 Ralph Albert Blakelock, Afterglow. Oil on canvas, 16 1/8" x 24" (41 x 61 cm). Image courtesy of R.H. Love Gallery, Chicago, © 2019 Davis Art Images. (8S-26556)