Curator's Corner
Rain, Rain Go Away?: Tanya Goel
Some parts of the U.S. are experiencing too much rain, while others are in drought situations (as we are in Massachusetts). Well, the extremely hot weather worldwide, linked with the combined bamboozle of dried-up rivers and flash flooding, are all symptomatic of what? Climate change? These works of Tanya Goel address the vicissitudes of the current climate crisis.
---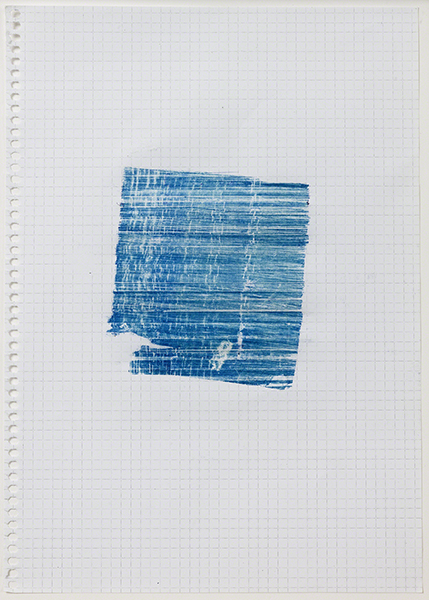 Tanya Goel (born 1985, India), rain, 1 mm – III, IV, 2015. Carbon paper pigment print on graph paper, sheet 11 5/8" x 8 ¼" (29.5 x 21 cm). Courtesy of the Philadelphia Museum of Art. © 2022 Tanya Goel. (PMA-8899)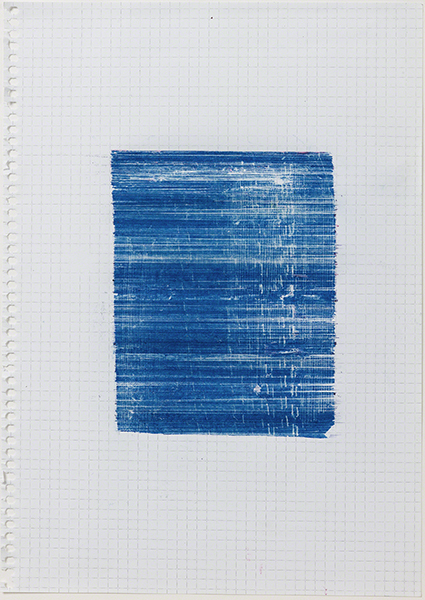 Tanya Goel (born 1985, India), rain, 1 mm – V, VI, 2015. Carbon paper pigment print on graph paper, sheet 11 5/8" x 8 ¼" (29.5 x 21 cm). Courtesy of the Philadelphia Museum of Art. © 2022 Tanya Goel. (PMA-8900)
Goel often creates site-specific artworks made from found materials, such as indigo industrial pigment and pulverized bricks. Influenced by the scientific concept of deep time, or geological time, as well as the rains of Delhi's monsoon season, Goel's ordered lines directly correlate to the world's changing sea levels, forming a record of their rise and fall over time, as well as an abstract meditation on natural and urban cycles of rain.
Making pigments from natural and found industrial materials, Goel expends a great deal of effort on her abstractions. Many of her materials are found at architectural demolition sites in and around New Delhi. Among the materials she uses are charcoal, aluminum, concrete, glass, soil, mica, graphite, carbon paper pigment, and foil. One of her prime concerns with combinations of materials is how they reflect light.
The engraving of metal plates, clay tablets, and bones as communication was known in the ancient Indian Indus Valley cultures that flourished between the 2000s and 1000s BCE. However, India was introduced to the printing press and book illustration via Portuguese woodcuts and engravings during the 1500s. The British established more printing businesses after they invaded and took over most of India during the 1700s. Until the 1800s, though, printing was mostly restricted for publications and illustration, not fine art.
Gradually, during the late 1700s and early 1800s, Indian artists became fluent with Western printmaking techniques, particularly woodcut, wood engraving, engraving, and lithography. In 1816, Ramchand Roy was the first Indian artist who designed and printed fine art. Art schools founded between the 1830s and 1870s offered printmaking courses taught by British artists.
By the 1870s, an indigenous art school in Mumbai offered printmaking courses, mostly commercial, that for the first time integrated Western and indigenous art styles. The Bichitra Club (1915) and founding of Bhavan College (1920) advanced indigenous printmaking with emphasis on self-expression rather than commercial uses. Chinese and Japanese woodcuts were also looked to as influences.
After World War II (1939–1945), linoleum cuts became a popular medium. By the mid-1960s, printmaking became a popular medium with younger artists because of its versatility. Indian colleges finally introduced printmaking as an individual course of study, thus launching a whole new generation of artists dedicated to printmaking.
Goel was born in New Delhi, and now lives and works there. She earned an MFA from Yale University in 2010. In both her paintings and prints, Goel's work is concerned with the transformation of common, everyday surfaces into abstract compositions. These include architecture, billboards, and monitors. Her exploration of these surfaces is often an intense close-up analysis; for instance, the weave of a tarp used in construction.