Curator's Corner
Recognizing Pride Month, Part 2
Last week I featured an artist from the 1800s, Mary Ann Willson, for Pride Month 2019. Today I continue my Pride Month posts with a look at contemporary artist Glen Ligon.
---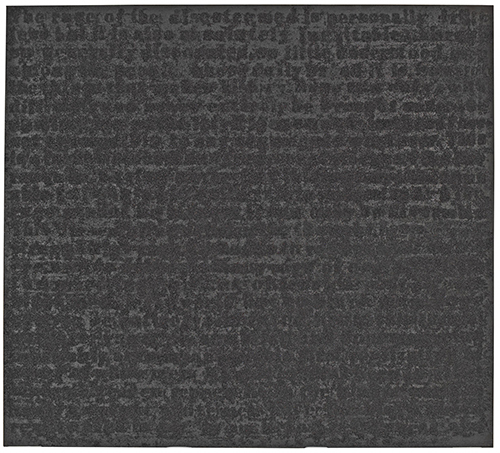 Glenn Ligon (born 1960, U.S.), Untitled (Rage) #2, 2002. Mixed-media on canvas, 74 7/8" x 82 5/8" (190.2 x 209.9 cm). Albright-Knox Art Gallery, Buffalo, NY. © 2019 Glenn Ligon. (AK-141)
Ligon's work is a powerful, painted indication of the continuing impact of words as subject matter in 21st century art. Yet, his work defies the Postmodern Principles of "Appropriation" or "Interaction of Text and Image." He is more akin to Japanese artists who create large-scale, monumental calligraphy works that actually state a belief/moral code/faith idea. Ligon's work also transcends the Conceptualist use of text in art, because those artists were emphasizing the idea behind the work rather than the finished work. Ligon's art emphasizes both.
The text in this painting is from James Baldwin's "Stranger in the Village," an essay written in 1953 while the author was living in a small Swiss town. Baldwin, an openly gay African American, wrote about his feelings of isolation not only in the Swiss town, but also the pre-Civil Rights Movement U.S. The blackness of the letters in Ligon's piece reflect Baldwin's rage, which is quoted in the top line of text: "The rage of the disesteemed." These words were stenciled onto the canvas in such a way as to be nearly illegible, magnifying the emotive force of the work in the darkness of the coal dust.
Ligon was born in the Bronx, New York. Although his family was on a tight budget, at the age of seven, he enrolled in a private school in Manhattan. Ligon then studied in the art program at Wesleyan University, where he got his BA in 1982. While working as a proofreader in a law firm, Ligon painted in his spare time in a type of action painting reminiscent of the Abstract Expressionism of Pollock and De Kooning.
In 1985 he attended a Whitney (Museum) Independent Study program. During this time, he became fascinated with the work of many African American writers, including those of the Harlem Renaissance such as Zora Neale Hurston (1891–1960). By 1985, he had dedicated himself to a career as an artist with an emphasis on his life as an African American and a gay man. His topics cover slavery, racism, historical stereotypes of Blacks, and sexual politics.
Ligon's first solo exhibition in Brooklyn in 1989, How It Feels to Be Colored Me, featured art that only resembled his Abstract Expressionist works in the all-over treatment of the canvas surfaces and the painterly application of pigment. This show established his reputation for creating large, text-based painting.