Curator's Corner
Pride Month 2022: Fairfield Porter
Let's start June with a focus on the work of Fairfield Porter, an artist who matured during the period dominated by Abstract Expressionism in American art. It was also a period in which being gay or bisexual was still not something that was talked about. So, Porter was a groundbreaker in two ways: his painting explored realism when it was not considered "the thing" and he explored relationships with both men and women throughout his life.
---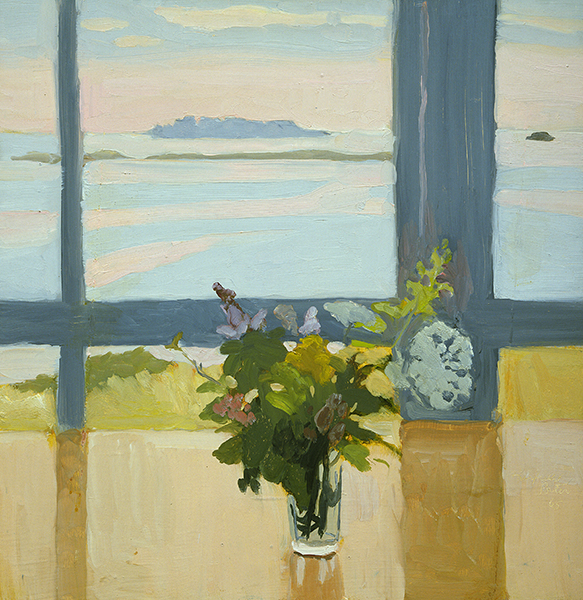 Fairfield Porter (1907–1975, U.S.), Flowers by the Sea, 1965. Oil on composition board, 20" x 20" (50 x 51 cm). Courtesy of the Museum of Modern Art, New York. © 2022 Estate of Fairfield Porter/Artists Rights Society (ARS), New York. (MOMA-P2204ptrars)
Like many of his contemporary abstract painters, Porter appreciated the character of paint on the canvas's surface. He painted with a medium that made oil paints more fluid and freely brushed on the canvas. Porter always wanted a rich surface, reflecting not only French Neo-Impressionist painters Pierre Bonnard (1867–1947) and Édouard Vuillard (1868–1940), but also the Spanish Baroque painter Diego Velázquez (1599–1660), whom he admired.
The still-life painting Flowers by the Sea—reflecting life on Porter's farm/retreat in Spruce Hill, Maine—depicts the rendition of depth through color, as well as emphasizing the two-dimensional nature of the canvas surface. It ultimately resolves—as in the work of Vuillard—into a series of vertical elements executed in brilliant color. His brush work very much also reflects the influence of Abstract Expressionists such as Willem de Kooning (1904–1997). The reduction of forms to simple shapes unmarred by extraneous detail is also an influence of Vuillard and Bonnard.
Although Photorealism (or, New Realism) is often considered the "rebirth" of figuration in American art after World War II (1939–1945), when Abstract Expressionism was dominating the art world, there is another strain of naturalism that has an uninterrupted tradition in American art since the colonial period. This is an aesthetic that rejected most of the principles of modernism and continued in American art. During the long decades when modernism packed museums and galleries, the deeply rooted tradition of naturalism continued to appeal to a large number of people who were fond of art that reflected the world they knew. In the mid to late 1950s, a number of artists emerged who continued the tradition of realism/naturalism. Some of them, like Porter, borrowed technical aspects of the dominant abstract genres—brilliant color, gestural brush work, and unusual composition—but maintained relatively traditional subject matter.
Born in Winnetka, Illinois, a suburb of Chicago, Porter was a son of well-off parents who traveled extensively when he was young. By the time he was a teen, he had been exposed to art from many different cultures. He studied art at Harvard University (1924–1928) but got little out of it. He also studied at the Art Students League in New York, quitting soon after because he was disappointed with the curriculum stressing life drawing rather than painting. In the 1930s, he painted social realist murals and designed magazine covers.
Porter's major epiphany for his own painting came in 1938 when he saw an exhibition of paintings by Bonnard and Vuillard. He was impressed by the use of bright color and their compositions that consisted of decorative surface, contrasting patterns, and large areas of unmodulated color.
Ultimately, Porter came to realize that his work was most strongly influenced by Vuillard, recording impressions at hand with a strong use of light and color. He rejected traditional notions of contour and form and the lack of spontaneity therein. Porter therefore strove for freshness and vitality in his realist works similar to abstract painters of his generation.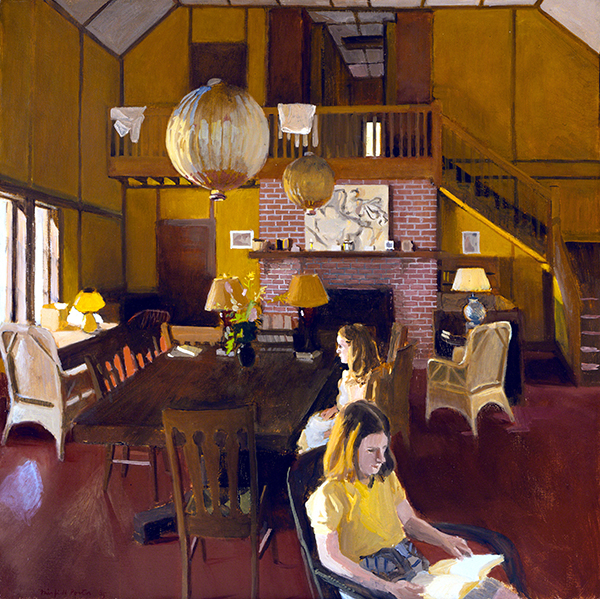 Fairfield Porter, Interior with Sunlight, 1965. Oil on canvas, 44 7/8" x 44 7/8" (114 x 114 cm). Courtesy of the Brooklyn Museum. © 2022 Estate of Fairfield Porter/Artists Rights Society (ARS), New York. (BMA-397ptrars)