Curator's Corner
Pride Month 2021 III: George Tooker
Introspective realist George Tooker was among a group of artists who adapted the use of tempera in their work in the 1940s. These artists aspired to create paintings that mirrored the realism of Italian Renaissance painting.
---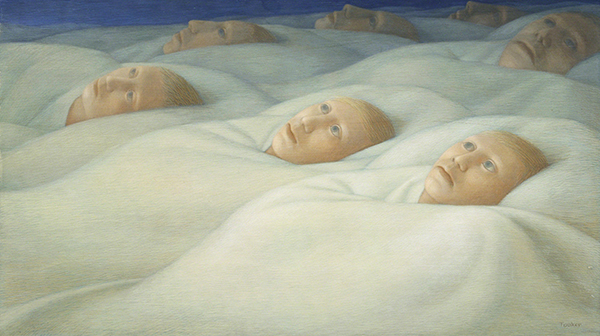 George Tooker (1920–2011, U.S.), Sleepers II, 1959. Tempera on wood panel, 16 1/8" x 28" (41 x 71 cm). Courtesy of the Museum of Modern Art, New York. © 2021 George Tooker. (MOMA-P2600)
Tooker's images seem to reflect the angst prevalent in American society of all periods. Many of his paintings dealt with common people in common places in uncommon circumstances. Other images, such as his series of Sleepers, seem to represent more subliminal fears, paranoia, and anxiety.
Sleepers II—painted at the height of the Cold War (1947–1991) and just after the Second Red Scare (1947–1957)—represents a group of figures who are obviously not sleeping but staring anxiously upward in fear. This may be related to the angst of everyday Americans at the time over the escalation of the nuclear arms race. The psychological wow-factor of Tooker's work is often enhanced by a compressed space.
The American involvement in the horrors of World War I (1914–1918) caused American opinion to back off from anything European after the war, including modern art. The general impulse among artists was to produce images of American life that basically presented the sense of the "good old days." The Great Depression (1929–1940), a severe, world-wide economic downturn, exacerbated this cynicism, causing an even more insular focus on the part of the majority of American art.
The Great Depression started with the collapse of the stock market in October of 1929 and ended around 1940, when increased "defense" spending strengthened the economy. Like all other groups in society, artists were hit hard by massive unemployment. The prevailing gloom caused the country to become introspective, and artists depicted the social conditions they saw around them.
Magic Realism is often the term given to a trend in American Social Realism among a group of artists in New York during the 1920s and 30s. The term was first used in Germany in the 1920s to define works by artists who rejected the abstractions of Expressionism in favor of reintroducing elements of the physical world, combined with mystical or symbolic elements.
Among American Social Realists, Magic Realism was most characteristic of artists who were attuned to the techniques and emphasis on classical realism of the Renaissance and Baroque. American Magic Realism is characterized by the use of figures from everyday American life combined with mystical, mythological, or dream-like situations.
Born in Brooklyn, Tooker received painting and drawing lessons—starting at 8 years old—from a local artist who painted in the Barbizon (French realist landscape) tradition. In prep school, he gravitated toward landscape drawing and painting in watercolors. Although he studied English literature while attending Harvard University, Tooker spent much of his time studying Renaissance art at the Fogg Museum at Harvard. He also did urban and rural landscapes in and around Boston.
After graduating from Harvard in 1942, Tooker studied at the Art Students League in New York, where Social Realist Reginald Marsh taught him. While studying under Marsh, he met the painters Paul Cadmus (1904–1999) and Jared French (1905–1988). Cadmus taught Tooker to use the slow, tedious process of egg-tempera as practiced in the Renaissance. It was characterized by building up layer after layer of matte surfaces in pastel colors. French influenced Tooker to infuse his subject matter with a symbolic and mythical approach. This fit with Tooker's contemplative temperament. By the 1950s, Tooker likened his symbolic images to the work of Italian Renaissance artists Paolo Uccello (1397–1475) and Piero della Francesca (1415–1492).
Correlations to Davis programs: Discovering Art History 4E: 15.4; Experience Painting: Chapter 2