Curator's Corner
Pride Month 2020, Part 4
Let's close out my Pride Month series with the work of Agnes Martin, a pioneer Minimalist, although she considered herself an Abstract Expressionist.
---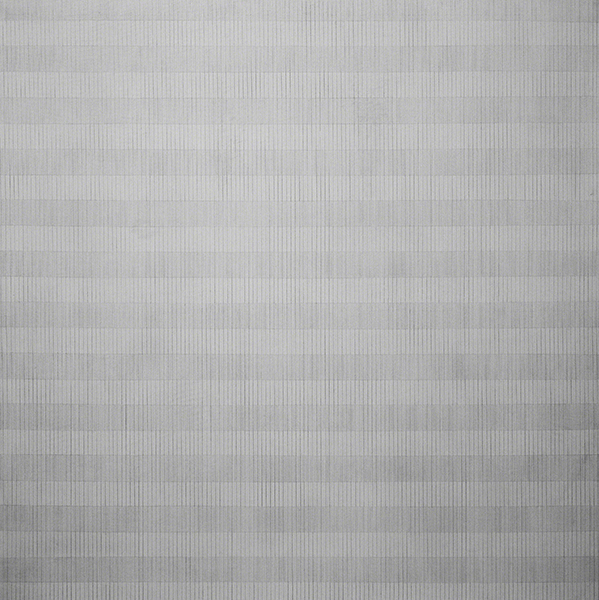 Agnes Martin (1914-2004, U.S., born Canada), The Tree, 1964. Oil and pencil on canvas, 72" x 72" (182.8 x 182.8 cm). The Museum of Modern Art, New York. © 2020 Estate of Agnes Martin/Artists Rights Society (ARS), New York. (MOMA-P2792mtars)
Martin, who grew up on the barren plains of Canada, tackled landscape as her subject matter in many of her art works. She ultimately formulated combinations of grids and lines that became, for her, abstract emblems of elements of landscapes. She executed many works of the subject of "mountain," some of which were done in pencil lines that were barely visible to the viewer.
The Tree shows Martin's meticulous use of her trademark precise lines. She eschewed most canvas painting in favor of graphite grids of lines, strips, and squares, often using masking tape to achieve the perfection of her grids. This grid was created over an oil paint underpainting. Martin declared that when she produced this grid she felt it represented innocence, like the innocence of trees.
Minimalism emerged as a dominant style in the 1970s. It was a reaction to the emphasis on brush stroke and splatter of Abstract Expressionism and the vapid parodies of Pop Art. The style derived from early 1900s experiments in reducing subject matter to simple geometric shapes and primary colors. In the 1970s, Minimalism was influenced by Conceptualism, a movement in which the underlying concept or thought system becomes the principal determinant of the form of a given work. In contrast to the "visual indifference" and spontaneity that Marcel Duchamp (1887–1968) espoused for the Conceptual art of the 1960s, artists in the 1970s were as concerned about aesthetic qualities as they were about the underlying structure.
Mathematics as an underlying structure was the most pervasive among the systems used by artists working conceptually. The order and balance of numerical proportions have been used in Western art since the time of the great pyramids in Egypt to achieve what was perceived as the aesthetic ideal. In Minimalism, the interest in process and search for the complex within simplicity merged. This type of art is sometimes called "Process Art."
Martin was born on a wheat farm in rural Saskatchewan. The family eventually moved to Vancouver, and Martin immigrated to the U.S. (Washington state) at the age of 19 (1931) with the goal of being a teacher. After studying at Western Washington State (1935–1938) in Bellingham, she spent time as an itinerant teacher, first in Washington and then in Delaware. Her studies in education continued at Columbia and the University of New Mexico in Albuquerque, where she also taught. She achieved an MA in 1952 at Columbia. While at Columbia, she was greatly impacted by the study of Zen Buddhism and Taoism.
In the 1950s, dividing her time between New York and New Mexico, her landscape paintings drew the attention of artists and gallery owner Betty Parsons (1900–1982). Parsons, who was closely associated with Abstract Expressionism in New York, convinced Martin to work in New York. After experimenting with Abstract Expressionism, by 1961 Martin settled on the grid system typical of her mature work. This was no doubt influenced by her association with color field painter Ad Reinhardt (1913–1967). She exhibited in the landmark exhibition Systemic Painting at the Guggenheim Museum in New York in 1966, which laid the foundations of both the Conceptual and Minimalist movements.
Here's a portrait of the artist the year before she died.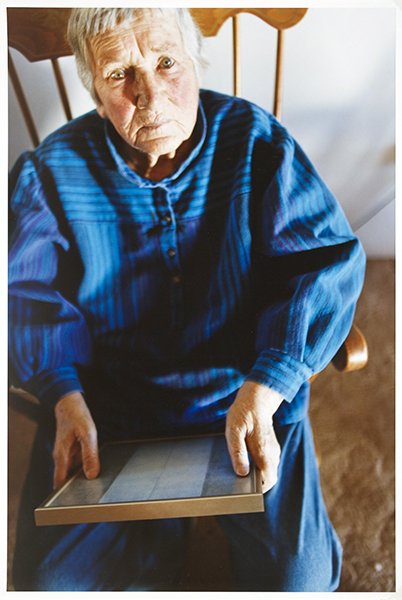 Elinor Carucci (born 1971, Israel/U.S.), Agnes Martin, 2003. Dye coupler print on paper, 12 15/16" x 11 9/16" (32.9 x 29.4 cm). Worcester Art Museum. © 2020 Elinor Carucci. (WAM-783)